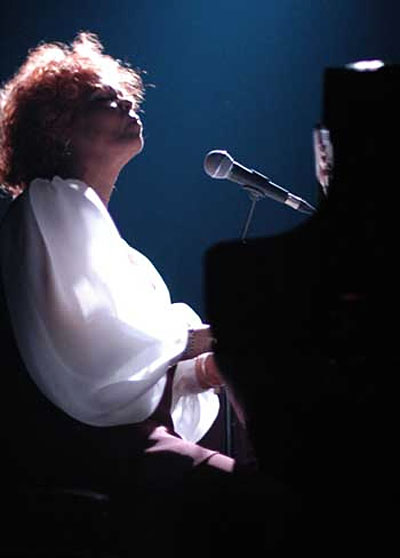 Tania Maria Correa Reis, better known as Tania Maria was born May 9, 1948 in São Luís, Maranhão, Brazil.
Tania Maria showed strong signs of musical talent but did not dedicate herself to her craft until the mid 1970s. After playing in nightclubs in Brazil, Maria moved Paris where her career took off.
The turning point in her career came in Washington in 1980, when she met the late Carl Jefferson of Concord Records via guitarist Charlie Byrd. Jefferson decided to send Maria into the studio with the Latin Jazz vibraphonist, Cal Tjader, as producer. The result was her critically acclaimed American debut, Piquant, released by Concord in 1981.
Since the mid-80?s, Maria has become an international star and one of the most popular Brazilian musicians of her time. Though she is best known for her fiery interpretations of Brazilian, Afro-Latin, and Pop music, Maria is a talented improviser, often harmonizing her piano solos with her voice. Her versatility, displayed on all twenty-one of her albums, has made her popular with fans of every genre.
In 2002, Tania Maria's stint at The Blue Note with her Viva Brazil Quartet resulted in Live at the Blue Note, her most recent live recording to date.
Intimidade was released in June 2006 on Blue Note Records. It is an energetic display of Brazilian and world music highlighted by her trademark silky smooth vocal stylings that keep her fan base strong.
Discography:
Apresentamos (Continental, 1969)
Olha Quem Chega (Odeon, 1971)
Via Brasil (Sunny Side, 1977)
Via Brasil, Vol. 2 (Sunny Side, 1977)
Live (Accord, 1979)
Piquant (Concord, 1980)
Taurus (Concord, 1981)
Come with Me (Concord, 1983)
Love Explosion (Concord, 1984)
The Real Tania Maria: Wild! (Concord, 1984)
Made in New York (EMI, 1985)
Forbidden Colors (Capitol, 1988)
Bela Vista (Blue Note, 1990)
Lady from Brazil (EMI, 1986)
Outrageous (Concord, 1993)
The Best of Tania Maria (Blue Note, 1993)
No Comment (TKM, 1995)
Bluesilian (TKM, 1995)
Europe (TKM, 1997)
Viva Brazil (Concord Records, 2000)
Happiness (Recall Records UK, 2002)
Tania Maria Live at the Blue Note (Concord)
Outrageously Wild (Concord, 2003)
Olha Quem Chega (reissue) (Import, 2004)
Tania Maria in Copenhagen, with Niels-Henning Ørsted Pedersen (Stunt, 2005)
Intimidade (Blue Note, 2005)
Brazil with My Soul (Universal, 2005)
Tempo (with Eddie Gómez) (Naïve Records, 2011)
Canto (Naïve Records, 2012)