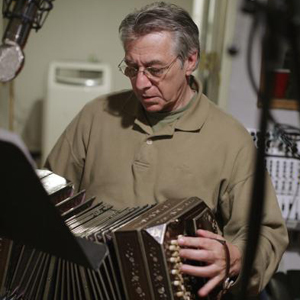 Born in Montevideo, Uruguay master bandoneon player Raul Jaurena studied with his father at an early age. By age 8 he was playing in a children's tango orchestra and by age 15 he was a member of the very popular Donato Raciatti Orchestra in Montevideo.
He has accompanied the world's most well-known tango singers among them Roberto Goyeneche, Edmundo Rivero, Raul Lavie, Agustin Irusta Libertad Lamarque among others and has played with the legendary Uruguayan pianist Cesar Zagnoli. He performed with Astor Piazzolla at the Montreal Jazz Festival. During the 1960's and 1970's he was an arranger and bandoneonist for major tango orchestras in Argentina, Uruguay, Brazil and Chile.
Currently he is the musical director of the acclaimed tango ensemble New York Buenos Aires Connection whose first compact disc came out on VIA Audio and received rave reviews from critics and listeners in North and South America and in Europe. In 1995 the group released their second recording Cabarute on Lyrichord Discs. In 1996 he toured Europe and Russia with the ensemble and the Irene Hultman Dance Company (for whom he wrote a suite that won the coveted New York dance and performance award," the Bessie"). Jaurena performs regularly with New York Buenos Aires Connection in New York City and in dance halls throughout the United States.
In 2006 he released Te Amo Tango which won the 2007 Latin Grammy for Best Tango Album.Te Amo Tango was conceived at Raul Jaurena's successful show featuring the Sinopus String Quintet from Uruguay, pianist Octavio Brunetti and vocalist Marga Mitchell at the Thalia Spanish Theater in New York City in 2005. The recoding includes eleven original compositions and Jaurena's bold arrangements of music by countrymen Oldimar Caceres and Edelmiro D'Amario.
Pasion por La Vida came out in 2007. It was a duet recording with pianist and composer Roger Davidson and featuring eighteen of Davidson's original new tango compositions. Fuerza Milonguera followed with Jaurena leading his Tango Orchestra exploring the roots and traditions of tango through new and classic compositions.
Discography:
Tango Bar (2001)
Te amo Tango (2006)
Fuerza Milonguera (2010)
Tributango
Tango Mundo