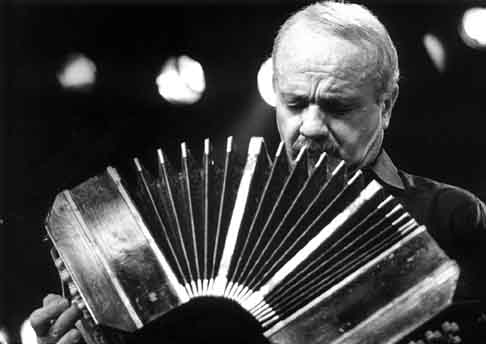 Astor Pantaleón Piazzolla was born in the coastal city of Mar Del Plata, Argentina, in March of 1921. His parents were immigrants from southern Italy. Astor Piazzolla's father, Vicente "Nonino" Piazzolla, was a storekeeper and craftsman. His mother, Asunta Mainetti, was a hairdresser and seamstress.
When he was three years old, he moved to New York City with his father. He lived there between 1924 and 1937, with a brief return to Mar del Plata in 1930. At age 9, his father gave him a bandoneon, which he had bought at a pawn shop for 19 dollars, as a birthday present. His father missed Argentina and its memorable tangos so he was interested in having his son learn how to play this popular musical style.
The young Astor Piazzolla learned how to play the bandoneon by himself, while he was living in the Bronx, in New York City. At the time, he played harmonica and his favorite musical genre was jazz. One of his neighbors, Hungarian pianist Bela Wilda (a disciple of Rachmaninov), introduced him to the music of Bach. Piazzolla liked that music so much that he tried to play with the bandoneon. Since he did not know how to read music, Wilda taught him to how to read and compose music. During the next four years, the only music Piazzolla played was classical music.
He was only thirteen years old when Carlos Gardel, the great Argentine tango singer and composer, heard him in New York and asked him to play in several recordings for his movie "El Día Que Me Quieras." Gardel was so impressed with Piazzolla's performance that he offered him the opportunity of touring with him throughout South America. Piazzolla rejected the offer and in 1937 he returned to Buenos Aires.
At 18, Piazzolla started playing the accordion and worked as an arranger for Anibal Troilo's orchestra. In 1940 he composed a piece for Arthur Rubinstein, who was in Buenos Aires on tour. Rubinstein recognized Piazzolla's talent and encouraged him to study composition with Alberto Ginastera, a famous Argentine classical music composer. Piazzolla studied eight years with Alberto Ginastera.
It was in 1946 when Piazzolla formed his own group to express his radical musical ideas, while at the same time he composed for the Buenos Aires Philharmonic Orchestra. Astor Piazzolla started an important revolution in the world of tango between 1946 and 1948, by taking it from the dance floors to the concert halls. 
In 1950 Piazzolla left the orchestra to dedicate himself exclusively to composing. He started to win numerous composition awards in Argentina, the United States and France, where he was granted a scholarship to study with Nadia Boulanger. It was Boulanger who advised Piazzolla not to abandon his folk music roots. After returning from France, Piazzolla formed the famous Octeto (Octect) that revolutionized the music scene in Buenos Aires.
In 1956 he started performing tango concerts, developing a new perspective based in traditional tango. His concept was that tango is music to be listened to, not just music for dancing. This "Tango Nuevo" (New Tango) is a unique mix of traditional tango and the classical tradition. Astor Piazzolla took a folk music genre and created a complex interaction with classical music and jazz, creating forms such as contrapunto (counterpoint), fuga (fugue), and improvisation. 
Astor Piazzolla composed soundtracks for movies, operas, and music for television. He recorded over 40 albums and traveled throughout the globe, playing at some of the most important performing arts centers in the world.
Astor Piazzolla suffered a brain hemorrhage in Paris in 1990. He never recovered and died in Buenos Aires on July 4th of 1992.
In 2000 Oxford University Press published Astor Piazzolla, his Life and Music. The book was translated to Spanish and published in 2002 by El Ateneo de Buenos Aires. In 2003 Amadeus Press published A Memoir by journalist Natalio Gorin, who was Astor Piazzola's friend for nearly two decades.
Partial Discography:
* El desbande (El Bandoneón EB-CD 2, 1947, remastered in 1989)
* Se armó (El Bandoneón EB-C 31, 1946/48, remastered in 1991)
* Adios Nonino (1960)
* Tiempo Nuevo (1962)
* La Guardia Vieja (1966)
* María de Buenos Aires (1968)
* Roma (1972)
* Libertango (1974)
* Reunión Cumbre (Summit), with Gerry Mulligan (1974)
* Piazzolla & Amelita Baltar (1974)
* Tango nuevo (WEA Music GmbH 250 168, 1974)
* Buenos Aires (1976)
* Il Pleut Sur Santiago (1976)
* Suite Punta Del Este (1982)
* Concierto de Nácar (1983)
* Aconcagua Tres Tangos, with SWF Rundfunkorchester (1983)
* The Vienna Concert (1984)
* Enrico IV (1984)
* Teatro Nazionale di Milano (1984)
* El exilio de Gardel (soundtrack, 1985)
* Tango: Zero Hour (American Clave 79469, 1986)
* The New Tango, with Gary Burton (1987)
* Sur (1988)
* La Camorra (1988)
* Bandoneón sinfónico (1990)
* The Rough Dancer and the Cyclical Night (Tango apasionado) (1991)
* Five Tango Sensations, with Kronos Quartet (1991)
* Original Tangos from Argentina (1992)
* The Lausanne Concert (Milan, 1993)
* Astor Piazzolla: The Central Park Concert (Chesky, 1994)
* Live At Bouffes Du Nord, con Milva (Polygram, 1998)
* Astor Piazzolla & Robert Goyeneche (RCA Victor, 1998)
* En Vivo En El Regina (1999)
* The Rough Dancer and the Cyclical Night (Tango Apasionado), reissue (Nonesuch, 2000)
* Live at the Montreal Jazz Festival (Milan 35936, 2001)
* Live in Colonia, 1984 (Intution, 2003)
* Live in Tokyo 1982 (2004)
* The Rough Guide to Astor Piazzolla (World Music Network, 2005)
* Conciertos En Tokyo Por Segunda Vez 1984 (2006)
Videos
* Astor Piazzolla in Portrait (Opus Arte/BBC, 2005)
* Next Tango (Deutsche Grammophon, 2007)
* Live at the Montreal Jazz Festival (Milan Records, 2008)
Bibliography
* Piazzolla – Vuelvo al Sur: 10 Tangos and Other Pieces for Piano
* Le Grand Tango: The Life and Music of Astor Piazzolla by Maria Susana Azzi
* Astor Piazzolla – A Memoir by Natalio Gorin