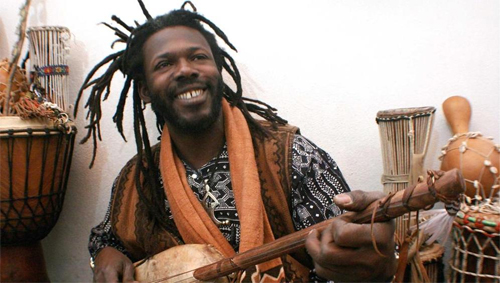 Baba Sissoko is a master of the talking drums (tamani). He is also a jali (griot) by birth. He has collaborated and recorded with Youssou N'Dour, Salif Keita, Habib Koite, Rokia Traore, Ibrahim Ferrer, Buena Vista Social Club, Dee Dee Bridgewater, Don Moye and the Art Ensemble of Chicago, and Mamady Keita.
Sissoko formed a trio with musicians from other traditions: Roger Sabal Lecco played bass with Manu Dibango, Myriam Makeba, Fela Kuti, Francis Bebey, Lucio Dalla and Louisiana Red; and Reynaldo Hernandez played percussion with the Conjunto Folklórico Nacional of Cuba and with the Gipsy Kings.
The trio celebrates the meeting of 3 great musicians at the top of their art, inspired by their own cultures: Manding, Bambara, Sonrai, Yoruba and Congo. In addition, the trio also has blues, jazz and rock elements, acquired during their careers.
Baba Sissoko – lead vocal, tamani, ngoni, kamalengoni, bala, calabass
Roger Sabal Lecco – bass, vocals
Reynaldo Hernandez – Cuban percussion, vocals
Discography:
Djana (Ports song, 1999)
Bamako Chicago Express (Live In Longiano) (Il Manifesto, 2002)
Al Majmaâ (Igloo, 2004)
Djeliya (Il Manifesto, 2004)
Djekafo (Il Manifesto, 2007)
Fanfare & Choeur (AZ Productions, 2007)
Culture Griot (Cypres, 2009)
Regard Sur Le Passe (Sidecar, 2011)
African Griot Groove (Goodfellas, 2012)
Tchiwara (Goodfellas, 2014)
Three Gees (Blind Faith Records, 2015)
Khalab & Baba (Wonderwheel Recordings, 2015)
Jazz (R)evolution (Caligola, 2015)
Ancestral Ritual (2017)
Mediterranean Blues (Caligola, 2017)
Griot Blues (One Root Music, 2017)