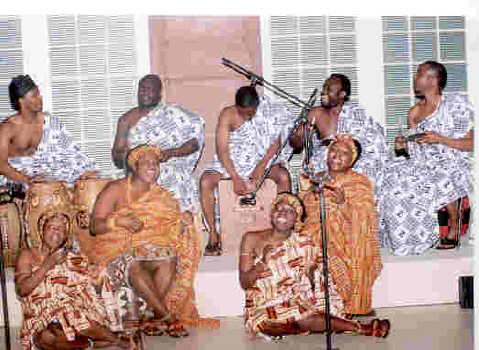 Adikanfo is a traditional music and dance style from Ghana. The cultural group Adikanfo from Ghana has taken upon itself to preserve a choice selection of many different cultures existing in Ghana, showing the richness of thecountry's great traditions.
The traditional dances and rhythms are neglected by the media and pushed into the background in favor of contemporary pop music.
Adikanfo presents the best of indigenous music and dance which this West African country has to offer, played on traditional instruments like the talking drums, atunpan, obrante (kpanlogo), kete set, penpensiwa, gomme, fontonfrom, dawuro, blekete, dawuro, as well as seperewa, a traditional harp from the 18th century.
The group performs rhythms such as Nwomkro, Adowa, Kete, Bomaa, and Sikyi (Ashanti Region); Kpanlogo (Greater Accra), Boboobo, Agbadza, Togo Atsia (Volta Region), Bamaya, Toola (Northern & Upper Region).
Mark Kofi Asamoah established the group Adikanfo in early 2000. CThe group includes musicians and dancers, some of which are former members of institutions such as the Centre for National Culture in Kumasi and the National Dance Ensemble in Accra.