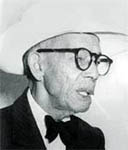 Sindo Garay was born April 12 of 1867 in Santiago of Cuba. He was the main figure in traditional Cuban trova. Garay was an extraordinary artist because he did not study music, but he managed to compose pieces of unquestionable formal perfection, and contributed new sounds to the trova style of his time.
Self taught, Garay learned how to read and write by copying posters from commercial establishments. He composed his first song at 10 years of age. It served as a connection to patriotic the Cubans in the last war against Spanish colonialism (1895-1898). He traveled to several nations in the Caribbean and South America. He also spent three months in Paris, in 1928, performing Cuban songs.
After the triumph of the popular revolution in his country (1959), he received numerous tributes. Sindo Garay passed away in Havana the 17 of July of 1968, and by personal request he was buried in Bayamo, a city towards which Sindo Garay always showed a special affection. Some of his most famous compositions are La tarde, Perla marina, Rendido, Retorna, Labios de grana, Clave a Maceo, El huracan y la palma, Tardes grises and Mujer bayamesa.