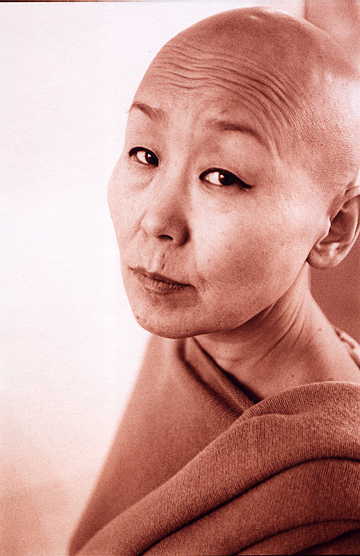 Sainkho Namtchylak combines Tuvan throat singing, experimental jazz, classical, electronica and Buddhism. She is Tuva's most celebrated female vocalist.
Sainkho was born in 1957 in Tuva (Russian Federation), in southern Siberia, near the Mongolian border. Sainkho's first musical inspiration came from her nomadic grandmother who would sing lullabies for hours. She grew up in a society where people sing when they feel like it; singing when they're happy and singing when they're sad.
Her parents were both school teachers. She studied music at the local college and went on her own to Moscow to complete her studies there.
While pursuing her normal college curriculum, Sainkho also studied various Siberian lamaistic and shamanistic traditions as well as the local Tuvan and Mongolian throat singing (overtone) styles. She then began her professional career as a folk singer with "Sayani," the Tuvan State Folk Ensemble, touring throughout Europe, Australia, New Zealand, the United States and Canada.
In 1988 Sainkho began to work with creative improvisational musicians in the Soviet Union striving to blend traditional ethnic elements with modern styles. She was a key member of the ensemble Tri-O and she received attention from the western media because her appearance was so exotic. Suddenly, the public encountered strange tunes songs with two voices overtone melodies blended with jazz new music and ambient sounds in a transglobal context.
In 1997 Sainkho was the victim of a hate crime and was nearly killed in a horrific attack that left her in a coma for weeks.
Fascinating audiences with her amazing seven octave range, Sainkho uses songs like "Tuva Blues," "Let the Sunshine," and "Lonely Soul" to explore lands that live beyond the confines of the East and the West.
Sainkho is based in Vienna and calls herself "first and foremost a woman from the Steppes."
Discography:
Out of Tuva (Cram World 1993)
Time Out (Ponderosa Music, 1997)
Naked Spirit (Amiata Records, 1998)
Aura 3-CD boxed set (Enisai Records ESCD 991/Ponderosa, 1999)
Stepmother City (Ponderosa Music 2002)
Arzhaana (Plus Records 2005)
Forgotten Streets of St. Petersburg (Leo Records 2005)
Karmaland (LiberoDiscrivere 2005)
Nomad compilation (Leo Records 2007)
Intrance (Leo Records 2008)
Mother-Earth! Father-Sky!, with Huun-huur-tu (Jaro Records, 2008)
Portrait of an Idealist, with Moscow Composer Orchestra (Leo Records 2009)
Tea Opera, with Dickson Dee (Leo Records 2009)
Not quite songs, with Nick Sudnik (Leo Records 2010)
Terra (Leo Records 2010)
Cyberia (Ponderosa Music, 2010)
Simply-Live (Tree Music, 2010)
Go To Tuva (2013)
Like A Bird Or Spirit, Not A Face (Ponderosa Music, 2015)