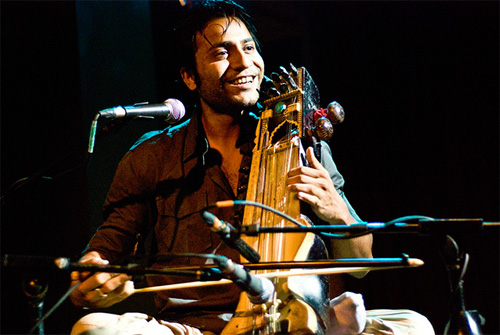 Sabir Khan, born in Jodhpur, Rajasthan (India), belongs to the Sikar gharana (school) of music that has introduced several influential figures to Indian classical music.
He is the ninth generation in his family to take up the sarangi and is considered to be one of the finest players of the younger generation. He began studying music when he was six years old with his grandfather, Ustad Gulab Khan, a renowned sarangi player and vocalist.
Soon afterwards, he began training with his father, the acclaimed sarangi player and vocalist Ustad Sultan Khan, and his late uncle Ustad Nasir Khan. With a technique displaying tonal, melodic and rhythmic prowess, he is proving a worthy successor to his proud lineage.
Discography:
The Sultan of Sarangi, with Ustad Sultan Khan (Dreams Entertainment, 1988)
The Legacy, with Ustad Sultan Khan (Worldwide Records, 2011)
Celestial Ragas (Aimrecs, 2013)