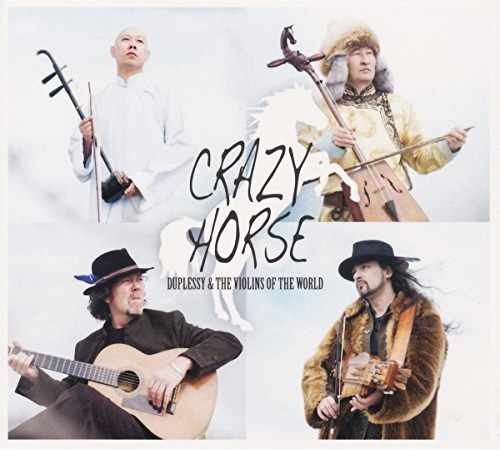 Duplessy & The Violins of the World – Crazy Horse (Absilone/Op Conseil, 2016)
Feeling a little hemmed in … a little harassed … a little hounded? Looking to step out into the untamed wilderness and run with wild without leaving the comfort of your headphones? Then I have the perfect CD for you. It's the 2016 Absilone/Op Conseil release (yeah, I don't know how this one got past us either) of Mathias Duplessy & The Violins of the World's Crazy Horse. This extraordinary musical landscape is just the cure for what ails you. Crazy Horse has got guitar, Chinese erhu, horsehead fiddle, nychelharpa, sarangi, violin and throat singing. Who can resist throat singing?
Crazy Horse is the collaboration of French guitarist Mathias Duplessy, Chinese erhu master Guo Gan, Mongolia's horsehead fiddler extraordinaire and throat singer Naraa Puredorj, French nychelharpa player Aliocha Regnard with Mongolian overtone singer and horsehead fiddle player Enkhjargal Dandarvaanchig, Indian sarangi player Sabir Khan and Tunisian violinist and composer Zied Zouari thrown in for good measure. With Mr. Duplessy composing most of the music for Crazy Horse, listeners get a dose of Maurice Ravel on "Pavane Pour Une Infante Defunte" and a composition by Mr. Dandarvaanchig.
Opening with horse galloping sounds, title track "Crazy Horse" takes off across the steppes at breakneck speed with horsehead fiddles and guitar with a little throat singing tossed in. I'll admit that it kinda comes off as if Spaghetti Western music composer Ennio Morricone took a wrong turn east, but it quirky enthusiasm and fiddle playing is worth it.
Crazy Horse just veers off the beaten path with the East/West combo with Mr. Duplessy and Mr. Regnard providing the flourishes against some catchy percussion, before giving way to the elegant lines of "Montagnes" with Mr. Gan, Mr. Dandarvaanchig and Mr. Khan in this sweeping musicscape.
There's some truly lovely tracks like "Pavane Pour Une Infante Defunte," "Le Vol du Heron" and "Lac Dans La Brume." "Petards Chinois" written by Mr. Guo is deliciously catchy and Indian laced "Baiao of Mumbai" with Mr. Gan, Mr. Dandarvaanchig and Mr. Khan is equally captivating. Closing with "Chevauchee Celeste" listeners get another dramatic dose of a Morricone drama that's just a good as the first track.
Whether it's the raucous ride across the steppes or the slow amble next to a lazy stream, Crazy Horse has your musical escape covered.
Buy Crazy Horse