Ronnie Malley is a multi-instrumentalist musician, theatrical performer, producer, and educator. He collaborates with the music groups Allos Musica, Duzan Ensemble, Lamajamal, and Surabhi, and is a faculty member at the Chicago Academy for the Arts. He performed recently at the Jaipur Literature Festival (JLF) in India with George Lawler (percussion), Subrata Bhattacharya (tabla) and Abhisek Lahiri (sarod). See my writeup on the JLF music showcase here.
His recent credits include author and composer of the original play Ziryab, The Songbird of Andalusia (Silk Road Rising World Premiere), author and composer of the story ​The Oud, Ziryab, and Andalusia: An Enchanting Tale of Music (Oregon Shakespeare Festival, Chicago Cultural Center). He has produced the albums Auraad Fathiya, Saazuk Safar, Tsikago, and Gypsy Surf.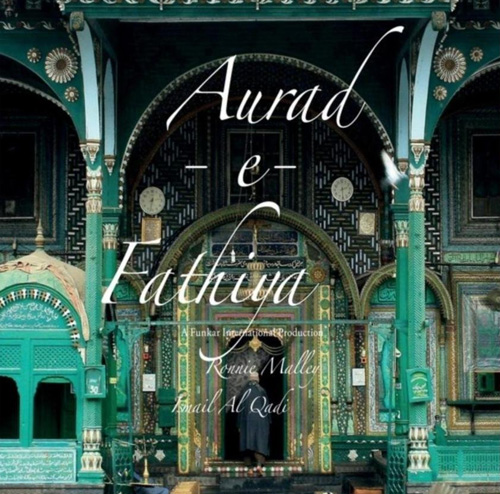 Ronnie conducts Arabic language artist residencies for Chicago Public Schools through Intercultural Music Production and is a teaching artist for music and theater with Global Voices Initiative. He joins us in this wide-ranging interview on his musical journey, the role of music in cultural identity, and his message for a better world.
Q: How did the lineup for East Meets Middle East get formed? How did the musicians know each other?
RM: East Meets Middle East (EMME) formed in early 2016 as a collaboration between two Chicago musicians; George Lawler and myself, who had been playing together for over 10 years, and two seasoned classical Indian musicians from Calcutta; Subrata Bhattacharya and Abhisek Lahiri, who were both on tour and visiting Chicago. We were introduced by a mutual musician friend.
EMME's concept arose from a conversation between Subrata and myself about a hate crime on a Sikh temple in Milwaukee, which we thought displayed the ignorance that exists about different faiths and cultures from the Middle East and India, not only in America, but elsewhere. We thought about making a project that would emphasize the uniqueness of these rich, yet distinct, cultures and serve as a contrast to many 'East Meets West' albums that often lump South Asian and Middle Eastern music into one broad category.
Q: How was your overall experience touring through India this month?
RM: Touring India this month was an exhilarating experience! I'd say one major highlight was being able to see three distinct cities: Kolkata, Jaipur and Delhi. In Kolkata, George and I were able to get a closer look at one of India's cultural capitals and learn more about its folk music (e.g., Jhoomur and Tusu) as well as one of my favorite literary icons Rabindranath Tagore.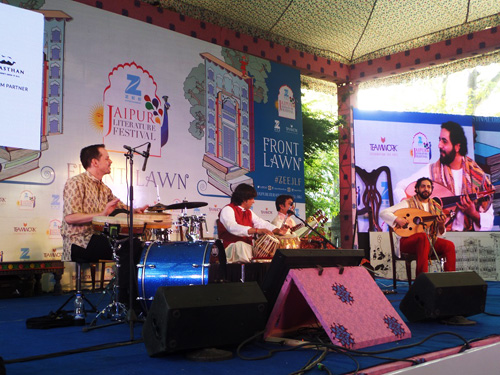 In Jaipur, the world just came together through music and literature. I especially enjoyed reconnecting with friends such as Nathu Lal Solanki (nagarra player from Rajasthan) and Homayun Sakhi (Afghan rubab player in Aga Khan All Stars). Delhi was also amazing because George and I got to perform with friends Raghu and Sudha Raghuraman, masters of Carnatic music, and also meet folks from Amarrass Records, Desmania Design, and One World College of Music.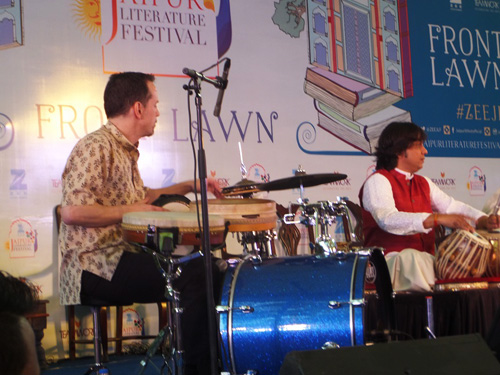 Q: How is your album 'East Meets Middle East' being received by the audiences and media?
RM: Folks at the JLF were very supportive. We're a little new as a group and still building our audience and media coverage, but social media and streaming site comments have also shown appreciation for what we're trying to do. Some have expressed that it's refreshing to get a more in-depth look at these cultures through music. Others enjoy the instruments and how they complement each other.
The sarod and tabla are Indian counterparts to the Middle Eastern oud and darbuka (also called a tabla in the Mid East). Though, I'd say most comments have been about the improvisation. We have a structure for the compositions, but we also leave room to improvise – making each live performance a unique experience for us and the audience.
Q: The tracks Misty Trail and Distant Star really jump out! Can you describe how they were created?
RM: All of the tracks on the album are original compositions. Misty Trail is a composition by Subrata Bhattacharya and Distant Star is an original composition of mine. Initially, Subrata went to a studio in India with Abhisek Lahiri and recorded the composition as a guide track for us to learn, and eventually re-record in Chicago.
Distant Star came about as an improvisation while rehearsing with George in Chicago, which I later arranged. Ultimately, once we had a structure for the pieces, improvisation became the focus. Indeed the whole album was conceived like that. Basically, once Subrata and Abhisek arrived in Chicago, they came to George's and my studio for rehearsals, which we ended up recording, and that became the album. It's a live album of original compositions and improvisations, but really it's a musical dialogue of our encounter.
Q: What other lineups and genres have you experimented with?
RM: I grew up playing everything from rock and blues guitar to Middle Eastern and North African folk and classical music. George and I also have had the group Lamajamal for about ten years, which explores music from the Balkans, Greece, the Middle East, and North Africa. With that group, we include clarinet, bass, guitar, and various Turkish instruments. George also has a group called Byzantine Time Machine, which explores Balkan and Greek music through an electronic medium.
I also have another fusion group called Surabhi, which is a group that celebrates the connections of Indian, African, and Middle Eastern music to Spanish flamenco. The lineup for Surabhi consists of veena, oud, tabla, guitar, cajon, bass, and African percussion. Our groups are based in Chicago.
Both Abhisek and Subrata also have their own fusion projects in Calcutta as well as Europe and the US. Abhisek's group is Ionah and Subrata's projects are many, including Flat Earth Ensemble and Naad, to name a few. They've also collaborated with countless artists.
I think EMME is unique for all of us. The group explores the relationship between raga and maqam musical styles, but also delves into the improvisational components of those styles, as well as drawing on all of our collective influences in everything from Pink Floyd to Ali Akhbar Khan.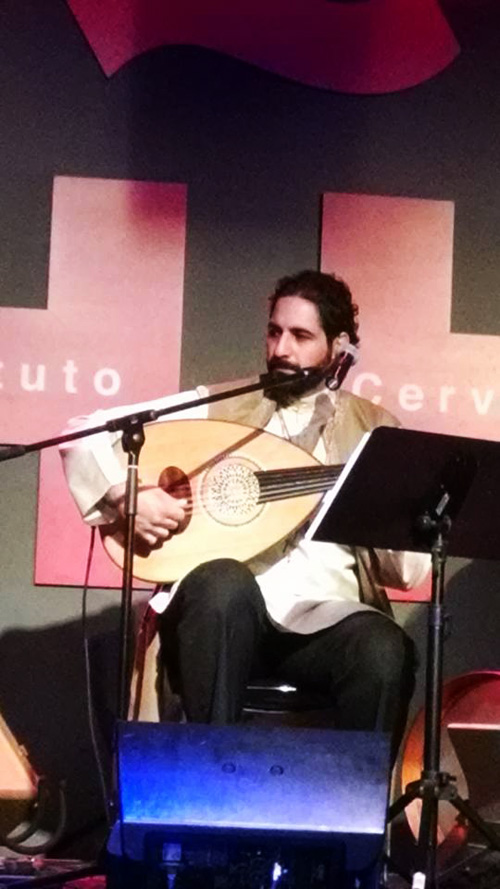 Q: How would you describe your musical journey so far, in terms of phases, genres, collaborations, inner discovery?
RM: For myself, music has been all I've ever really known. I went from performing in the family Mid-Eastern band at weddings as a child to playing rock and in punk marching bands to performing classical Turkish and Persian repertoire with the University of Chicago Middle East Music Ensemble to collaborating with world artists and creating groups like EMME.
I know Abhisek also began performing with his father, Pt. Alok Lahiri, at a young age. George, like myself, honed a lot of his background in world musics from Chicago's diverse communities. It's all really a continuous journey that unfolds new chapters with every project, encounter, or collaboration. It's about trying to build experiences where music is a medium for social interactions and dialogue – not just for musicians, but also those with whom we interact.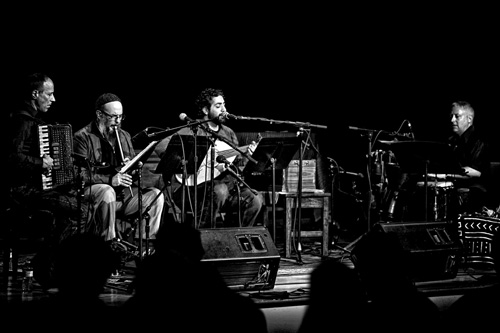 Q: What are the challenges you face as a musician and composer?
RM: As a musician and composer, the great challenge is striking a balance between performing and writing in one's career. As a performer, sufficient practice to hone one's craft and deliver a great performance is essential, even when the repertoire is not new. One has to discover something new in what might appear mundane. As a composer, it is important to shift practice routines for performances and allow more time to think creatively for thoughts and inspiration to translate into more writing.
Q: Who would you say are the leading influences in your musical career?
RM: The family band with my father and brother is probably my first leading influence in my musical career as we were able to perform as the house band in Chicago for many visiting artists from the Middle East.
Next, I would say the musicians with whom I performed like Tony Hanna from Lebanon, Magdi El Husseini from Egypt, and Najib Bahri and Mohammed Saleh from Tunisia. A lot of credit is also due to some of Chicago's own older established musicians who migrated to the US, like Issa Boulos and James Stoynoff.
Q: How do you blend different musical influences and genres, i.e. how do you create fusion without confusion?
RM: It is about mutual respect. For example, it is one thing to say, "Oh, I love Indian or Middle Eastern food," and another thing to have dinner with an Indian or Middle Eastern family. In the first case, it's like choosing something as a matter of taste simply because it's appealing and can offer some spice to your proverbial melody. Perhaps, it's a start to gauge interest, but confusion on what's authentic or appropriate can arise.
In the second case, a relationship is formed. One learns the customs, language, and perspective of a culture developing a bond with the people and their tradition. The latter approach is what I appreciate about creating cross-cultural collaborations in music.
Q: What kinds of social and political messages have been conveyed in your recent albums? What is your vision of what music can do in this age of political/economical turmoil?
RM: With EMME, we're trying to raise awareness that there are similarities and distinctions in the traditions we represent. Both Mid-Eastern and South Asian cultures have robust pluralistic societies consisting of many religions and philosophies that tend to be homogenized in the West, but also misunderstood in the East amongst the people themselves.
Our hope is that music can serve its part in an effort to bring humanity closer in dialogue and make us all more productive. While it is important to celebrate our differences, we should also get over them and realize we face similar issues that affect and should unite us all.
Q: What new album or video are you working on now?
RM: All the members of EMME have their own projects they tend to, but we are looking to begin recording a second album in Chicago around Spring and Summer of 2017.
Q: How is the creative scenario for traditional and fusion music today? Are audiences/venues/labels/artistes very open to such collaboration?
RM: It's important not to ascribe the label 'fusion' to all cross-cultural collaborations. Indeed many traditional styles, such as Spanish flamenco, Indian raga, Mid Eastern maqam, and music from the Americas are organic blends of multiple styles that date back hundreds of years.
Overall, I think there's an audience for anything one wants to focus on – and in turn, probably a record label or streaming service that's tailored for or by that audience. There's room for a lot styles from academic projects like Yo Yo Ma's Silk Road, to cross-genre projects like Junoon, or straight up hip-hop sung in Arabic or Punjabi by emerging artists where these languages are spoken. My hope is that people in general can transcend the labeling of a genre and rather open more to exploring and appreciating sound, whether it's classical or contemporary, analog or digital.
Q: Where do you see yourself 10 or 15 years from today? What are some '˜dream projects' or visions you are working towards?
RM: 10 to 15 years from today I plan on continuing to work in music production and performance as well as teaching and writing about it. The greater vision is to create more interdisciplinary art projects that allow others to perceive practice of art as a way of life and perceiving the world, not just as a commodity for consumption.
Q: Do you compose on the road also, while traveling?
RM: I always have a recorder and blank sheet music handy. Inspiration strikes when you least expect it sometimes. It could come from seeing something or someone in the street, while waiting for a train, or in a cab driving through the street of Calcutta or Chicago.
Q: What are some unusual reactions you have got during your live performances?
RM: It really depends on the audience and where we've played. In my group Lamajamal, we had people come up to us crying saying how a piece of music brought back memories of their father or mother, or of being back in their country. That was the case once with an Armenian woman who was attending a performance at a cultural center.
We've also been asked to conduct workshops and lectures about the music and cultures we present. This was the case when Lamajamal presented a workshop on commonalities between Jewish, Turkish, and Middle Eastern Music at Georgetown University. My other group Surabhi has given similar performances and presentations about the commonalities of Indian, Arab, and Spanish music. These presentations are often meant with informative questions and new learning.
A different experience occurred when I was touring last year with a project called Caravanserai. The sponsors of the tour were showcasing arts and artists from the Muslim world to cities in America, where most people had never even met a Muslim, and were informed only by what they saw on TV. Zeshan Bagewadi, an Indian-American musician, and myself headlined the tour. Though we both had Muslim backgrounds, the music we presented was funk and rock n' roll with elements of Sufi poetry and style.
In our first performance to some community members from the town, someone within earshot said, 'So this is what terrorist music sounds like!' That was definitely not a reaction I was expecting on the first day being in this town. After a week-long residency of workshops and community engagement there, we felt that our music and outreach was able to soften their hearts from the first reaction and open their minds by the time of the final performance at the end of the week.
Q: As a Palestinian, how important is culture to the people's identity, and how do you see yourself contributing to this preservation?
RM: Culture is the image and representation of any people's identity. Yet, I also think it's important to make sure we identify with who we are – musician, artist, poet, athlete – more than where we come from. In other words, I'd rather be considered an artist who happens to be Palestinian, than always being viewed as a Palestinian artist.
My background is in Global Music Studies and I find that by knowing and passing along music from my culture or other cultures with which I engage (e.g., Indian, Turkish, Balkan, American) I can represent them better from an artistic perspective than a nationalist one. There are many Mid Eastern and South Asian artists who know their traditional cultures very well, but who also have experience in music from outside, yet existing within, their own cultures in genres like rock n' roll, hip hop, jazz, and classical music. In that sense, they still represent who they are and also where they come from.
Artists like Junoon, Zubin Mehta, M.I.A, and the Palestinian hip-hop group DAM are all examples of artists from specific cultures who are also global representatives. In short, if I were to represent my ethnic heritage, I would say demonstrating how I am a global citizen would be one way.
Q: Do you also teach workshops for students and musicians?
RM: All of the members of EMME are also teachers of their respective craft. George and I both work at the Old Town School of Folk Music in Chicago and also work as teaching artists conducting workshops and lectures in schools and universities. Abhisek and Subrata also have many private students and have given residency workshops at schools around the world including the University of Illinois in Champaign-Urbana.
Q: How has the music industry changed over the years, and how has it impacted you?
RM: I think acts have come to rely greatly on the do-it-yourself model with emphasis on income from live performance, self-publishing, and potential placement for licensing than record sales, which in today's digital economy can be negligible for artists. The ability to reach a whole new audience has never been easier through the advent of social media and recording technology. As for other aspects, we learn to embrace and utilize tools responsibly, whether they be social media or instruments like electronic loops and mixers.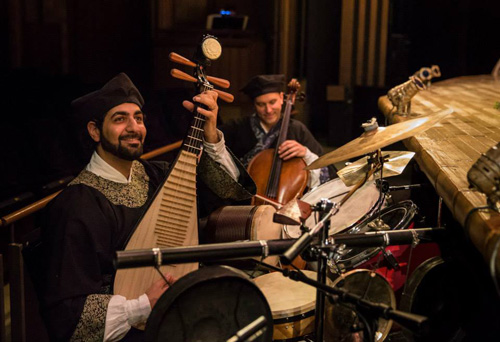 Q: What is your message to the aspiring musicians out there?
RM: The only way you'll get to where you're going is if you remain in the game. All measures of success are relative. One does not have to be a superstar to have a career in music, even though that, too, is a legitimate aspiration. I've found it to be more rewarding to contemplate what we can contribute to the world as artists and how the relationships we build along the way truly determine our success.
Q: What is your message to your audiences?
RM: Support live music and art. Practice an art, whatever it may be, if just for the sake of appreciating expression and what art means to humanity. In a world, caught up in technology, nothing will ever replace the need for face to face time whether one is a practitioner, student, or observer.