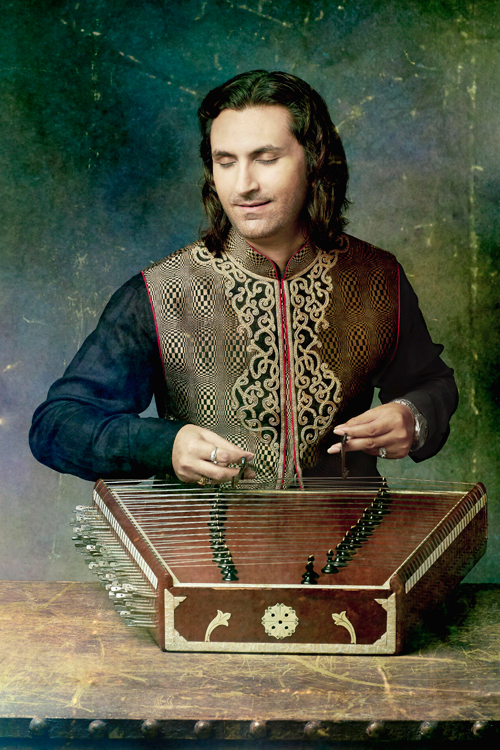 Although not formally introduced to the santoor [also known as santur] until 1985, when he was 12 years old, Rahul Sharma had already demonstrated his talent by playing and composing on the harmonium, and on a cheap keyboard that his dad had brought back from Japan.
In Rahul's apprentice years as a musician, his father, Shiv Kumar Sharma, had accompanied him on tabla, bringing heightened awareness of taal (rhythm cycle) to his playing. By 1996, Rahul was performing "proper concerts" and has since recorded solo and in jugalbandi (duet) concerts with his father.
In September 2000, Rahul Sharma performed a special concert with tabla player Ustad Shafat Ahmed Khan and pakhawaj player / percussionist Pandit Bhawani Shankar in Turin (Italy) under the title Music Of The Himalayas. It was recorded and released by Real World Records.
Discography:
The Golden Heritage (Navras, 1997)
Beyond 100 Strings (Ninaad, 1999)
Sweet Romance (Navras, 1999)
Indian Classical Maestros Vol. 4 Santoor (Virgin Records India, 2001)
Moonlight Magic (Navras, 2001)
Two Generations: Santoor Duet Live (Chhanda Dhara. 2001)
The Confluence – Santoor & Piano, with Richard Clayderman (Virgin Records India, 2002)
Mujhse Dosti Karoge! (Saregama, 2002)
Music Of The Himalayas (Real World Records, 2002)
Zen (Navras, 2002)
Dawn Blues (FreeSpirit Entertainment, 2002)
In Hope For Peace (Rhyme Records, 2003)
Native Signs (Sense World Music, 2004)
Akaash (Sense World Music, 2004)
Time Traveler – The New Age Santoor Journey Beyond Time (Saregama, 2006)
H2O (Music Today, 2006)
Charukeshi Live In San Francisco (Saregama, 2010)
White album (Times Music, 2011)
Deep India (Sony Music, 2013)