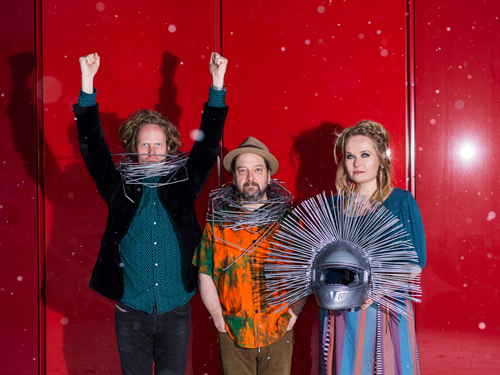 The World Music Expo, WOMEX, has announced the artists set to perform during the opening ceremony. This year's opening show is titled Arctic Fire – Pohjoiset tulet. WOMEX 2019 will take place October 23 – 27, 2019 in Tampere, Finland.
The artists featured include Pauanne, a power trio described as folk fiction, who incorporate archive recordings from the last 100 years into their new folk sound; Pekko Käppi, a Finnish folk music composer, singer and juhikko (ancient Finnish bowed lyre) player who has revolutionized the standards of playing this iconic instrument; Suistamon Sähkö, a folktronica act with a bit of folk poetry, rap and manic dance moves; and Vildá, a duo that is a blend of indigenous Sámi yoik, detailed rhythms and improvisation.
The concert is staged and directed by celebrated choreographer and dancer Kaari Martin, together with composer, musician, and producer Roni Martin, renowned for their ensemble Compañía Kaari & Roni Martin. Kaari Martin and Roni Martin said: "It is a pleasure to work with the selected Finnish artists for the WOMEX 19 Opening – Arctic Fire – Pohjoiset tulet. It represents some of the finest artists we have in the Finnish folk scene. You might think that Finland is on the edge of the world, and to be honest, it is, but for centuries it has also been a melting pot for different cultures from east and west. And, we are happy that there is also dance involved because dance is an organic part of folk music".
More at www.womex.com
headline photo: Vilda by Joanna Suomalainen and Jimmy Traskelin