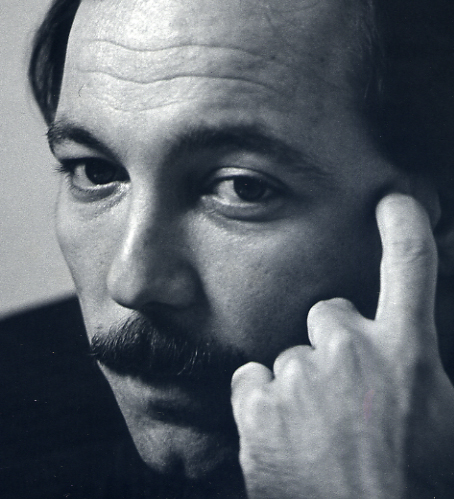 Panama City, the early fifties. Rubén Blades, a boy only 4 years old, born in a working family residing in the old city neighborhood, already knew how to read and write courtesy of his grandmother, a personage worthy of one of his future songs and who, even in those days, practiced yoga and meditation. She was an early feminist who sent only her daughters to school, since she thought that is was them, more than her sons, who would need it the most to make their way in life. As a result of this decision, Rubén's mother learned to play the piano, thus establishing a musical precedent in the life of Rubén Blades. His father was a man of many changes. Coming from an English ancestry family, he went from jockey to basketball player to detective, but invariably remaining faithful to his great love: musicmore specifically, percussion. For Rubén "such changes shouldn't surprise anyone, safe maybe those who do not know the Caribbean realities, where people reinvent themselves".
At age six, Rubén Blades won a tale contest for elementary school children. He never stopped writing since. Such was the ambient of his childhood. "I never realized my family was poor until I left my neighborhood", he says. During his adolescence, the family's economic problems got worse while the country's political situation with respect to the United States was getting more and more difficult. This had an important effect on the life of young Rubén, forcing him into thinking about problems he never thought about before. "Up to 1964 I had been totally pro Yankee. In tastes, in music, in everything. But the events of January of '64, when the United States refused to raise the Panamanian flag at the Canal Zone – a situation that resulted in 25 people dead – opened my eyes and, like me, many of those who had been absolutely pro American started to ask themselves questions of a political and social nature". After this "political awakening", Rubén Blades continued his studies and eventually entered the School of Law and Political Science of the University of Panama. Meanwhile, his musical inclinations prompted him to join some musical groups such as El Conjunto Latino de Papi Arozamena (Papi Arozamena's Latin Group) and Los Salvajes del Ritmo (The Rhythmic Savages).
He performed sporadically with them at the city's local places, but pressures brought by his university professors at the Law School, who objected to the notion of a lawyer singing salsa, forced him to leave the stages. He never left the music though. In 1968, taking advantage of having a brother who worked on an airline company, he traveled to New York on $20. On this first visit to the city he contacted Pancho Cristal, Cheo Feliciano's producer, who had heard him sing in Panama and who proposed him to join the Pete Rodríguez band to make a record. Rubén was happy to accept and that's how his recording career began.
Back in Panama he found the political situation more tense than everstill, he decided he was going to finish his studies no matter what. In 1973, when he was about to graduate, his father, who was then with the Detectives State Corps, faced a difficult situation when general Noriega, then responsible for the Secret Police, accused a group of Panamanians of trying to assassinate General Omar Torrijos. His father was not directly accused, but his relationship with some of those accused forced the family to flee the country in order to avoid reprisals against them. It also prevented them from having to be involved in the dark schemes Noriega had with the CIA.
Despite all the problems, Rubén Blades remained in the country until he managed to get his law degree, a kind of personal and moral obligation he felt. Once he had his title as a lawyer in his own country and given the repercussions his father's political problems could have had on his career, on the one hand, and the perspective of being a lawyer under a dictatorship on the other, his options were to join the group which kept the dictatorial policies of the country – something unthinkable for him – or to leave for Miami with his family, which was what eventually happened.
Once in Miami his musical inclinations found no obstacles to start gradually developing until they became his main aspiration. Shortly after, he moved to New York looking for an opportunity to introduce himself in the city's musical scene. His first job there was that of organizing and carrying the mail for Fania Records, a recording company and a kind of sanctuary for all salsa musicians. Despite the fact that his labor obligations were far removed from music itself, the contact with some important individuals of the New York musical scene was continual. His break came when Ray Barreto, who was looking for someone to replace the vocalist in his band, found out through someone who had heard Rubén Blades singing in Panama that he could be the man he was looking for, and he set up an audition for him. The result was completely satisfying and Rubén gave up his job at Fania to immediately join Barreto's group. That was the beginning of his career as a professional musician.
In 1976, after solving the inevitable immigration problems, Rubén Blades became the vocalist replacement of Héctor Lavoe, who had left the Willie Colon band and, together, both the bandleader and Rubén started what eventually would represent the most important change Caribbean music has experienced in all its history. On his first LP with Colón, "Metiendo Mano" (Getting Involved), two of Rubén Blades songs ("Plantación"[Plantation] and "Pablo Pueblo") stood out and had a tremendous impact amongst salsa fans as well as with the musicians who interpreted them. The following record, "Siembra" (Sow), expands on the musical and social vision of the former. The repercussions of the song "Pedro Navaja" (Peter Jack Knife) topped all records a song of its style ever achieved, turning into one of the most representative themes of Latin American music of all time. The LP sold more than a million copies and hit 1st place on the Spanish speaking countries charts and also those of the United States, reaching gold and platinum in most of the former." Pedro Navaja" opened up the doors of salsa to a world which, up to that point, remained behind its own reality, wiping out the notion that this was only evasion music unaccountable even within the society where it developed. People who didn't like salsa because they thought of it as low projection, vulgar music, started to realize de enormous influence it could have on all social levels.The public's reaction was instantaneous.
It started to understand the total sense of the music. "This was a spontaneous manifestation. We had no support on the part of the industry. We were not a creation. The whole thing was made possible thanks to the reaction of people who bought the record and made it possible for us to continue to make records".
In 1980, Rubén Blades discovered movies. A Fania top executive offered him a role in a low budget movie entitled "The Last Pipe", directed by Fred Williamson. Although the film had no impact, it elicited Rubén's interest on the film medium and prompted him to learn how to work in that scenario. After six years with the Willie Colon group, in 1982 Rubén Blades decided it was time to go independent and form his own group which would enable him to develop his own musical ideas in further depth and explore salsa in a more direct fashion through its texts. He started 6 del Solar, a group based on experimentation trying to move away from typical salsa formats, eliminating the brass section and utilizing certain keys closer to rock. He recorded "Agua de Luna" (Moon Water) with the group, a theme inspired on a series of short stories by Gabriel García Márquez. With 6 del Solar he was awarded a Grammy that came to show the recognition and acceptance of his innovative theories with Caribbean popular music. Problems, which developed with Fania Records, prompted Rubén Blades to sign for Elektra Records.
Meanwhile, the group kept evolving, eventually turning into Son del Solar. With them, Blades continued to explore the trajectory of Latin America's social reality through music, adding a brass section to give the songs more speed and movement. Another Grammy further recognized de value of his efforts. The LP "Buscando America" (Looking for America) and the song "Desapariciones" (Disappearances) managed to attract the Latin public. The effort to universalize his music and wipe out stereotypes awakened in Rubén Blades a growing interest in rock as a means of experimentation and the incorporation of new facets into his music. In contrast, rock stars such as Lou Reed and Elvis Costello, got interested in his work. The result is a record in English where he carries out his theories about conjunction and the development of different rhythms from various cultural sources. "I do not believe in the notion that one is condemned to do something because he looks in a certain way or speaks a certain language. To me, music is a universal thing, and I have always been interested in the directions offered me by music in English, directions I could not find, concretely in terms of construction, with the Afro-Cuban rhythms I'd always worked with. I also wanted to leave testimony of the meeting of urban tropical music with rock 'n roll".
His second experience with movies allowed him to develop, in a more consistent manner than before, his qualities and intuition as an actor. In ""Crossover Dreams" he is the main character, as he plays a Latin musician trying to introduce himself into the American market, a feat which though advised by many people, had little to do with whom he was. Rubén's interpretative job is so convincing, that it may lead to confusions. This movie was produced in New York with Latin money, production, direction, script and actors. As a result of his performance he was offered a number of short roles in important productions, so he moved on to California where he gradually acquired a measure of prestige as an actor as he appeared in movies with Richard Pryor, Whoopi Goldberg and Jack Nicholson. His first important role was offered to him by Robert Redford in "The Milagro Beanfield War", in which he played the town's sheriff.
His career as an actor started to gradually grow in importance eventually giving him a protagonist role in "Dead Man Out", where his portrait of a killer on death row gave him the Best Actor Award in movies produced for cable television. Through the same medium one should highlight his acting in the mini-series "The Josephine Baker Story". Among his recent interventions on the movie screen we find The Two Jakes (1990) Mo' Better Blues (1990), The Super (1991), Crazy From The Heart (1991), One Man's War (1991), Latino Session (1992), Miracle on I-880 (1993), A Million to Juan (1994), Color of Night (1994), Scorpion Spring (1996), Chinese Box (1997), Roots of Rhythm (1997), and The Devils Own (1997).
In 1990, Son del Solar recorded a farewell album directly from Lonestar Roadhouse, in New York, ending a stage which, while representing creation and achievement for the group, it was also a phenomenon which permitted the circles of Latin music to go beyond that which until then they had been reduced to, influencing not only the Latin musical panorama of the seventies and eighties, but also future generations of musicians and the public which, as will be observed, made it possible for Afro-Caribbean music to reach a place unforeseen in those days not only as an escapist and festive manifestation, but also as a social and cultural expression. And, of course, also as enjoyment and fun.
In 1994, Rubén Blades decided to run for president of his country in an effort to create and bring into relevance a social and democratic movement already existing in his country but until then ignored. His political militancy is based on the fight against social injustice and the defense of ethnic, cultural and social minorities. Rubén explains that, "at no moment did I think I was going to become president or anything of the sort, but if I would have been, it would not have been through a desire for power. What we attempted was to bring to the fore the existence of an important sector of the Panamanian population that disagrees and cannot identify with the policies applied to them. My political campaign fully achieved that purpose".Rubén Blades inaugurated the decade of the nineties signing a contract with Sony Music International, A&R Development New York, a feat which opens a new stage in his career. His last album, "Caminado" (Walked), "Amor y Control" (Love and Control) and "La Rosa de los Vientos" (The Rose of Winds), conform a trilogy where his opus definitely moves towards the universalization of the rhythms and styles typical of Latin music. In his most recent album, "Tiempos" (Times), Rubén Blades has given another step in his effort to "culturize" and enhance Latin rhythmsto this effect he did not hesitate to incorporate elements of contemporary classical music as a base to his whole display of genius, originality and compromise, musical as well as social. The result is an exceptional album that no doubt will make history.
In 2004, the president elect of Panama, Martin Torrijos, named Blades Tourism Minister, overseeing the Instituto Panameo de Turismo (IPAT). Blades said that he would stay away from his artistic career during his appointed period.
In 2015, Rubén Blades released an independently produced album titled "Son de Panamá." It is a tribute to Panama, featuring the Panama-based Orquesta Robert Delgado.
"Son de Panamá" is a reflection of my eternal gratitude for being Panamanian, and the pleasure it gives me to declare it publicly once again," said Blades. "Those of us who work on that album believe in our country and in our individual and collective capacity." The product we are presenting to the public has a stamp printed with that confidence, and is the result of discipline and professional dedication, fundamental elements that allow you to compete successfully and gain support and recognition from the public, locally and internationally, while addressing issues that are universal, such as domestic violence, politics, corruption and poverty. "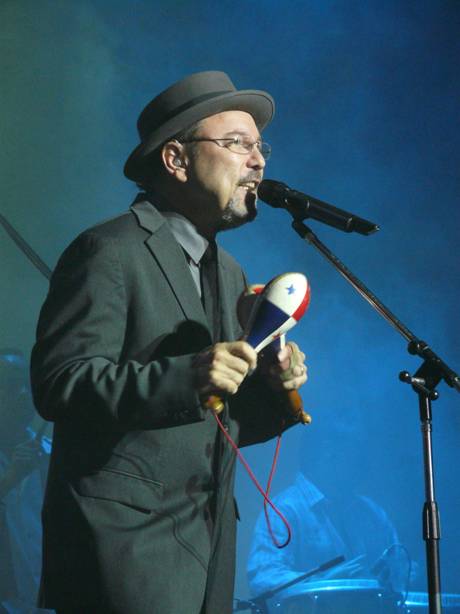 Also in 2015, Blades starred in "Fear The Walking Dead", a new zombie series produced by AMC. Blades played the role of Central American migrant Daniel Salazar.
Son De Panamá (Ruben Blades Productions) won the Latin Grammy for Best Tropical Latin Album in 2016.
In 2016, the video The Return Of Rubén Blades was released in Blu-ray and digital formats. The film is Robert Mugge's portrait of Ruben Blades. In early 1985, Mugge decided was fascinated by Ruben Blades. At the time, Blades was the darling of American rock critics thanks to release of the 1984 Elektra album Buscando América, Blades' most successful attempt at "crossing over" into mainstream Anglo acceptance.
The release of Buscando América, with its intricate Latin dance rhythms, its rocklike intensity, and its poetic, Spanish-language reflections on the often-turbulent relationship between the U.S. and Latin America, showed Blades to be a major cultural force. But what made him so much more "interesting" as a film subject was that, simultaneously, he was starring in a highly autobiographical independent film titled Crossover Dreams which he himself had co-written, was earning a Master of Laws degree (LL.M.) in International Law from Harvard Law School, was publishing political essays in both Spanish and English, was splitting his time between the U.S. and his native Panama in anticipation of future political ambitions, was reading scripts for additional acting roles in the hope of improving the image of Hispanics in Hollywood films and TV series, was touring internationally with his superb band, and was planning ever new material he hoped would further dissolve barriers between the English-language and Spanish-language music industries. As a documentary filmmaker seeking to capture the life and career of Rubén Blades on film, Mugge saw his own biggest challenge as simply keeping up with this seemingly tireless potential subject.
Mugge and his crew spent the spring and summer of 1985 shooting the following: a concert by Blades and his band Seis del Solar at New York City club S.O.B.'s (Sounds of Brazil); an interview with Blades at his New York City apartment; a conversation between Blades and author Pete Hamill in a New York City park; Blades' graduation from Harvard Law School (including conversations with his mother and his dean); a Spanish-language recording session in Los Angeles featuring Blades and guest vocalist Linda Ronstadt; a joint interview with Blades and Ronstadt (who was then contemplating recording her own albums of Mexican songs she learned at home as a child); and a trip by Blades to his hometown of Panama City. In Panama, Blades was filmed on the balcony of his new high-rise apartment overseeing his city's changing landscape, in front of the bank where he once worked as an attorney, joining his father for a visit to the neighborhood where he grew up, in a courtyard discussing his intention to run for president of Panama one day, and walking along the Panama Canal discussing the sometimes tense relations between his native and adopted countries.
In the three decades since this film was made, Blades has accomplished much of what he set out to do, including (1) becoming a respected actor in Hollywood and independent films and television series; (2) continuing to serve as an effective political essayist and activist; and (3) continuing to record and perform powerful world music with both Spanish and English lyrics, and winning several Grammy Awards and Latin Grammy Awards along the way.
Discography:
From Panama To New York (Alegre Records, 1970)
Metiendo Mano! (Fania Records, 1977)
Siembra (Fania Records, 1978)
Ruben Blades Con Los Salvajes Del Ritmo (Tucuso Records, 1979)
Maestra Vida – Primera Parte (Fania Records, 1980)
Maestra Vida – Segunda Parte (Fania Records, 1980)
Canciones Del Solar De Los Aburridos (Fania Records, 1981)
The Last Fight (Fania Records, 1982)
El Que La Hace La Paga (Fania Records, 1983)
Mucho Mejor (Fania Records, 1984)
Buscando América (Elektra 1984)
Escenas (Elektra, 1985)
Crossover Dreams (Elektra, 1986)
Doble Filo (Fania Records, 1987)
Agua De Luna (Elektra, 1987)
Nothing But The Truth (Elektra, 1988)
With Strings (Fania Records, 1988)
Antecedente (Elektra, 1988)
A Conversation With Ruben Blades About Nothing But The Truth ‎(Elektra, 1988)
Live! (Elektra 1990)
Buscando America (‎Elektra, 1990)
Caminando (Discos International. 1991)
Entre Amigos ‎(Ritmo Records, 1992)
Amor y Control (Columbia, 1992)
Tras La Tormenta (Sony Tropical, 1995)
La Rosa De Los Vientos (Sony Tropical, 1996)
Tiempos Sony Music 1999)
Ganas ‎(RReMark Records, 2000)
New Morning Mambo ‎(TIM The International Music Company, 2002)
Mundo (Sony Discos, 2002)
Encuentro ‎(Reyes Records, 2002)
Span ‎(AIX Records, 2004)
Nothing But The Truth ‎(Wounded Bird Records, 2007)
Cantares Del Subdesarrollo ‎(Rubén Blades Productions, Inc. , 2009)
Siembra Live ‎(Fania Records, 2010)
Todos Vuelven-Live Vol 1 ‎(Ariel Rivas Music, 2011)
Todos Vuelven-Live Vol 2 ‎(Ariel Rivas Music, 2011)
Eba Say Ajá ‎(Ariel Rivas Music, 2012)
Todos Vuelven Live ‎(Ariel Rivas Music, 2012)
Tangos ‎(Sunnyside, 2014)
Son de Panamá ‎(Ruben Blades Publishing, 2015)
The Bootleg Series Volume 1 ‎(Subdesarrollo Records, 2015)
The Bootleg Series Volume 2 ‎(Subdesarrollo Records, 2015)
The Bootleg Series Volume 3 ‎(Subdesarrollo Records, 2015)
Salsa Big Band ‎(Rubén Blades Productions, 2017)