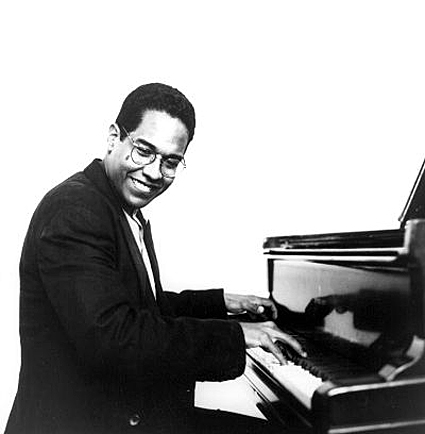 Danilo Pérez's intelligent, exciting and stylistically authentic piano sounds have made him a leader in the new generation of jazz musicians. Wynton Marsalis recognized Pérez's talent and versatility when he invited the young pianist to tour Poland with him in 1995, making him the first Latin artist to perform in his band. Pérez earned high marks from the demanding bandleader for his ability to easily crossover from his Latin music roots to perform Jazz classics.
Danilo Pérez was born in Panama in 1966. He began his musical studies at the age of three when his father, a bandleader and singer, gave him a set of bongos. Pérez started playing piano five years later, studying the European classical repertoire at the National Conservatory in Panama. While a teen he played in Edgardo Quintero's orchestra with his father, playing dance music at country clubs and society balls. Pérez won a scholarship to study jazz and classical music at Indiana (Pa.) University. In 1985 he went to the Berklee School of Music in Boston to study and discovered his love for Jazz. "The first time I heard Bill Evans, I flipped," he recalls. "I never knew the piano could sound so beautiful."
In 1987, Pérez took time off from school to perform with local legend Jon Hendricks. While finishing his degree in Jazz composition, he put his Latin background to good use, dividing his time between playing keyboards for Brazilian trumpeter Claudio Roditi and assuming piano and musical director responsibilities for Paquito D'Rivera's Havana-New York Music Ensemble. Pérez produced the critically-acclaimed Reunion album (Messidor) featuring D'Rivera and trumpeter Arturo Sandoval.
Pérez was honored as the Most Outstanding Musicians by the Boston Jazz Society in 1989 and was also selected as a semi-finalist in the Thelonious Monk Competition held in Washington DC. His command of the eclectic, post-bop Latin style solidified during a four year tenure (1989-1992) with Dizzy Gillespie. A high recommendation from D'Rivera helped Pérez land his gig with the innovative trumpeter and his United Nations Orchestra. Pérez performed during induction ceremonies at the Kennedy Center Lifetime Achievement Awards when Gillespie was honored by the U.S. President and other dignitaries.
Pérez composed much of the musical score for a 1990 European film starring Gillespie, "The Winter in Lisbon", and performed on the soundtrack with Gillespie, Grady Tate and George Mraz. Pérez is featured on Gillespie's United Nations Orchestra release, the 1992 Grammy award-winning Live at the Royal Festival Hall (Enja). He toured worldwide with Freddie Hubbard, Red Rodney, Claudio Roditi, James Moody, Jimmy Heath, Slide Hampton, George Mraz and Louis Nash during the Diamond Jubilee Celebration Tribute to Gillespie. The Diamond Jubilee Tribute culminated in a live recording at the Blue Note, To Bird With Love (Telarc), a project that featured Pérez.
He also performed with George Benson, Clark Terry, Terence Blanchard, Brandford Marsalis, Roy Haynes, Charlie Haden, Lionel Hampton, Joe Lovano, Steve Turre, Dave Valentine, Paul Motian, Flora Purim, Nick Brignola, Jay Ashby, Tom Harrell and others. Pérez performed as a special guest artist on Arturo Sandoval's 1994 Grammy-winning album in the Best Latin Jazz category, Danzón. Pérez's own projects have received favorable response from critics, musicians and fans. His self-titled debut recording, with Jack DeJohnette, Joe Lovano, Santi Debriano, Rubén Blades and David Sanchez, established his intent to successfully meld contemporary Western classical and Jazz repertoires with Latin rhythms.
His second Novus release of original compositions, The Journey, is an epic dreamscape which traces the African experience in the Americas. Featuring Andy Gonzalez, bass; Ignacio Berroa, drums; Giovanni Hidalgo, Kimati Dinizulu and Milton Cardona, percussion; Larry Grenadier, bass; George Garzone, tenor sax and David Sanchez, tenor and soprano sax, Pérez takes his music a step forward rather than simply creating a synthesis of Latin music, Jazz and classical.
In 1995, Pérez was invited to perform with The Panamanian Symphony Orchestra in both his native country and Venezuela. The first part of the program presented the music of George Gershwinthe second featured part of Pérez's The Journey.
One of Pérez's most spectacular collaborations was on the "Calima" album by Spanish flamenco guitar wizard, Gerardo Núñez. Cultural traces and a variety of musical influences are the essence of Pérez work. "I've been working on this kind of mixture," Pérez explains. "I want the music to meld, so you can't simply say, 'that's Latin music, this is Jazz and that is classical'. It is just music. Even though we're playing Latin rhythms, my music always involves African elements, cross rhythms and odd meters. The instruments selected by my percussion players often come from Africa. I mix all that with my vision of the blues, contemporary Jazz, with swing and other traditions, and with elements of my own childhood classical training."
Discography
Reunion (Messidor, 1991)
Danilo Perez (Novus, 1993
Tales From The Reefs (One By One Records, 1993
The Journey (RCA, 1994)
Panamonk (Impulse!, 1996)
The Outsider (Savant Records, 1997)
Central Avenue (Impulse!, 1998)
The Roy Haynes Trio Featuring Danilo Perez & John Patitucci (Verve Records, 2000)
Motherland (Verve Records, 2000)
…Till Then (Verve Records, 2003)
Across The Crystal Sea (EmArcy, 2008)
Music We Are (Golden Beams Productions, 2009)
Providencia (Mack Avenue, 2010)
Without A Net (Blue Note, 2013)
Children of the Light (Mack Avenue, 2015)