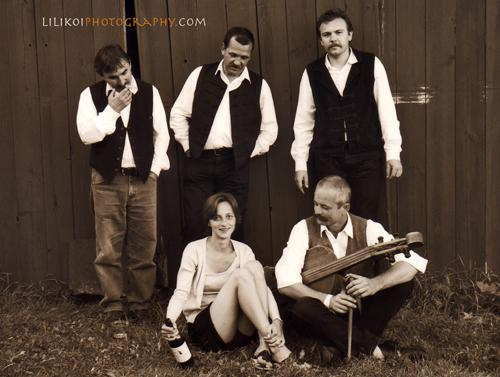 The Ökrös Ensemble, the leading folk revival band in Hungary, is a special treat for music lovers. They have the marvelous ability to present the soul of their music, performing on authentic instruments. Csaba Ökrös, the leader of the Ensemble, is one of the most respected revival violinists in Hungary. Before he started the ensemble, Csaba Ökrös had performed with the Uistilus Ensemble, the Hungarian State Folk Ensemble, the Kodaly Folk Dance Theater, and Muzsikas.
Csaba Ökrös teams up with other excellent musicians to present authentic and unique Hungarian folk music, elevating it to a high level of artistry. Members include Miklós Molnár, László Mester, László Kelemen and Robert Doór who are considered the best folk musicians in Hungary with impressive global recording and performance backgrounds. Members of the Ensemble are also Rounder Records recording artists.
Ökrös Ensemble has collaborated with violinist Sandor Fodor "Neti" and the renowned singer Marta Sebestyen.
There is a special relationship between Gypsy fiddler Aladár Csízsár and the Ökrös Ensemble. A CD was recorded which examines an documents the versatile and exciting music of Székelyföld, allowing centuries old traditions to survive. Live, the whole group performs virtuosic renditions of Hungarian and Transylvanian music with full accompaniment of the rarely heard cimbalom and female vocal.
Discography:
Transylvanian Portraits – Hungarian Village Music From Transylvania, with Márta Sebestyén (Koch World, 1992)
Hippoglassus (Around Sound Studios, 1994)
Hungarian Folk Music From Rábaköz & Kutasföld, Mezoség, Transylvania (Hungária Records, 1994)
Koszorú (Sonophil Records, 1994)
Kalotaszegi Mulató Énekek – The Blues At Dawn In Kalotaszeg (ABT Budapest, 1996)
Búsulni Sohasem Tudtam – Hungarian Folk Music From Transylvania (Fonó Records, 1997)
Transylvanian Village Music From Gypsy, Hungarian And Romanian Tradition (Rounder Records, 1999)
Elindultam Szép Hazámból I Left My Sweet Homeland (ABT Budapest, 2001)