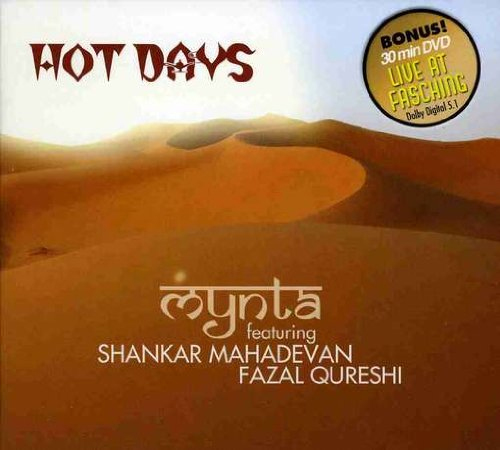 Mynta – Hot Days (Free Spirit, 2006)
This is a superb Indo-Swedish fusion band, not quite in the league of Shakti, but with a more diverse range of sounds.
Calling itself a "fusion of Nordic ice with Indian spice," there's a good mix of funky percussion, scatting vocals, slick guitar and soaring sax.
The two-disc set includes a CD and DVD. The Swedish lineup features Santiago Jimenez (violin), Max Åhman (guitar), Sebastian Printz-Werner (percussion) and Christian Paulin (bass). They are well matched by Fazal Qureshi (tabla) and Shankar Mahadevan (vocals).
The 15 tracks are culled from 5 previous albums. Each track is terrific, you must get this album!
Other Mynta albums available: Nandu's Dance, Hot Madras, First Summer, Meetings in India and Indian Time.