Some people don't like instrumental music because it has no lyrics. Then again, there are people who don't much care for world music sung in languages that are foreign to them. Somewhere in between those objections lies the realm of globally-inspired instrumental music, which wouldn't do a thing to placate that first group but just might sway the second. I'm not in either group, so these releases present no problem whatsoever for me.
To combine Ethiopian-inspired reeds and a Saharan blues-rock rhythm section largely without a chordal instrument leading the way was no doubt challenging, but the eponymous debut by Molly Tigre (Very Special Recordings, 2018) rises to it marvelously. Bassist Ezra Gale and saxophone player Mitch Marcus, both of Aphrodesia fame, came up with the idea and recruited Chris Hiatt (sax, flute), Joe Abbatantuono (drums) and Ibrahima Kolipe Kamera (jembe) to make it happen.
Don't be fooled into thinking tracks with titles like "Hello Bolly" and "Couscous Timbuktu" are going to come out sounding goofy. The music holds fast to a funky core while the saxes handle what there is in the way of melody, resulting in slabs of sweet/salty sound very much like those we've come to know and love from all those golden age Ethiopian reissues that have come along in recent years.
There are improvisational jazz elements at work in how spontaneous and alive it all feels, and the minimal instrumentation means that every horn line, bass line, Afrobeat-laced drum pulse and djembe crackle gets its delightful due. A few Farfisa organ swells are thrown in for good measure and "Ethiofreaks" takes it higher by featuring Mulatu Astatke-style vibraphone expertly laid out by Tommy Mattioli. And if that's not a sufficient nod to the originators, there's a cover of Astatke's own "Yekermo Sew" capping off a disc that blazes bright and gets it exactly right from start to finish. I can't recommend this release highly enough; it's sure to earn a spot in my top ten of the year. (www.mollytigre.com)
On a larger scale and not aiming for any particular fusion, a group calling themselves Free Radicals gives us a wordless musical statement for our times on Outside the Comfort Zone
(Antitrust Music, 2017). Heavy on the horns and textured with an array of other instruments (including violin, vibes, pedal steel, tabla and dumbek), this outfit expertly tears into 23 tracks that cover varying degrees of ska, Ethio-jazz, New Orleans gumbo, Latin rhythms, psychedelia, Afrobeat, rock, reggae, cumbia, blues and all connective tissue therein.
Forget categorizing and simply consider it a first rate selection of inventive, rousing, get-off-your-ass music that just might take your mind away from how fucked up the world is right now. Then again, with titles like "Manifest Dust Bunny," "Cheeto News Coma" and "The Legals Have a Lunch," you can also choose to have a good laugh while you're shaking that thing. In addition to being the stuff of repeated listening, this musical middle finger melting pot sports one of the greatest album covers in history.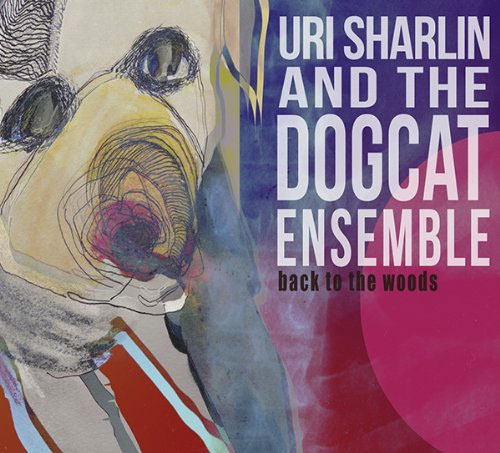 It's a 2013 release that escaped my complacent notice until recently, but I must give belated kudos to Back to the Woods (Folk Dune/Naxos) by Uri Sharlin and the Dogcat Ensemble. Sharlin is an accordion, organ and piano player with an ear for eclecticism, and his keyed-up virtuosity is joined by guitar, bass, bassoon, bass clarinet and percussion on a selection of tunes that range in feel from playful to pensive to power-packed.
In Sharlin's hands, the accordion becomes a most expressive instrument, leading the ensemble (who all get to show their own chops) through tunes that, by turns, would sound at home in a jazz club, a smoky cabaret, a Jamaican dub session, a busker's corner or a clearing in the middle of a rain forest. Again, impossible to classify, and again, something you really must hear for the freshness and variety it offers. Sincere apologies to Mr. Sharlin and his crew, who deserve much more than an afterthought.