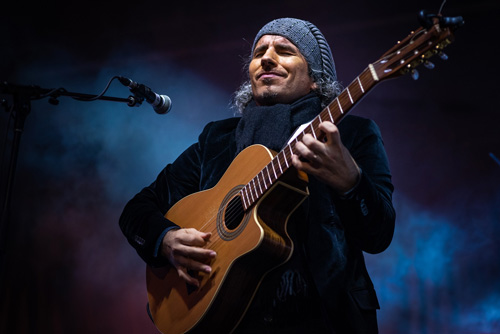 The Cordas (strings) festival took place September 11-15, 2019 in the municipality of Madalena, in Pico Island, Azores (Portugal). Pico Island, in the middle of the Atlantic Ocean, welcomes string musical instruments and artists from around the world. Venues include a garden, a cave, a volcanic crater, natural pools, dragon-tree sanctuary, center square stage, the museum auditorium that gives you the sensation of being inside a turned-around ship, and the new contemporary auditorium in the town of Madalena.
Artists that performed this year include kora player Braima Galissá (Guinea Bissau), Ricardo Melo (Portugal), Ana Medeiros (Portugal), Andrew Cronshaw (UK), Açores Canta (Portugal), Marcos Fernandez (Spain), guitarist Remígio Pereira (Canada), Victor Castro (Portugal), Pieter Adriaans (Netherlands), Afonso Villasanti (Brazil) and Michel William (Mozambique).
CORDAS World Music Festival from MiratecArts on Vimeo.
Cordas World Music Festival is the winner of various international awards including Top 10 Best New Festival (Iberian Festival Awards 2017) and Global Top 10 Fest (Transglobal World Music Chart Festival Awards 2018).
Some artists that have appeared in past editions include Tcheka (Cape Verde), Lu Yanan (China), Canary Islands timple players Germán López and Beselch Rodriguez (Spain), Iran Zamir (Israel), kantele instrumentalist Maija Kauhanen (Finland), and Portugal´s only-female Portuguese guitar player Marta Pereira da Costa, among many others.
Artist proposals are welcome, including solo, duos, trios and bands that are 100% string instruments and one-person bands that include a unique string instrument. MiratecArts, the founders of Cordas Festival also welcome proposals from artists of other disciplines that wish to present a project within the theme of string-instruments. For example mural paintings, installations and exhibitions.
More at MiratecArts