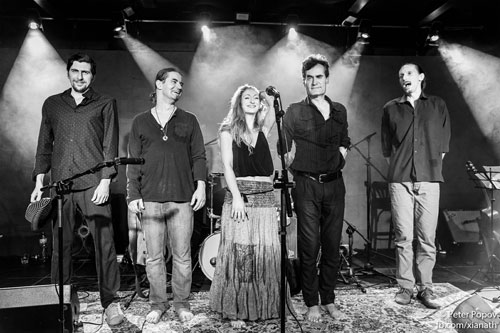 Hungarian world music band Meszecsinka is back from its Russian tour. The group performed in Saint Petersburg, Moscow, Dubna and Sergiev Posad from November 2-5, 2017.
In Bulgarian, Meszecsinka means a "small moon" and comes from vocalist Annamari's favorite Bulgarian folk song. Annamari Oláh sings in seven languages (Hungarian, Russian, Bulgarian, Finnish, English, Italian and Spanish) and one of their own. The group itself comes from two countries (Hungary, Bulgaria) and leads listeners into a wonderland, where Bulgarian and Hungarian folk lives together with Latin music and funk, Eastern and experimental.
"This was my second time in Russia. I only was in Moscow 3 years ago so now I could see more details of Russia," said Annamari Oláh to WorldmusicCentral. "Sometimes I felt I was in a movie or at home or like 'Hedgehog in the Fog'. I loved to travel between cities. The worst thing was that we hadn't enough time for sightseeing but I got a lot of hugs, energy, unforgettable moments and words and shining eyes, gifts, and it was an incredible surprise when a couple who live in St. Petersburg, but they missed our concert on Nov. 2nd, traveled to Sergiyev Posad to see us (it's in the Moscow region). I totally filled up with energy and this trip was inspired me a lot".
Meszecsinka's members are Annamari Oláh on vocal, Biljarszki Emil on guitar, Krolikowski Dávid on percussion and Vajdovich Árpád on bass guitar.
"Russia is a special story for me," says Emil Biljarszki, " because I grew up there. I took up its music, culture and still swear in Russian sometimes even if I left it in 1982 (I was born in Bulgaria and since 1984 I've been living here in Hungary). I met old and new friends in Saint Petersburg and Moscow. Meszecsinka tours regularly in Europe, we've been twice in America and it was our second time in Russia. Recently we started playing mostly in Eastern Europe and the reason is that it's more interesting and the audience is better. Maybe we're paid more in Germany but in Bulgaria, Russia and Poland I always feel that we're loved. There is a short video from our Saint Petersburg backstage:
https://www. facebook. com/meszecsinka/videos/10159899375605393/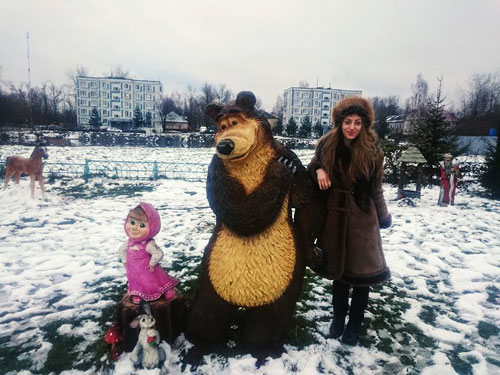 Our organizers Daryana, Maria and Yuri worked as magicians, they organized concerts 2 weeks before our coming to Russia exactly on dates and places we needed. For example there was a sold out concert in nuclear city of Dubna, we played for the atom workers!"
Meszecsinka has performed in the biggest venues of Hungary like Millenáris or Palace of Arts and at many festivals in the country and almost all European countries.
The band tours frequently in many European countries. They visited the USA and Canada, recorded video on the Red Square in Moscow and a Balkan road movie. Their art video "Kinyílok (I open up) reached the sixth place on the video chart of World Music Network (UK) and fRoots Magazine (UK).
Meszecsinka is one of the 12 best Hungarian world music bands according to the WOMEX edition of Dal+Szerző magazine.
More about the band:
www.Meszecsinka.hu
youtube.com/user/meszecsinka