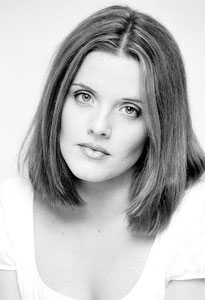 Méav has a broad range of performing experience in Ireland and abroad. Her first solo album, Méav, sold 40,000 copies and is particularly popular in the US, Japan and Korea. Several of the tracks from the debut Meav album were featured on compilation albums, including one (Ailein Duinn – Warner Special Marketing), which sold 100,000 units.
Méav inherited her love of classical and traditional music from her family in Dublin. She began her studies of voice, harp and piano at an early age and continued them while completing a law degree at Trinity College Dublin.
Méav toured South Africa for three months as the lead vocalist with Lord of The Dance in 2000. As the sole vocalist on three extensive tours from 1996 to 1999, Méav has toured the U.S. and Canada with the RTE Concert Orchestra conducted by Proinnsias Ó Duinn. She has performed a variety of traditional and contemporary works from the tour including Riverdance by Bill Whelan in a series of concerts in Dublin, Belfast and Limerick.
As a principal soloist with the Celtic choral group Anúna, she has toured extensively in Canada, Morocco, Spain and Scandinavia and has performed with such diverse musicians as Elvis Costello, Brian Kennedy and The Chieftains. As a soloist with Anúna she sang at the inauguration of President Mary McAleese. She sang in the London and Dublin runs of Riverdance and in the New York premiere at Radio City Music Hall. As a soloist with the Irish National Chamber Choir, she has toured Brazil, Sweden, Italy, Poland and the Czech Republic.
Méav has broadcast frequently on Television and Radio, in Ireland, South Africa, Korea and the U.S. Her other recordings include featured tracks on Aujourd'hui l'Irlande and on Celtic Spirit with the RTE Concert Orchestra; the theme music for the BBC TV series, The Aristocrats and three albums with Anúna.
She is a featured soloist in "Celtic Woman", the highly successful DVD and CD.
Discography:
Méav (Celtic Collections, 1999)
Silver Sea (Celtic Collections, 2002)
Celtic Dreams (Valley Entertainment, 2006)
A Celtic Journey (Manhattan Records, 2006)
Celtic Woman Presents: Méav (Manhattan Records, 2006)6
The Calling (Warner Music, 2013)
With Celtic Woman:
A Christmas Celebration (Manhattan Records, 2006)
A New Journey (Manhattan Records, 2007)
Home for Christmas (Manhattan Records, 2012)
Destiny (Manhattan Records, 2015)
Voices of Angels (Manhattan Records, 2016)
The Best of Christmas (Manhattan Records, 2017)