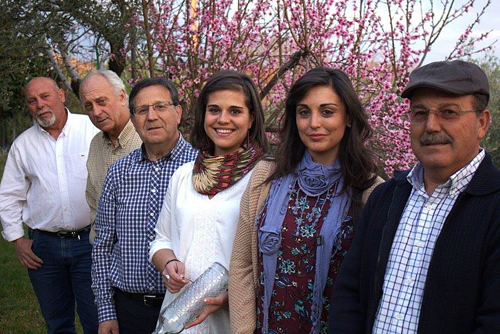 Manantial Folk was born in one of the richest areas of musical folklore in Spain, the villages of the Sierra de los Gredos (La Vera and Valle del Tiétar) in western Spain. The group maintains, since childhood, a close contact with the various manifestations of traditional culture. Since 1982, traditional music has been updated, working on several fronts.
One of the main interests of the group is research. Manantial Folk has collected more than three hundred songs that, rigorously documented and with their corresponding musical notation, are included in their songs. The musicians of Manantial Folk have recovered instruments such as the rabel de una cuerda (one-string rabel or rebec), which had almost disappeared, and they have been teaching classes on indigenous instruments and rhythms at towns throughout the region. They complete this work with conferences, articles in specialized magazines, radio and TV programs, etc.
In their recordings Manantial Folk are renovators, adapting folklore to the current demands always from the natural respect to the essence of each song: melody, rhythm and text. And advances, also from traditional approaches, to new compositions by musicating relevant current poets (Claudio Rodríguez, Jesús A. Martín, José Lahorascala, etc …) who sing to the earth and to men.
Throughout the years Manantial Folk has been gathering an extensive repertoire that is continuously increasing. The songs are decided according to the venue (town squares, theaters, schools, etc.) and the circumstances in which it must be done, combining culture and show perfectly.
The ensemble: Ana Aliseda – harmonica, percussion, and vocals; Cristina Bernal – flutes, percussion, and vocals; Nino Seco – lute, rabel, percussion, and vocals; Rafael Tirado – electric bass, and vocals; Angel Tirado – acoustic guitar, and vocals; and José Luis Rodriguez – Spanish guitar and vocals.
Discography:
Manantial (1982)
Los tapiales (1984)
Extremadura en la mirada (1985)
Vengo de la Vera, vengo (1986)
"…a sol poner" (1987)
Raíz y vuelo, compilation(1988)
Jotas, rondas y rondeñas, compilation(1988)
Del Duero al Guadiana (1990)
Alboreá, rondas de boda, with Cogolla, Niño de la Ribera and José A. Conde (1991)
Canciones Populares (Guía didáctica) (1991)
Tiempos (1992)
América, te nombro (1992)
Del natural (1994)
Pregón XI Festival Acántara (1995)
Esto tan nuestro, compilation (1997)
Jota y rondeña, ronda y romance (1998)
Más que canciones (2000)
Al estilo de mi tierra, compilation (2004)
Paisaje y Canción, compilation (2006)
Cuando las calles cantan, compilation (2009)
La estrella de Gredos (2011)
Sonidos del tiempo, compilation (2013)
La luz de la palabra (2015)
DVDs
Gente, paisaje y canción (2006)