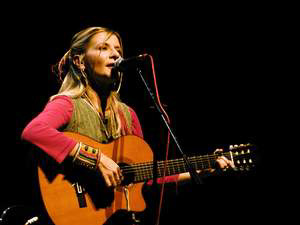 Lidija Bajuk is a Croatian writer whose poetry and books are based on the rich heritage of Slavic mythology. But above all, she is a musician with a strong desire to preserve traditional songs of her country and present them to the modern generations.
Her enchanting voice takes one on the journey into the ancient past of the archetypal images hidden in the deepest corners of the soul, into the self-discovery.
She and her guitar have traveled from Tibet to Colombia, from Greece to Canada. In July 2002 she represented Croatia at the festival Euromusica in Olympia, Greece, and in October 2002 she performed at the opening of Prix Europa festival in Berlin, Germany, together with the famous Croatian band Legen.
Lidija Bajuk's performances vary from solo performances to those where she is accompanied with her band, or performances in duet with the famous Croatian pianist Matija Dedic.
She has participated in various compilations, including; Ethnoambient live / Archaic Songs from Croatia, (Kopito records & CBS Zagreb, 1995), Svehrvatski glazbeni festival Cro Etno Neum 96 (CBS & Croatia Records Zagreb & Croatica Mostar, 1996), and Etno Devedesete (CBS Zagreb 1998).
Discography:
Zora-Djevojka (1997)
Kneja (1999)
Tira Les (2001)
Luna (2005)