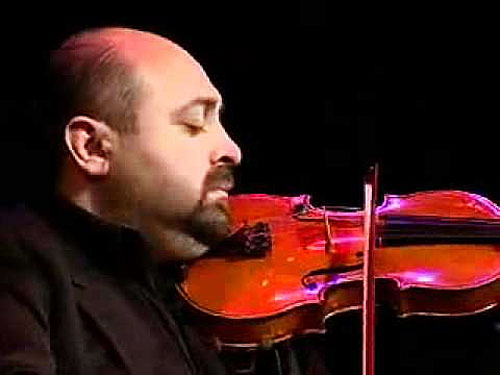 Lache Cercel was born in Bucharest, Romania and studied at Romania's prestigious Academy of Arts.
Before leaving his homeland, Lache Cercel was one of Romania's leading musicians and a recognized prodigy and virtuoso. In 1986 he was awarded the "Artist of the People " citation from the Romanian government.
Cercel's music is firmly rooted in Roma (Gypsy) tradition, combined with Doina Klezmer, Middle Eastern, and European sounds held together with jazz improvisation. He calls his fusion "Roma Swing". In the tradition of Django Reinhardt and Stephen Grappelli, Cercel lays down classical and improvisational jazz alongside traditional Roma melodies.
Since settling in Canada, he has collaborated with musicians from diverse backgrounds such as renowned Egyptian percussionist Adel Awad, Latin Music virtuoso Sal Ferreras, Canadian Jazz guitarist Don Ogilvie, bassist Sam Shoichet, vocalist Rebecca Shoichet, and various world musicians.
Cercel spent his early years in Canada performing solo concerts and teaching Romanian style violin. He has taught annually at Buffalo Gap International Music Camp, in Washington, D.C. and Mendocino Balkan Camp in Mendocino, California. He has performed at many World and Jazz Festivals throughout Canada, the United States, and Europe.
In 2003, Cercel's piece "A Cry For Roma" from Suspino earned him a Hugo Gold Plaque at the 39th Chicago International Television Awards in the category of "Special Achievement: Music Score". Cercel also composed music for the National Film Board (Canada) documentary "Opre Roma" and for the internationally screened independent film "Naroc".
discography:
Rhapsody of Romania 91997)
Muzika Konkordo ‎(Jericho Beach Music, 2006)