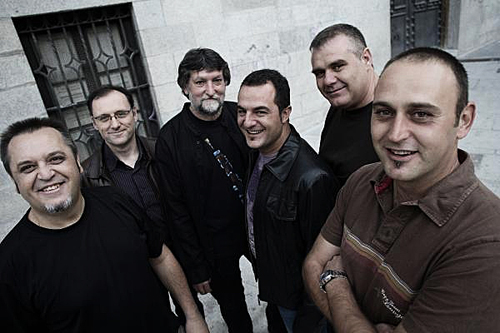 La Bruja Gata was a world music band that performed traditional Spanish folk music with global and innovative sounds. All the musicians had experience in various folk and rock bands Rafa Martín was founder of La Musgaña, in 1987; José Ramón Jiménez was a member of Suburbano; Javier Barrio recorded with La Bazanca (Valladolid) and many other acts, and Javier Palancar had collaborated with La Frontera and is one of the most renowned accordion teachers in the Spanish capital.
La Bruja Gata was founded in Madrid at the end of 1999 and, in a short time of existence, it managed to become an important phenomenon within Spanish folk. The group was selected, among more than 1,100 candidates, for the Strictly World festival that was held in Zaragoza in November 2000. In addition, La Bruja Gata was proclaimed by popular vote "best new band" at the Festival de Ortigueira in 2000.
The first album of the group, Manual de Pociones (Potions manual), included 15 songs (including 11 instrumentals) composed by Javier Palancar and José Ramón Jiménez with the exception of a polka from Julián Romanos.
The members of La Bruja Gata liked to define their music as "stateless folk", "folk from nowhere" or "folk from their father and mother", a remarkable variety of styles. "Our sound combines in some way Castilian airs, Balkan rhythms, African percussion, progressive jams and a bit of Celtic vertigo. We are not traditionalists or recreators. We have tried to make La Bruja Gata look just like La Bruja Gata", explained Palancar.
La Bruja Gata won the Villa de Madrid 2002 award for the best traditional music album for its debut album, Manual de Potions.
The Bruja Gata lineup included: Javier Palancar (Madrid, 1964: accordion, vocals); José Ramón Jiménez (Madrid, 1975: clarinets, flutes); Rafa Martín (El Escorial, 1961: zanfona, lute); Antonio Melero (Madrid, 1974: percussion, drums); Javier Barrio (Segovia, 1960: guitars, guitarrillo, dulzaina); Roberto Ruiz (León, 1965: bass, cello).
Discography:
Manual de Pociones (La fábrica de ideas, 1999)
Baile de Libélulas (Resistencia, 2004)
Fugaz (La Bruja Gata, 2010)