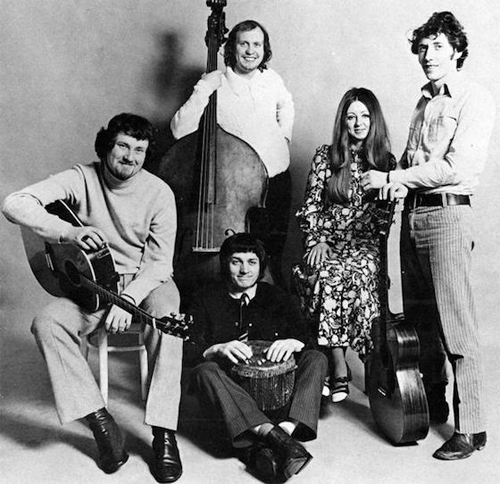 Guitarist and composer John Renbourn was born August 8, 1944 in Marylebone, United Kingdom. He was one of the world's leading fingerstyle guitarists. His unique sound was a fusion of British and Celtic folk music with jazz, country blues, ragtime, classical, Middle Eastern and pre-Renaissance music; a style often called "folk-baroque."
As a teenager, Renbourn played folk and blues guitar in his hometown of Torquay in southwest England. In 1964, after two years studying classical guitar at the George Abbot School in Guildford, a twenty-year-old Renbourn moved to London to break into the Soho folk circuit and to record solo albums for Transatlantic Records. There, he met fellow guitarist Bert Jansch and singer Jacqui McShee, with whom he founded the influential British folk-rock ensemble Pentangle in 1967.
Pentangle's pioneering combination of traditional folk melodies with jazz improvisations created an influence that continues to inspire folk musicians around the world. From 1967 through 1978 the group's career spanned six albums, numerous television appearances and three movie soundtracks, as well as several American and world tours.
Later, John continued as a soloist, recording memorable albums like The Hermit and The Black Balloon, before forming the John Renbourn Group, which integrated Indian tabla with guitar and jazz reeds. A subsequent partnership with Stefan Grossman yielded several albums and world tours.
Ship of Fools, a return to the ensemble format, explored John's interest in Celtic music, as did Wheel of Fortune, with Scottish harper and storyteller Robin Williamson. Both Wheel of Fortune and the John Renbourn Group's Live in America were nominated for Grammy Awards.
John Renbourn and Robin Williamson often toured together, and John continued an active solo career. He also maintained his artistic relationships with Jansch and McShee, with Stefan Grossman and with jazz guitarist Larry Coryell. He also developed a stunning two-guitar show with American expatriate Isaac Guillory.
John Renbourn died on March 26, 2015 in Hawick, United Kingdom.