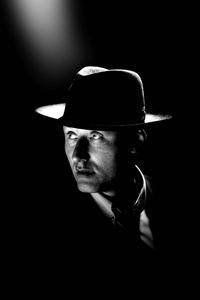 It was at Sheffield's Boardwalk after a performance with The English Roots Band, that Jah Wobble first mentioned his Chinese Dub project. Eighteen months on, with financial assistance from the Arts Council, The Liverpool Culture Company Ltd, several trips to the Yunnan Province and a terrifying earthquake later, we now have the opportunity to experience the "new Anglo – Chinese aural and visual spectacular".
How excited was I ? but as I walked across the city centre, it was like a ghost town and I wondered if there would be enough punters on a Monday evening in July as Wobble came back to the Boardwalk with his Chinese Dub project.
On entering the Snig Hill venue, I needn't have worried, people were there in sufficient numbers to make for a good gig. The stage was bathed in blue and green lights and drawing us in were hypnotic loops of dub effects mixed with the resonating soundscapes of gongs and temple bells. As I waited to experience, once more, the low end, sometimes edgy often thrilling basslines, I drifted back 30 years to the new London combo of Rotten and Wobble and those opening few bars of Public Image's self titled track, which get me every time.What would this project sound like ? I waited with the rest of the Wobble faithful and Chinese Dub curious.
The continuing strong interest in Wobble's contribution to London's punk era often serves to deflect from the fact that Wobble has held a fascination and indeed, immersed himself in music from around the world. In 1993 Wobble was invited to play a WOMAD concert in San Francisco, a year later, following the release of Take Me To God with the Invaders of the Heart ( inc. Justin Adams, Najma Akhtar, Abdul Ali Slimani, Natacha Atlas ) he was invited to perform at WOMAD again, this time at Reading's Rivermead venue.
Wobble is no stranger to the music of China either. In 1998 one of the earlier releases on his independent record label, 30 Hertz records, introduced us to Zi Lan Liao playing the ku-cheng against a backdrop of improvisations, soundscapes and tight pacey bass playing.
The two are married and Wobble tells me in an interview, that Zi Lan is a great influence on his music although on stage he can't resist a joke, "that's my wife tuning up – I'd like to say hurry up but I might pay the price later!". He goes on to tell me that the musical crossover works two ways, there's no traditional role for the bass in Chinese musical arrangements but his father in-law has become inspired enough to develop and make a new Chinese Style bass instrument. Their two sons are also taking up their musical heritage, playing in the Pagoda Chinese Youth Orchestra, part of the opening night of the UK tour in Liverpool.
The Sheffield gig, third of the UK dates had some familiar personnel on board; woodwind player and flautist Clive Bell( The Five Tone Dragon, Celtic Poets, Molam Dub ) Conga Player, Neville Murray ( Invaders of the Heart )percussion, Mark Saunders on Drums, Chris Cookson (Invaders of the Heart) on electric guitar and Zi Lan Liao on Guzheng. They started the set with a couple of numbers not far removed from the afore mentioned Five Tone Dragon, with three well choreographed dancers taking centre stage. After which came the first of the Chinese singers. Tibetan, Gu Ying, dressed in traditional costume, who according to Wobble's introduction, "has narf (not half) got a voice on her". True, in Tibet they train their voices to cross valleys, which, when stood at the front of the audience at the Boardwalk, made for a bit of an earpiercing experience.
The first number was a Mongolian song, courtesy of her maternal line, followed by an arrangement of the traditional "Happy Tibetan Girl". This was accompanied by Clive Bell, on melodica, reminding me of both the Chinese instrument, the shawm and the playing of Augustus Pablo. With the addition of a few touches of the gong by Neville Murray, this Chinese Dub project was beginning to click.
The dancers came back in acrobatic costumes twirling red velvet squares of fabric, stretched out in a vertical position, going round like propeller blades, was it static or magic keeping them on the ends of their fingers ?
Our next guest singer to join the band on stage, was Wang Jingqi, from the Mao ethnic minority of China from the Yunaan Province. Wobble has spent a long time in the Yunaan Provice, looking for artists to join his project, "you've got a lot of ethnic minorities there…its like a continent of music in itself, there's all styles of country singing music, all very pentatonic and modal, right up my street". Wang Jinqi took to the stage in a beautiful scarlet costume adorned with multiple layered jewelry reminiscent of Ethiopian tribal decorations and a multi tiered work of art for a headdress, covered in gold brocade and tinsely type adornment that would make the best painted halo in Russian iconography, look pale in comparison. For her second number, she was accompanied by Zi Lan Liao as the rest of the band took a break from the stage but it would not be long before the band were all back on stage to accompany what was perhaps the most magical part of the evening, the mask changers from Sichuan. Wang Jinqi would also be back later to perform an ancient dance from the Tang Dynasty period.
Wobble was right when he said, "You're going to enjoy this", I experienced the wonderment of a child going to a pantomime for the first time. Blink and you miss it. One minute they sport a menacing mask then with a quick flick of the head or was it the hand or did they pull a string somewhere, their mask had changed, like a slide show, to reveal a new colours and new emotions. There was the addition of pyrotechnics and fire eating to add to the drama and later on on it got very clever with the masks changing in their design, receding half way up the face, Lone Ranger style before disappearing altogether to reveal the wearer's true identity. They were the talk of the evening, " How do they do it ?". A clip was even played at slow speed twice on the local television news programme, North West today, inviting viewers to try and work out the magic.
Amongst the entire Chinese population, there are only 200 mask changers and apparently you need a licence to practice this art form. First documented 300 years ago its secrets are never revealed. " How do you follow that" says Wobble, " You don't" and just as we thought this was the end of the show on came Claire Rose ( English Roots Band), the sound engineer tweaked the reverb and the first few lines of Dawn Penn's No No No came over the mike, the bass became louder and edgier and the band were off in another direction, joined once more by Gu Ying. Two women, who couldn't speak a word of each other's language holding it down on the stage with this well known reggae tune…..fantastic…..Wobble even went walkabout with his wireless bass, at one point propping himself up against a table in the audience and before continuing to play from the middle of the room by the sound desk.
The audience were loving it, Wobble got back on stage, all the Chinese performers come back for a bow, " Lets mix up the Chinese thing", said Wobble as he moved across stage indicating to his wife to play something like "waving Everest in e minor" as she put her hand to her forehead. Maybe she knew what was coming… "You want a late night?" asks Wobble as jackets come off and the vintage Wobble improvisations start… at one point he was going around the stage like a conductor directing his orchestra towards an almighty crescendo. There were extra helpings of arabesque style guitar from Chris Cookson, Colin Bell got through three different types of woodwind instrument. Neville Murray was cranking up the pace on the congas and members of the audience were taking to the area in front of the stage for a dance, confident that this was the old school Wobble now being unleashed, ……. just as I was wondering what was going on…..
Wobble said in closing, "You've been a great audience, you just got something that no-one else on the tour will get." He explained afterwards, during our interview in the dressing room that the improvisation was inspired by the Tang Dynasty dance Wobble had witnessed on stage earlier.
Whatever it was, fans of Wobble were not disappointed, that's for sure, although I got the feeling there was a little bit of a mixed reception for some of the more traditional Chinese elements but that was easily dealt with, "if you don't like it you can shut your gob", said a member of the audience to his dissenting mate.
You can catch Jah Wobble's Chinese Dub at this year's WOMAD in Charlton Park.
Buy the albums:
In North America: Chinese Dub. Other recordings available: Japanese Dub, Welcome to My World, Chinese Dub, , I Could Have Been a Contender, Heart & Soul, Umbra Sumus, The Early Years, Rising Above Bedlam, Shout at the Devil, Passage to Hades, Elevator Music, Vol. 1A, Molam Dub, Car Ad Music, Jah Wobble and The English Roots Band, Fly, Alpha One Three, Jah Wobble's Solaris – Live in Concert, Beach Fervour Spare, Deep Space, The Inspiration of William Blake, Requiem, 30 Hertz Collection, The Light Programme
In Europe: CHINESE DUB. Other recordings available: Japanese Dub, Welcome to My World, , , Rising Above Bedlam, I Could Have Been A Contender, Mu, Car Ad Music, English Roots Music, The Inspiration of William Blake