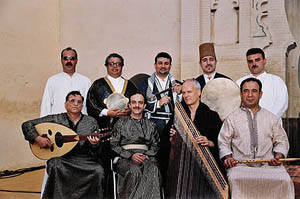 Ensemble Al Kindi in 1983 by Arab zither (qanun) virtuoso Julien Jalal Eddine Weiss. The ensemble's intention is to recreate the spirit of dialog and music collaborations that took place in the Ottoman courts of the 17th century. To achieve this, Jalaleddin Weiss brought together musicians from various cultures: Turkey, Egypt, Azerbaijan, Syria, and the United States of America.
In addition to Mr Weiss, Al-Kindi includes Alepo ud player Muhammad Qadri Dalal, Damascus flutist Ziyad Qadi Amin, Egyptian percussionist Adel Shams Eddine (also spelled Adel Shams el-Din), and Iraqi joza player Mohamed Gomar Al-Bawi.
In the company of the best singers from Syria and Iraq, Al-Kindi presents various repertoires of classical songs, both profane and sacred, thus enabling the audience to rediscover the refined, complex musical art of these age-old cultures.
Julien Jalal Eddine Weiss is a Frenchman of Swiss and Alsatian origins. He was born in Paris and converted to the Muslim faith in 1986. He has become an expert on the board zither (qanun), after receiving teaching from masters all over the Arab and Turkish world – in Egypt, Tunisia, Turkey, Lebanon, Syria and Iraq. He is both a soloist and accompanist in Al-Kindi Ensemble.
In the concert world, his constant search for Arab vocalists to accompany or record, who are nevertheless unknown in the West, has turned him into a sort of ideal link between two worlds. This connection has become even more solid since he set up home in a 16th century Mameluke palace where he organizes regular music-room concerts in the old traditional style.
He travels constantly all over Europe with his renowned Arabic vocalists – Hussein al-Azami from Iraq, Sabri Moudallal, Omar Sarmini and Adib Daiykh from Aleppo, Shaykh Hamza Shakur from Damascus and Lotfi Bushnak from Tunisia.
In 2001, Julien Jalal Eddine Weiss received the Arts & Letters Award from Catherine Tasca, the Culture French Minister.
Discography
The Aleppian Music Room – The Art of Muwashshah, Arabic Classical Chant, with Sabri Moudallal and Omar Sarmini (Le chant du Monde, 1998)
The Whirling Dervishes of Damascus, with Sheikh Hamza Shakkûr (Le chant du Monde, 1999)
The Crusades seen through the eyes of the Orient, with Omar Sarmini (Le chant du Monde, 2001)
Sufi Trance from Aleppo, with Sheikh Habboush (Le chant du Monde, 2003)
Ottoman Fragrances – Arab-Turkish Court Music (Le chant du Monde CMT 5741414.15, 2006)
sources
Zamzama Productions