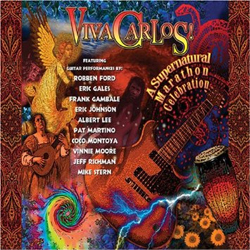 Various Artists
Viva Carlos – A Supernatural Marathon Celebration (Tone Center TC 40522, 2006)
The CD Viva Carlos (Tone Center SH – 11862) is a tribute to Carlos Santana, one of the first musicians who has fused rock with Latin music. The artists chosen are well known in the American electric guitar world. They are some of the best US-based players in the fusion jazz, electric blues and rock genres.
Each selected piece features a guitar soloist accompanied by a reputable house band formed by Dave Weckl on drums, Abe Laboriel on bass, Peter Wolf on keyboards, and Luis Conte on percussion.
The pieces chosen are popular Santana songs, primarily instrumental, many of which became hits throughout the past 3 decades. The CD begins with "Se acabó," featuring Vinnie Moore. This is followed by one Santana's most popular instrumentals, "Europa," performed by Jeff Richman (who produced the album).
The energetic "Jingo" features the scorching guitar of Eric Gales and is one of the strongest pieces on the record because it captures the might of rock guitar and a powerful rhythm section.
Tito Puente's famous song "Oye como va" has been performed by numerous artists. In this case Mike Stern was the elected guitarist and he gives it a jazzy groove (for another great version, check the recording by Cuban band Klimax).
Another popular instrumental, "Moonflower," is transformed into smooth jazz by Pat Martino.
One of the finest rock guitarists, Eric Johnson, participates in the album with "Aqua Marine." Johnson's delivery is impeccable and a true delight, blues-rock style.
Australian shredder Frank Gambale plays "Samba de Sausalito." Another favorite is the excellent version of "Blues for Salvador" by the masterful Robben Ford on guitar, which also features great electric organ work by Peter Wolf.
"Samba Pa Ti" is played by Albert Lee. The last piece is "Jungle Strut." The artist chosen is the only Hispanic guitarist on the album, blues guitarist Coco Montoya, who delivers a scorching and skillful performance rivaled by the dexterous organ solos by Peter Wolf.
Buy this electric guitar fest: Viva Carlos.