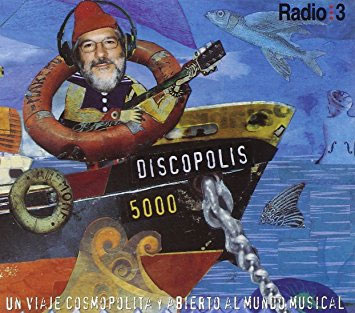 Madrid, Spain – Discópolis 5000 is a new world music compilation produced by Spanish National Radio (Radio 3 – RNE) producer José Miguel López. This is the second of two discs, as Discopolis, the first, was released 2 years ago. While the first volume focused on Spanish or Spain-based artists, Discópolis 5000 centers on collaborations between top Spanish artists and well known international artists. It features
Enrique Morente & Voix Bulgares; Cañaman & Marcia Griffiths; Niña Pastori & Radio Tarifa; Budiño with Julio Pereira & Jacky Molard; Imanol & Georges Moustaki; Berrogüetto & Jivan Gasparyan; and José Antonio Ramos & Bela Fleck.
The Discópolis radio show has been a pioneer in introducing world music rhythms to the Spanish public, while giving the same loving treatment to songwriters, progressive rock, genuine jazz, and all kinds of folk music.
Discópolis was given the Deutsche Welle Award for Best European Music Program in 2002. The repertoire on the Discópolis disc was chosen by José Miguel López, presenter of the program and European World Music Chart Member. It is a trip through the rich cultural crossroads of Spain.
Buy Discópolis 5000