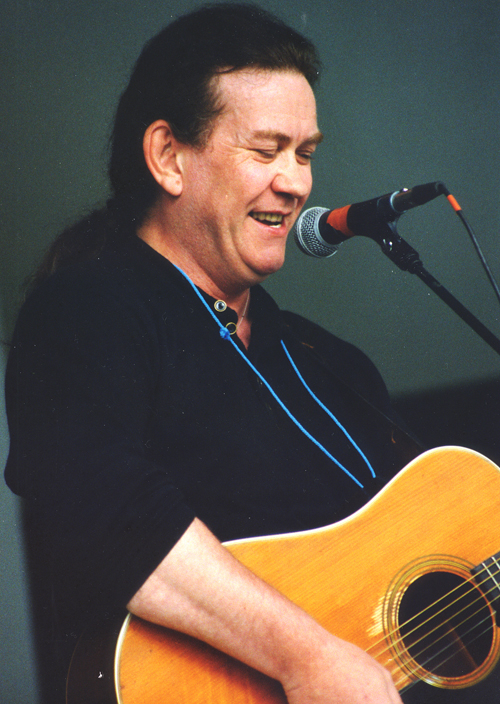 Dick Gaughan Dick Gaughan has been a professional musician and singer since 1970 and made his first solo album in 1971. Working mainly in the areas now known as Folk or Celtic music, he has recorded quite extensively since then in many countries and in various combinations. Has also worked extensively as a session musician in a wide variety of musical styles.
Having very eclectic tastes, he also plays everything from free jazz and rock to country music and has studied orchestration to develop his compositional and midi programming skills. He plays most fretted stringed instruments but his natural instrument is acoustic guitar. With 28 recordings to his credit, including the seminal Handful of Earth (1981), A Different Kind Of Love Song (1983) and Redwood Cathedral (1998) Gaughan remains a powerful force in the world of contemporary and traditional music and song.
Dick Gaughan was born in Glasgow in 1948 – he was an accidental Glaswegian, because his father was temporarily working as an engine driver at Colville's Steelworks there. Dick really belonged to Leith, the one-time thriving port on the Firth of Forth now absorbed by Edinburgh, where his parents returned after a short while.
His mother, Frances MacDonald, was from Lochaber, and her first language was Gaelic. With the language came the Gaelic songs – as a child she had won a silver medal at the National Mod of An Comunn Gaidhealach, the annual Gaelic festival in Scotland. Dick's father – also Dick – was born in Leith of an Irish father who spoke the Irish version version of Gaelic and played the fiddle. Dick's grandmother, Bridget, born in Glasgow of Irish parents, played accordion and also sang.
It's not surprising that Dick Gaughan picked up a guitar at the age of seven. As a teenager, growing up with guitar skills in an urban environment in the Sixties, he dabbled with rock, country and blues. It was a fabulous time for music-making, when no holds were barred. But for him, increasingly the music and the politics began to come together. Rock may have been an angry outpouring of sound, but it was on the quieter folk scene, with the great Hamish Henderson, Ewan MacColl, Woody Guthrie and Pete Seeger all leading the protest march, that the most penetrating and persuasive statements were being made about war and peace, about the state of society. Dick was soon in the thick of the burgeoning folk revival, and at the age of 22 decided to hit the road as a solo singer and guitarist.
By 1972, he had replaced Mike Whellans in the outstanding all-acoustic, Scots-Irish band the Boys of the Lough, that included the great Aly Bain on fiddle, and appeared on their first album. He left the Boys in the following year.
His own first album, No More Forever, issued in 1972, was well received. Few could have expected his next move – joining fiddler Chuck Fleming and others in a wild and often wonderful electric band called Five Hand Reel, whose rocking rhythms and great songs – including Dick's irresistible stab at the Gaelic lines of Bratach Bana – exasperated the purists and found a newer, younger audience. He was out of it by 1978 and returned to solo work.
In 1981 he laid down his marker as one of the great voices of contemporary Scotland with Handful of Earth. With Ed Pickford's Workers' Song and Leon Rosselson's World Turned Upside Down – about the Diggers' revolt that reminded Dick that "the first colony of the British Empire was England" – Dick Gaughan became a fully-fledged troublemaker of song. But alongside these polemical eruptions were softer, ruminative pieces such as Phil Colclough's achingly wistful Song for Ireland, Robert Burns' Westlin' Winds, and a reworked version of Both Sides the Tweed, which served to express Dick's abhorrence of anti-English sentiment in pursuit of the rightful cause of Scottish self-belief. A poll conducted by the magazine Folk Roots voted Handful of Earth the top album of the 1980s.
In 2004, Dick was voted Scots Singer of the Year in the Scottish Traditional Music Awards.
In 2016, Dick Gaughan had a stroke and stopped performing.
Discography:
No More Forever (Trailer, 1972)
Kist o' Gold (Trailer, 1976)
Coppers and Brass (Topic, 1977)
Gaughan (Topic, 1978)
Handful of Earth (Topic, 1981)
A Different Kind of Love Song (Celtic Music, 1983)
Live in Edinburgh (Celtic Music, 1985)
True and Bold: Songs of the Scottish Miners (STUC, 1986)
Call It Freedom (Celtic Music, 1988)
Sail On (Greentrax, 1996)
Redwood Cathedral (Greentrax, 1998)
Outlaws and Dreamers (Greentrax, 2001)
Prentice Piece (Greentrax, 2002)
The Definitive Collection (High Point, 2006)
Lucky for Some (Greentrax, 2006)
Gaughan Live! at the Trades Club (Greentrax, 2008)