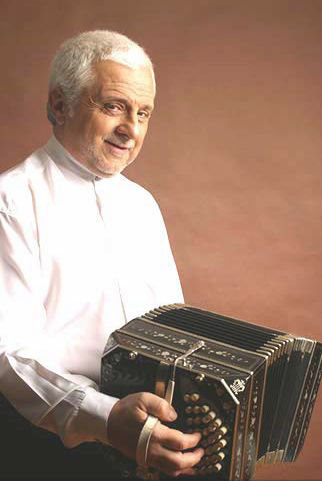 Argentina's Daniel Binelli is an internationally renowned composer and master of the bandoneon, acclaimed as the foremost exponent and torchbearer of the music of Astor Piazzolla. In fact, in 1989, he joined Piazzolla´s New Tango Sextet and toured internationally.
Binelli continues to perform extensively in concert and recital around the world, with many great ensembles, including the Philadelphia Orchestra, Atlanta Symphony, Virginia Symphony, Sydney Symphony, Tonhalle Orchestra in Zurich, Montreal Symphony, Ottawa Symphony, Dayton Philharmonic (Ohio) and St. Petersburg Symphony (Russia).
However, not enough people know that Daniel Binelli is a superb composer in his own right, and has created and arranged music for solo instruments, quintet, chamber and symphony orchestras, dance and film music.
Symphony and large ensemble works include Homenaje Al Tango for piano, bandoneon &strings and also for symphony orchestra, Preludio Y Candombe for bandoneon & piano with orchestra, Tres Movimientos Concertantes for bandoneon with orchestra and Concierto No 1 for piano with orchestra.
Chamber works include
* 'Un Bandoneon En Paris' for bandoneon, piano & strings
* 'Tango De Los Cuadros' for piano, bandoneon, string quartet and also for bandoneon & piano
* 'Fueyazo' for bandoneon, string quartet, bass, also for bandoneon, piano, violin, electric guitar, bass
* 'Metropolis' for bandoneon & string quartet and also for bandoneon, cello, bass, piano, violin
* 'Un Tango En La Noche' for bandoneon & string quartet
* 'Imagenes De Buenos Aires' for bandoneon, piano, electric guitar, bass, violin
* 'Al Pintor Aldo Severi' bandoneon & piano, also for bandoneon, violin, bass, electric guitar, piano and also for bandoneon, piano, string quintet, to say nothing of the works for solo bandoneon.
He has also composed, among other works, 'Romance Del Mandolin Y La Guitarra' for mandolin & guitar and 'Azul Profundo" for flute and guitar, as well as a fine catalog of works for solo piano.
Some of the many international orchestras, ensembles, Tango companies and soloists that have commissioned and/or performed works from Daniel Binelli include the Zurich Symphony (Switzerland), Edmonton Symphony (Canada), Buffalo Philharmonic (New York), Colorado Music Festival, Montevideo Philharmonic, Colombia Symphony, and Buglisi/Foreman Dance Company (New York) as well as Osvaldo Pugliese Orquesta Tipica (Argentina) and Tango 7 (Switzerland).
He was commissioned by Utah State University for a concerto for piano, bandoneon and orchestra and his Golden Gate Fantasy was funded by a grant from the American Music Center.
Additionally, Binelli has composed music for the Argentine films 'India Pravile,' 'Funes un Gran Amor' and 'Tango Baile Nuestro.'
A very good place to hear his music, as well as to experience his superb bandoneon artistry, is to catch his Tango Metropolis ensemble on tour.
Discography
* Piazzolla Hoy, with Orquesta Estable del Teatro Colón, Conductor: José Carli (EMI, 1993)
* ¡ Tango !, with Daniel Binelli's Septet (Dorian, 1994)
* Piazzolla Classics (Tango Sensations) (Milan, 1994)
* Atardecer Antiguo / Bandoneón, with Hugo Romero (Melopea, 1996)
* Piazzollando ao vivo (Kuarup, 1997)
* Borges & Piazzolla (Milan, 1997)
* Milva El tango de Astor Piazzolla, with Quinteto Argentino de Daniel Binelli (King Records, 1998) released in Japan
* Argentine Masters (Testigo, 1998)
* El Bandoneón (Random, 1999)
* El Tango, with Cecilia Rossetto (Black Sun, 1999)
* Encuentros…con el Tango, with Alicia Terzian & el Grupo Encuentros (Dom, 1999)
* La Música Argentina y el Tango, with Eduardo Issac (King Records, 2000) released in Japan
* Rojotango, with Cecilia Rossetto (La Casona)
* Tangazo, with Charles Dutoit y la Orquesta Sinfónica de Montreal (Decca, 2001)
* Imágenes, with Polly Ferman (Romeo Records, 2002)
* Tangos de Buenos Aires, with Linda Lee Thomas (CBC, 2002)
* Tango Metrópolis, with Daniel Binelli's Quintet (2002)
* Imágenes, with Polly Ferman (EPSA Music, 2002)
* Orquestango, with Polly Ferman & Filarmónica de Montevideo (Sondor, 2003)
* Tango Natural, with César Angeleri (Random, 2003)
Web sites
* http://www.danielbinelli.com
Jeffrey James Arts Consulting