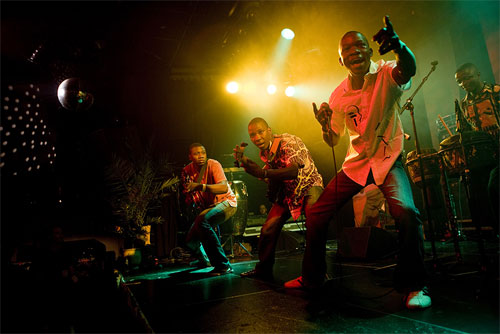 World music act Mokoomba is based in Victoria Falls, Zimbabwe. The band's six members, Mathias Muzaza (lead vocals), Ndaba Coster Moyo (drums, backing vocals), Trustworth Samende (lead guitar, backing vocals), Donald Moyo, (keyboards, backing vocals), Miti Mugande, (percussion & backing vocals) and Abundance Mutori (bass, backing vocals) grew up as friends in the Chinotimba township.
While the majority of Zimbabweans are part of the dominant Shona ethnic group or the large Ndebele minority, the members of Mokoomba hail from a variety of different ethnic groups represented in this border town, including the Luvale, Nyanja, and Tonga peoples; and it was the Tonga who gave mighty Victoria Falls, the world's largest waterfall, its original name: "Mosi-oa-Tunya" (the smoke that thunders).
Living in a border city that attracts tourists from all over the world gave Mokoomba's music an international perspective from the beginning, incorporating everything from soukous to ska and salsa along with local musical traditions.
The members of Mokoomba started playing music as teenagers, with the help of a local bandleader, the late Alfred Mijimba, who gave the young musicians the experience they needed by hiring them to play local concerts with his band. Even though he was never an international star, Mijimba was a respected local musician, and the members of Mokoomba gained substantial experience under his direction.
The group's members began playing together in 2001, and Mokoomba was officially formed in 2008. Their first major success came that same year, when they won the Music Crossroads Inter-Regional Festival Competition in Malawi.
In 2009 Mokoomba recorded its first album, Kweseka — Drifting Ahead, produced by Dutch DJ Gregor Salto, as part of the Stand UP anti- poverty campaign funded by AfricaUnsigned. The album generated a local hit "Messe Messe", and the group's first European tour. Mokoomba recorded a second EP, Umvundla, with Salto in 2011. But their big break came in 2012, when the band released Rising Tide, produced by pioneering Ivoirian bassist Manou Gallo (Zap Mama, Kiyi M'Bock) for the Belgian label ZigZag World.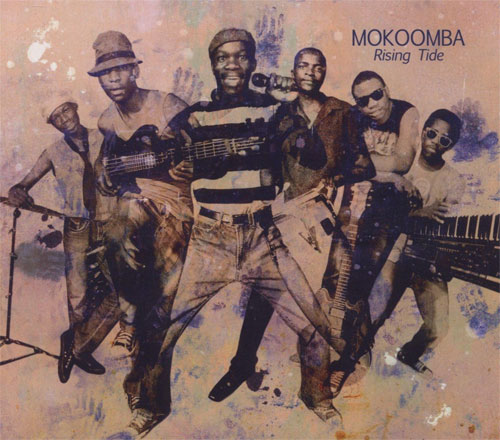 The success of Rising Tide led Mokoomba to tour over 40 countries worldwide in 2012, 2013 and 2014, including performances at Denmark's Roskilde festival, the UK's WOMAD festival, Belgium's Couleur Cafe´ festival, and Morocco's Gnawa festival.
Mokoomba has become one of Zimbabwe's most popular bands, playing with such icons as Hugh Masekela and Baba Maal at Zimbabwe's annual Harare International Festival of the Arts.
Mokoomba was the subject of a documentary called Mokoomba: From One River Bank to Another, by Frank Dalmat and Francis Ducat. The film tells the group's story in the context of the relationship between culture and economic development in the global south.
In 2015 Mokoomba recorded its self-produced third album Luyando, a stripped down, mostly acoustic album that balances the group's love of pan-African and international sounds with the local and traditional sounds they also grew up listening to.
Luyando translates as "Mother's Love" and takes its inspiration from the Makishi masquerade ritual practiced in parts of Zimbabwe and nearby Zambia, which the members of Mokoomba participated in as boys.
The Makishi masquerade is performed at the end of the Mukanda, an initiation ritual for boys between the ages of eight and twelve, when young boys leave their homes and live for one to three months at a bush camp away from their villages. It's a fundamental and often lonely time in a boy's life, when they learn the self-assurance required of young men in their community, while still often yearning for the tenderness of their mother's love. The end of the Mukanda is marked by a joyous graduation ceremony called Chilende, full of colorful masks, music and dancing.
Discography:
Kweseka (Zig Zag World, 2009)
Rising Tide (Zig Zag World, 2012)
Luyando (Outhere Records, 2017)