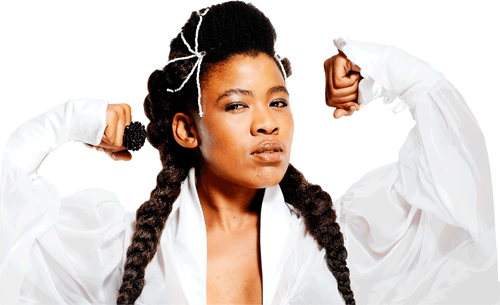 Ever since she burst into the public's consciousness as the lead vocalist and songwriter of award-winning South African kwaito group Bongo Maffin, Thandiswa has been an indelible part of the South African cultural landscape.
Born in Mofolo and raised in Soweto, she began her career singing in a church choir, and made her professional debut at the Market Theatre in 1993 in a production called SA Love. She was awarded a scholarship by both Nedbank and the Permanent Bank, which enabled her to study opera at the Technikon Pretoria. Since then she has amassed an impressive biography, having performed and sung with the cream of South African musicians.
Her first attempt to get noticed occurred at the Shell "Road to Fame" talent show. She did, catch the eye of musician and producer Don Laka, who arranged to include her in a project he was working on, Bongo Maffin's second album.
The band became known as one of the founding members of kwaito, and went on to release four more albums, becoming widely recognized as the voice of South Africa's conscious youth. Their compositions consistently combined dance floor favorites with thought-provoking lyrics. They were invited to perform all over the world, and shared the stage with musical icons Stevie Wonder, the Marley clan, Ladysmith Black Mambazo, Chaka Khan, Sean Paul, Steel Pulse and Skunk Anansie, amongst others. Their contribution to the South African musical cannon earned Bongo Maffin numerous awards, the Kora All Africa Music Awards, and the Metro FM Music Awards.
After almost eight years with Bongo Maffin, Thandiswa finally resolved to begin work on a solo project. The album, titled Zabalaza, including well known South African singers and producers: Tshepo Tshola, Xhosa traditional vocalist Madosini, Mandla Spikiri, D-Rex and Bluey Maunick. Thandiswa became a central part of the entire recording project, from the production to imaging of the album cover, Thandiswa was involved in each phase of the process.
As additional preparation for the recording process, Thandiswa also embarked on a pilgrimage to her mother's home village in the Transkei, moving on to spend a fortnight in Mkhankato, Madosini's village in the heart of rural Transkei. Here she was exposed to the original sounds of Xhosa traditional melodies, and was introduced to the Uhadi, a traditional Xhosa one-string harp.
Zabalaza was folowed by Ibokwe, Dance of the Forgotten Free, and Belede.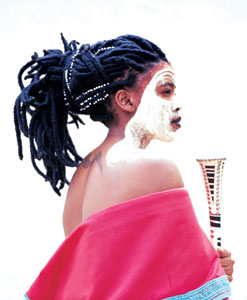 Thandiswa Mazwai holds a Bachelor of Arts degree in International Relations and English from Wits. She is the first national pop singer to wear Xhosa make-up and has taken a leading role in the fight against AIDS in South Africa.
Discography:
Zabalaza (Gallo Records, 2004)
Ibokwe (Gallo Records, 2009)
Dance of the Forgotten Free (Gallo Records, 2010)
Belede (Universal Music, 2016)
Bongo Maffin
New Construction (Gallo Records, 2005)
Bongolution (Sony BMG, 2001)
The Concerto (Sony BMG, 1998)
Final Entry (EMI, 1997)
Leaders of D'Gong (EMI, 1996)