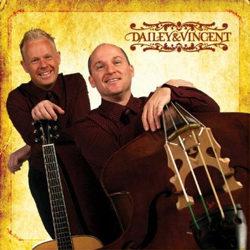 The most eagerly-anticipated bluegrass debut in recent memory, Dailey & Vincent introduces a powerful new ensemble steeped in bluegrass and country music traditions, but blessed with the drive, talent, and charisma to assert those timeless values proudly onto today's stage. Even before one note of their stunning debut record had been heard, Jamie Dailey and Darrin Vincent earned a standing ovation at the 2007 International Bluegrass Music Association convention and were booked for more than 100 shows.
Co-leaders Jamie Dailey and Darrin Vincent have already had a profound effect on much of the best modern bluegrass via their contributions to such estimable performers as Doyle Lawson & Quicksilver, Ricky Skaggs & Kentucky Thunder, and Rhonda Vincent & The Rage. The decision to join forces was not taken lightly, as they both held comfortable positions within premier bluegrass bands – Dailey as lead and tenor singer for nine years with Lawson, Vincent as harmony vocalist and multi-instrumentalist with Skaggs. "But when I first heard Jamie sing," Darrin Vincent recalls, "it absolutely brought me out of my seat. I said, 'That is somebody I need to know.'"Vincent's initial instincts were confirmed the instant that he and Dailey sang together. "When I first heard our voices blend, I said, 'There's something special about that,'" Vincent continues. "It was like, 'OK, we've got to pursue this.' Then I looked around, and Sonny stopped playing in The Osborne Brothers. Jim [McReynolds] from Jim & Jesse passed away. All of a sudden, there weren't any duos in bluegrass anymore. I thought, 'This is going to be a lost thing if we don't form a duo.' It just made sense."
Dailey agrees, adding that when he met Darrin six years ago, he knew immediately that he wanted to take his next professional steps with him. In 2003, the two began talking seriously about becoming a team.
"I was happy – I had no complaints," says Jamie of his nine years in Quicksilver. "But I knew probably after being with Doyle three years that eventually I would want to step away, in order for me to fulfill what was in my heart and to get to do everything I wanted to do musically."
"We've been praying about this for about four years," Darrin comments, "because we were making sure that it's the right choice. He (Jamie) was making really good money and doing great with Doyle. I've been having a ball with Ricky. With all the awards that we've won and all the wonderful opportunities that have come along with Ricky, it really didn't make sense to quit." But in 2004, Darrin and Jamie recorded "Beautiful Star of Bethlehem" as a duet for a bluegrass Christmas compilation album. The response was explosive.
"When we got the response we did off of 'Beautiful Star,' it was overwhelming," recalls Jamie. "It just blew my mind. That's what brought forward the idea that we needed to do our own thing."
"Their own thing" positively bursts from the speakers from the first notes of their self-titled Rounder debut, Dailey & Vincent, released in January of 2008. The working-man's laments "Sweet Carrie" and "Poor Boy Workin' Blues" are vintage-sounding, rapid-fire bluegrass romps. Jamie's tenor lead vocals on "I Believe" and "Take Me Back and Leave Me There" are high, lonesome bluegrass singing at its purest. Darrin's upbeat lead vocals on "Don't You Call My Name," "Cumberland River," and "Music of the Mountains" sound steeped in tradition.
The harmonies in "River of Time" and "Place on Calvary" will delight lovers of the classic overtones that only great bluegrass voices can produce. "More than a Name on a Wall" sounds vintage because it is – the song was a 1989 country hit for The Statler Brothers. And as if to remind us that we are in the presence of classic talents, "My Savior Walks with Me Today" and the extraordinary performance of Gillian Welch and David Rawling's "By the Mark" are performed in traditional, mandolin-guitar, brother-duet fashion.
Indeed, their voices blend with an uncanny, almost familial consonance, reflecting the dedication and mutual respect behind their partnership. "I get along with Darrin like family," Jamie explains. "For six years, we've been working on different projects. But we've talked to each other on the phone just about every day all during those six years."
"I threw songs at him, he threw songs at me," Darrin remembers, looking back at the formative stages of their collaboration. "We went for timeless things, things we wouldn't mind singing from now on."
Darrin's sister, bluegrass star Rhonda Vincent, has her own studio. Darrin asked her if he and Jamie could use it. The exceptional blend of their voices on songs like "By the Mark" captivated Rhonda and everyone else who heard the sound. Soon they were the most talked about new bluegrass band on the circuit – well before most fans heard any music at all. Pop pianist and songwriter (and bluegrass fan) Bruce Hornsby observed that "Their name is on the lips of everyone in the know, as far as I'm concerned."
Taking with them the lessons they've learned from their former employers, their friends, and their families, Jamie and Darrin produced Dailey & Vincent themselves. With pride, they included on the sessions their band members Jeff Parker (mandolin, harmony vocals) and Joe Dean (banjo, bass vocals). Adam Haynes has since been added on fiddle. The result is twelve brilliant performances from two men who sound born to sing together, delivered with a thrilling blend of clarity, precision, and soul.
Buy the CD:
Next tour dates:
Mar 7, 2008
Legends of Bluegrass Festival
Columbia, MS
Mar 8, 2008
Cross Timbers Community Church
Argyle, TX
Mar 9, 2008
Yegua Creek Evangelical Church
Elgin, TX
Mar 14, 2008
Sellersville Theater
Sellersville, PA
Mar 15, 2008
Washington High School: contact Kenny Good 410-726-4534
Princess Anne, MD
Mar 16, 2008
Hollywood Fire Hall
Hollywood , MD
Mar 22, 2008
Reno Fest Center Theater
Hartsville, SC
Mar 28, 2008
LVD'S Concert Hall
Goshen , IN
Mar 29, 2008
Naperville Bluegrass Music Festival
Naperville, IL
Apr 4, 2008
Fountain Inn Civic Center
Fountain Inn, SC
Apr 5, 2008
Fairview Ruritan Club
Galax, VA
Apr 6, 2008
Claiborne County High School
Tazewell, TN
Apr 11, 2008
Excutive Inn – Bluegrass Returns to Its Roots
Owensboro, KY
Apr 12, 2008
Heritage and Forestry Expo. BG Festival
Leakseville, MS
Apr 18, 2008
Pennyroyal Opera House
Fairview, OH
Apr 19, 2008
Mitchell Opera House
Mitchell, IN
Apr 26, 2008
Gwinnett Center – Bill Gaither's Homecoming Tour
Atlanta, GA
May 2, 2008
Lewis Family BG Festival
Lincolton, GA
May 3, 2008
Box Car Pinion BG Festival
Chattanooga, TN
May 8, 2008
Doyle Lawson and Quicksilver
Denton, NC
May 10, 2008
Eastern Mennonite University Lehman Auditorium
Harrisonburg, VA
May 16, 2008
Amelia Family Campground – Central Virginia Family Bluegrass Festival
Amelia, VA
May 17, 2008
Granite Hill Campground – Gettysburg Bluegrass Festival
Gettysburg, PA
May 24, 2008
Meramec Music Theater
Steeleville, MO
May 26, 2008
Silver Dollar City
Branson, MO
May 27, 2008
Silver Dollar City
Branson, MO
May 28, 2008
Silver Dollar City
Branson, MO
May 30, 2008
Lonoke Missionary Baptist Church
Morrillton, AR
May 31, 2008
Ernest Tubb Record Shops – Midnite Jamboree
Nashville, TN
Jun 1, 2008
Vacation June 1-12
Summer, Vacation
Jun 14, 2008
Dumplin Valley BG Festival
Kodak, TN
Jun 15, 2008
Private
Private, TN
Jun 18, 2008
Glen Maury Park
Buena Vista, VA
Jun 19, 2008
North Carolina State Bluegrass Festival
Cherokee, NC
Jun 20, 2008
Bill Monroe Memorial Park
Bean Blossom, IN
Jun 21, 2008
Poston Lake BG Festival with the Hart Brothers
Guysville, OH
Jun 26, 2008
Summersville Music Park
Summersville, WV
Jun 27, 2008
James King Bluegras Festival
Lanexa, VA
Jun 28, 2008
ROMP Bluegrass Shows
Owensboro, KY
Jul 2, 2008
Sally Mountain Park
Queen City , MO
Jul 3, 2008
Sally Mountain Park
Queen City, MO
Jul 4, 2008
First Baptist Church
Livingston, TN
Jul 5, 2008
Mountain Top BG Festival
Tarentum, PA
Jul 10, 2008
Ryman Auditorium, Bluegrass Nights at the Ryman
Nashville, TN
Jul 11, 2008
Simon J. Graber Community Building
Oden, IN
Jul 12, 2008
Bluegrass in the Hills
Hopedale, OH
Jul 17, 2008
Grey Fox BG Festival
Ancramdale, NY
Jul 18, 2008
Mineral Bluegrass Festival
Mineral , VA
Jul 19, 2008
Manchester Conference Center
Manchester , TN
Jul 20, 2008
White Oak Mountain Bluegrass Festival
Cleveland, TN
Jul 23, 2008
Wednesday Night Bluegrass Concert Series – Main Park
Staunton, VA
Jul 24, 2008
MACC
Columbus, OH
Jul 25, 2008
Fiddle Fest
Roanoke, VA
Jul 26, 2008
Ossipee Valley Fairgrounds
South Hiram , ME
Jul 27, 2008
Ossipee Valley Fairgrounds
South Hiram , ME
Aug 1, 2008
Podunk BG Festival
East Hartford, CT
Aug 2, 2008
Spartenburg Memorial Auditorium
Spartenburg, SC
Aug 8, 2008
Greenwich BG Festival
Greenwich, OH
Aug 9, 2008
BG Festival
Milan, MI
Aug 10, 2008
Midway Baptist Church
Elyria, OH
Aug 15, 2008
Lake Cumberland BG Festival
Russell Springs, KY
Aug 16, 2008
Cherokee Bluegrass Festival
Cherokee, NC
Aug 22, 2008
Mr. B's Bluegrass Festival
Ladysmith, VA
Aug 23, 2008
Pickin in the Pasture BG Festival
Lodi, NY
Aug 24, 2008
Granite Hill Campground – Gettysburg Bluegrass Festival
Gettysburg, PA
Aug 29, 2008
Mandolin Farm
Flemingsburg, KY
Aug 30, 2008
BG festival
Summertown , TN
Sep 5, 2008
Franklin Music Festival
Franklin, KY
Sep 6, 2008
High Country Bluegrass Festival
Boone, NC
Sep 12, 2008
Shawnee Park – Old Fashioned Days Festival
Xenia, OH
Sep 13, 2008
Lorain Co. Community College – Stocker Center
Elyria, OH
Sep 18, 2008
Dumplin Valley BG Festival
Kodak, TN
Sep 19, 2008
BG Show/Festival
Burkesville, KY
Sep 20, 2008
Starvy Creek BG Festival
Conway, MO
Sep 21, 2008
Walnut Valley Festival
Winfield, KS
Sep 27, 2008
Vine Grove Bluegrass Festival
Vince Grove, KY
Sep 28, 2008
Camden City Park – Ryan Holladay Bluegrass Festival
Camden, TN
Sep 29, 2008
IBMA Nashville Convention Center
Nashville, TN
Sep 30, 2008
IBMA Nashville Convention Center
Nashville, TN
Oct 1, 2008
IBMA Nashville Convention Center
Nashville, TN
Oct 2, 2008
IBMA Nashville Convention Center
Nashville, TN
Oct 3, 2008
IBMA Nashville Convention Center
Nashville, TN
Oct 4, 2008
IBMA Nashville Convention Center
Nashville, TN
Oct 9, 2008
Hoofers Gospel Barn
Lagrange, GA
Oct 10, 2008
Museum of Appalachia – Tennessee Fall Homecoming
Norris, TN
Oct 11, 2008
Turkey Track BG Festival
Waldron, AR
Oct 17, 2008
West End Assembly of God
Richmond, VA
Oct 18, 2008
The Kanawha Valley Jamboree
Marmet, WV
Oct 23, 2008
Madisonville College Auditorium
Madisonville, TN
Oct 25, 2008
Riverbend BG Festival
Ocilla, GA
Nov 1, 2008
Withlacoochee BG Jamboree
Dunnellon, FL
Nov 7, 2008
Oakland Community College
Bloomfield Hills, MI
Nov 8, 2008
Greater Downstate Indoor Bluegrass Festival
Springfield, IL
Nov 12, 2008
Progress Center for the Performing Arts (Fletcher Opera Theater)
Raleigh, NC
Nov 13, 2008
Copeland Hall, A Dailey and Vincent Show
Bowdon, GA
Nov 14, 2008
The Events Center
Wilmington, OH
Nov 15, 2008
Mitchell Opera House, A Dailey and Vincent Show
Mithcell, IN
Nov 16, 2008
Union Christian Church
Terre Haute, IN
Nov 21, 2008
James Garner Center
Troy, NC
Nov 22, 2008
A. Curtis Andrew Auction
Federalsburg, MD
Nov 29, 2008
Convention Center
Myrtle Beach, SC
Dec 5, 2008
Old Rock School
Valdese, NC
Dec 6, 2008
Renfro Valley
Renfro Valley, KY
Dec 12, 2008
Christmas in the Smokies Bluegrass Festival
Pigeon Forge, TN
Dec 13, 2008
Berryville Bluegrass Series
Berryville, VA