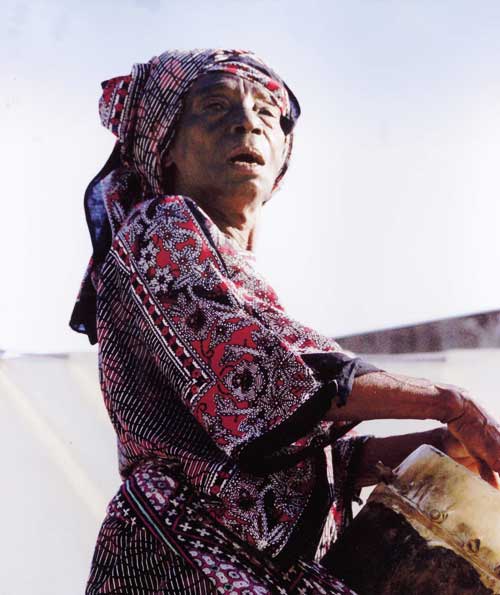 Bi Kidude was an institution in Zanzibar, and East Africa's greatest musical legend. The diva of Zanzibar taarab, she also played other musical styles including more ngoma-based unyago and msondo.
Her real name has been described as Fatma Baraka Khamis or Bi Fatuma Binti Baraka. She grew up in a family of seven in the Zanzibari village of Mfagimarigo. Her father was a coconut seller.
Bi Kidude's exact date of birth was unknown, much of her life story was uncorroborated, giving her an almost mythical status. Kidude started out her musical career in the 192s, and learned many of her songs with Siti bint Saad. She performed in countries all around Europe, Middle East and Japan and finally recorded her first solo album (Zanzibar, Retroafric Recordings) in 1994, while in her mid-eighties. She also released a second locally-produced album (Machozi ya Huba, Heartbeat Records) with her traditional drums influencing the burgeoning Zenji Flava local hip-hop scene in one of the most remarkable juxtapositions of musical style in modern World Music.
Since fleeing a forced marriage at the age of 13 and escaping her homeland of Zanzibar, Bi Kidude led an extraordinary and varied career as a drummer, singer, henna artist and natural healer. Her first journey was to the mainland of Tanzania, where she walked the length and breadth of the country barefoot.
With renewed confidence and a new attitude to tradition (by now Kidude had thrown off her veil and shaved her head!) she returned, slowly to Zanzibar where she acquired a small clay house in the 194s and settled down to life grounded in the traditional roots of society.
Bi Kidude was part of the Unyago movement, which prepares young Swahili women for their transition through puberty and excelled at the art of henna designing for young brides, manufacturing her own wanja application from age old recipes fit 'to make a rainbow shine.' Bi Kidude performed traditional unyago music and was the island's leading exponent of this ancient dance ritual, performed exclusively for teenage girls, which uses traditional rhythms to teach women to pleasure their husbands, while lecturing against the dangers of sexual abuse and oppression.
Her many talents were acknowledged by Zanzibar International Film Festival (ZIFF) at the second Festival of the Dhow Countries in 1999, when she was awarded Lifetime Achievement Award for Contribution to the Arts.
Bi Kidude's is a remarkable story, one which challenges our perception of age, and of the role of women in Islam. She never conformed to the media stereotype of a Muslim woman ever since she removed her veil. To see a ninety-something year old Muslim woman drink, smoke, flirt, dance and drum was a unique experience. To witness the transformation as she reversed the aging process and changes from a wrinkled granny into a vital shining star was nothing short of revolutionary.
In the summer of 2004 Bi Kidude toured Europe with Zanzibar's illustrious Culture Musical Club taarab orchestra. Midway through this tour, the whole of Zanzibar was thrown into shock and disarray when a rumor spread fast through the island that Bi Kidude had died. From the narrow streets of Stone Town to the bazaars of N'gambo and throughout the villages this was the only topic of conversation as the island rapidly acquired the atmosphere of mourning. This rumor continued to spread even long after the offices of Busara Promotions had disseminated confirmation from Bi Kidude's European promoters that on the contrary, she was alive and very well. She was surprised to hear that people in Zanzibar think that she has died:
"Sijafa bado. Labda sababu watu hawajaonana nami sasa karibu mwezi. Lakini bado tunaendelea na safari na bado safari ndefu ya miezi miwili. Lakini sijambo, sina wasiwasi miye. Kuimba naimba na nguvu zote ambazo ninazo ili watu wafurahi."
"I haven't died yet. Maybe people are saying that because they haven't seen me around for almost a month. But we are still continuing our tour which lasts for two more months. Me, I'm well, I have no problem. Me I sing with all my strength and continue to make people happy."
In 2006, ScreenStation Productions with Busara Promotions produced a 66-minute video documentary titled As Old As My Tongue: the Myth and Life of Bi Kidude.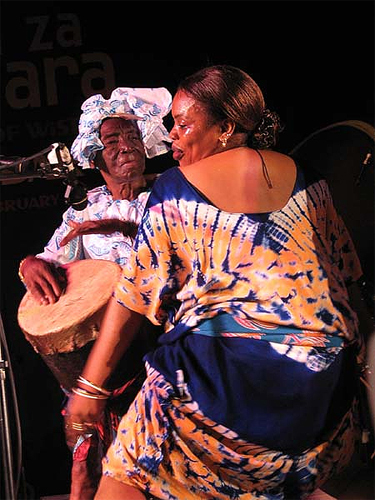 "Over the last three years we have filmed with Bi Kidude and her extended entourage," said director Andy Jones. "From her humble home in a township on the edge of historic Stone Town to the grandeur of the Theatre de la Ville in Paris we have captured moments of love, jealousy, protection and exploitation of a witty and humble woman. Musical moments combined with highly personal observation form the trunk of our story. The music is extraordinary. From the seemingly poetic but really biting satire of the grand Taarab orchestras to the telling rhythms of primal sexuality expressed in her x-rated Unyago the film is punctuated with sensational live footage."
In 2005, Bi Kidude bint Baraka was presented with the WOMEX 2005 Award for her lifetime achievements and contributions to world music.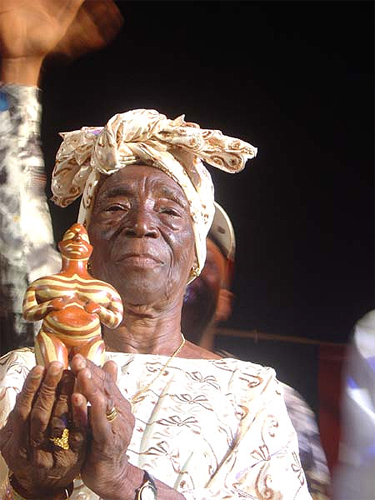 This intriguing and inspiring woman was a repository and leading exponent of Swahili culture. (Bi Kidude) herself said, "How can I stop singing? When I sing I feel like a 14-year old girl again."
Bi Kidude died on April 17, 2013.
Partial discography:
Zanzibara 4 – Bi Kidude (Buda Musique)