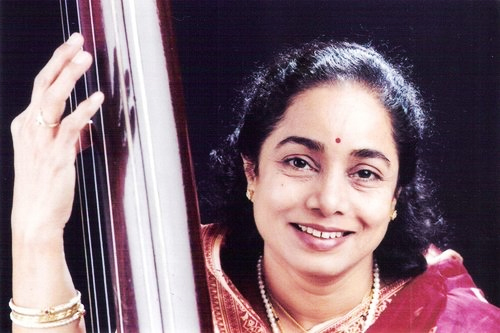 Born in Kurundawad, Maharashtra, Shruti Sadolikar is one of the finest living vocalists in the Hindustani (North Indian) classical tradition. Her name means 'knowledge transmitted through sound.'
Her guru and mentor was her father, the late Pandit Wamanrao Sadolikar, a well-known exponent of Hindustani classical music. Through meticulous training, Shruti has accumulated a musical knowledge, which she has nourished and expanded by adding her own skill and versatility.
In classical Indian music, the voice is the focal point of the musicthe singer acting as a channel intensifying a shared emotion and bringing the audience into a more intimate relationship with God. Shruti has performed all over the world and has won many awards for her extraordinary talent. She has also formed a foundation in the memory of her father to promote and propagate music, arts and education.
Discography:
In The Jaipur-Atrauli Tradition ‎(Rhythm House, 1984)
Traditional Thumris, Vol. 2 (1986)
Bhakti Varsha – Bhajans (1989)
Rare And Complex "Ragas" The Imaginative ‎(Magnasound, 1990)
Afternoon Ragas Vol 3 (Music Today, 1990)
Bhaktimala – Shiva Vol 1 ‎(Music Today, 1991)
Raga Mian-ki-Todi, Raga Bibhas, Raga Bhairavi ‎(Nimbus Records, 1992)
Evening Ragas Volume One ‎(Music Today, 1992)
Bhaktimala Bhajans (1994)
The Raga Guide A Survey Of 74 Hindustani Ragas ‎(Nimbus Records, 1999)
Bhaktimala – Namastotram, Vol. 2 (Music Today, 2005)
Women Through The Ages Series (Navras, 2006)
Soz-E-Dil (Sony Music india, 2011)