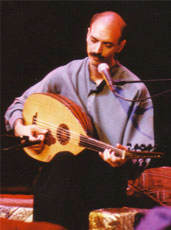 Born in Tehran, Iran in 1962, Hossein Behroozi-Nia studied tar with Vohdaney, barbat with M. Nariman, and radif with Mr. M. R. Lotfi. After studying at the Conservatory of Persian Music, he became the Musical Director of Ensemble Khaleghi and Director of Musical Education at the Center for the Preservation of Persian Music.
Behroozi-Nia is the greatest living barbat player from Iran. He is also noted for his brilliant compositions and powerful improvisations on this ancient lute, which is the predecessor
of the ud, and various European lutes. Mr. Behroozi-Nia was the Music Director of the National Radio and Television Orchestra of Tehran and has made many recordings with a great variety of ensembles as well as his solo works Barbat, Koohestan and Yadestan.
Concert engagements have taken Mr. Behroozi-Nia all over the world, from North America, Europe to Asia and Southeast Asia, including the Sacred Music Festival in Fez, Morocco, collaborating and performing with various traditional music ensembles including Aref, Mowlana, and Dastan. Currently Mr. Behroozi-Nia is actively teaching and giving concerts all over the world. He lives in Vancouver, Canada with his family.