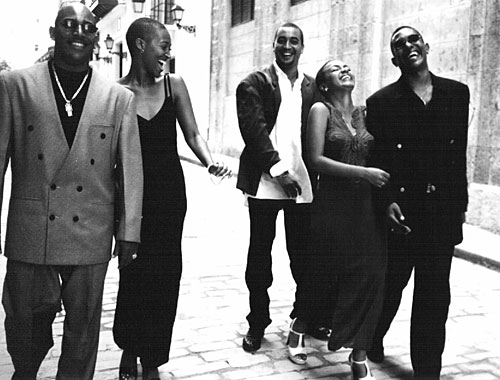 Bamboleo was formed back in 1995, during the heydays of new groups such as NG La Banda, Manolin el Médico, Paulito and La Charanga Habanera. The group became the sensation of Havana, partly due to its charismatic female singer Haila Mompie. She left the group in 1998 for Azúcar Negra.
Founder and director Lázaro Valdés, recognized as a very skilled pianist with a funky and virtuoso style of playing the 'tumbaos', is the key element in creating the right sound and refining the complex orchestral arrangements that represent the Bamboleo sound.
As one of the leaders of the timba movement, Bamboleo had an incredible effect on Cuban popular music, surpassing musical boundaries. They developed into a sociocultural phenomenon, integrating a new style of dance, fashion, and language into the Cuban culture, all of which have become an expression of the new generation of habaneros. The name Bamboleo comes from the Spanish word for the movement of ocean waves but in their music, it signifies the body rhythm that is created by the sounds of tropical music.
Bamboleo is a collaboration of several of the most talented young musicians and songwriters in Cuba. Lázaro Valdés, writer, composer and arranger, is a graduate of the ENA. Most of its 12 founding members were from Havana and graduated from some of the most prestigious music schools and conservatories in the island. The original line-up of the band included Leonel Limonta, one of Cuba's leading songwriters.
An important part of Bamboleo's appeal were its two hot vocalists. With strikingly beautiful shaved heads, Vannia Borges with her sultry smooth singing style, and Haila Mompié, who is often compared to a youthful Celia Cruz, became two female stars in the male dominated world of timba and salsa.
The band went through numerous personnel changes. On the group's second album there were guest performances by trombonist José Miguel el Greco, from NG la Banda, and Mario Hernandez from Irakere on trumpet.
In 1998 composer Leonel Limonta, singer Haila Mompié and conguero Andrés Gonzalo Gavilán left the band to form Azúcar Negra. Mompié was replaced by an electrifying young singer named Yordamis Megret.
Replacing a top songwriter like Leonel limonta was no easy task. Bandleader Lázaro Valdés answer was to call upon some of Cuba's best songwriters such as Manolin (El Médico de la Salsa), Girardo Piloto (Klimax) and Rafael Lavarrera.
Bamboleo was not only a household name for the ten million inhabitants of the island, but for Europeans as well and created quite a buzz in the United States as they led the contemporary Cuban music revolution throughout the world.
The music of Bamboleo is a blend of Afro-Cuban rhythms, son, jazz, funk and timba.
The band's recording, Ñño! Qué Bueno Está, is an eccentric mix of live recordings and dance remixes. The album includes 40 minutes of rare live recordings, which capture the essence of the Bamboleo sound. The CD then moves on to 35 minutes of various styles of re-mixes of hip-hop, funk, house and Euro beat which are mixed by well known DJ's such as "Pistol Pete Lorimer "as well as DJ "Cubanito" and Julian Beeston. Also included is a special guest appearance by Mellow Man Ace featured on "Lo Que Quiero Es Bamboleo" (What I want is Bamboleo).
Discography:
¿Te Gusto O Te Caigo Bien? (Bis Music, 1996)
Yo No Me Parezco A Nadie (Ahí Namá, 1998)
Ya No Hace Falta (Ahí Namá, 1999)
Ñño! Qué Bueno Está (Ahí Namá, 2000)
Quimica De Amor (2002)
El Virus (2005)
Mi Verdad (Latin Pulse Music, 2006)
En Vivo Galiano at la Casa de la Música (Latin Pulse Music, 2007)
¿Quién Manda? (Bis Music, 2010)