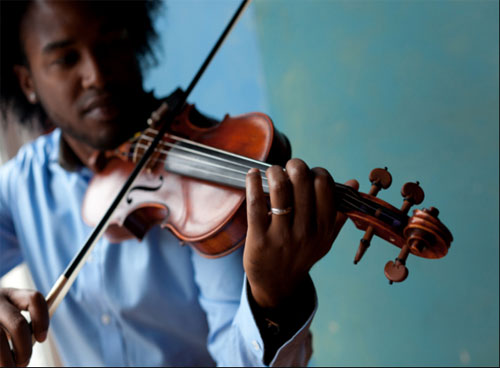 Yosvani Castañeda Valdés will showcase the Cuban fiddle style at the 4th Annual World Fiddle Day that will take place on Saturday, May 21st at Historic Fort York, in Toronto.
Originally from Cuba, Yosvani was classically trained at the Amadeo Roldán Conservatory in Havana. As a teenager, he toured throughout Canada, Europe, Japan and South America, as both a solo artist and member of the popular Cuban band Bamboleo. His Bamboleo discography includes Mi Verdad (Bis Music, 2007).
Yosvani returned to Canada as an adult in 2008, and has since performed at venues and events such as The Toronto Beaches Jazz Festival, Harbourfront, Lula Lounge, Nathan Phillips Square and the Pan-Am Games. He is especially known for his ability to bring together urban and classical sounds with his Cuban roots.
Yosvani is a member of the Toronto-based Lula All Stars. This collective of musicians from Latin America recorded a great salsa album titled Salsa de la Buena (Lulaworld Records, 2015)
Yosvani will offer a workshop on Latin-American violin.
For more information go to www.worldfiddleday.ca