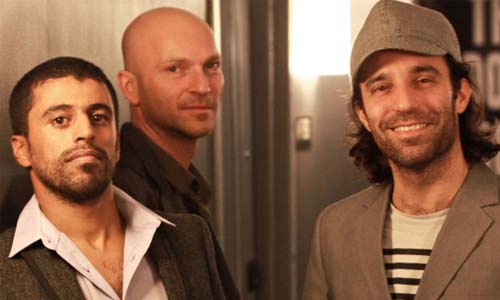 Ori Kaplan studied Klezmer clarinet in Jaffa at age 11, yet was exposed to the Arabic culture around him. Each week he would sneak into an Arabic/Turkish nightclub next door to the punk rock club where he played with his band DXM. Ori says, "?The energy at the Turkish club was unabashed, on fire. The punk rock club was more self-conscious: youth trying to define itself, emulate the West."
Ori emigrated to the USA, earning a BFA at Mannes College. In New York City, Ori recorded albums for various music labels and bands. Ori received the Jerome Foundation Award for Young Jazz Composers 2001.
He joined the acclaimed band Gogol Bordello (Gypsy Punk cabaret) that spearheaded the Eastern European cultural revolution that took place in New York City. He played with Firewater since 1998, and has collaborated and recorded with Susie Ibarra, Speedball Baby, Big Lazy, J.U.F., Victoria Hanna, John Zorn, Vision Orchestra, and William Parker.
He is one of the founders of Balkan Beat Box.
Discography:
Gongol (2001)
Delirium
Goldshmidt (Third Ear Records)
Cries of Disillusion
Realms
Le Magus (Knitting Factory, 2002)
Multi Kontra Culti, with Gogol Bordello (Rubric Records)
Man on the Burning Tightrope, with Firewater (Jetset Records)
JUF (Stinky Records)
Beat Box (Essay Recordings)
Nu Med (Jdub Records)
Blue Eyed Black Boy (Crammed Discs, 2010)
Give (Crammed Discs, 2012)