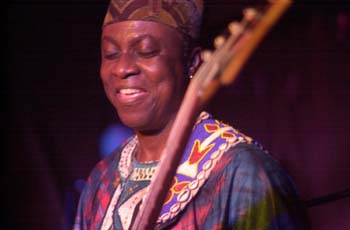 Nigerian master musician Baba Ken Okulolo has roots that extend deep into traditional village life and folk music. Better known as the bandleader whose warm, smiling personality enlivens the popular Afro-beat band Kotoja and the all-star West African Highlife Band, Okulolo was first seen in the U.S. as bassist with King Sunny Ade's world tours, and he continued to appear on Ade's recordings. Five times, the Nigerian Journalists' Association has voted him the country's top bassist.
In addition to his vast body of Nigerian studio and production dates, he is known for his early work with highlife master Dr. Victor Olaiya, Steve Rhodes' African Voices, and the seminal Afro-rock group, Monomono.
Okulolo was born into the Urhobo ethnic group, to a family of traditional dancers and musicians. In the tiny fishing village of Aladja, surrounded by deep forests and lagoons traveled by dugout canoes, he was exposed to the traditional stories, rhythms and songs of his people.
As a student in the city of Warri, Okulolo was exposed to the historic touring highlife bands of the era. On short-wave radio, he listened avidly to jazz, Afro-Cuban, rhythm and blues, and Congolese music.
Inspired, he took up the bass guitar and began sitting in with bands coming through town, and was soon touring regionally with the highlife band Harmony Searchers, until a talent scout for the great bandleader Dr.Victor Olaiya recruited the young bassist with the 'roots' feel to leave his homeland and head for the giant city of Lagos.
In a few years, restless to explore the modern potential of African music, he joined vocalist Joni Haastrup to form the seminal and legendary Afro-rock band, Monomono. By the early 70's, they were at the top of the charts and touring West Africa with the albums Give a Beggar a Chance and Dawn of Awareness (EMI), fusing African roots music with rock, soul, and funk.
Okulolo became a mainstay on the Nigerian music scene, touring Europe with various groups, producing and performing on countless recordings, including his own hit album, Talking Bass (EMI), and leading his band, Positive Vibrations.
After moving to the U.S., he assembled a formidable band with top Nigerian and American musicians to create the modern Afro-beat band Kotoja. Featuring Ken's vocals and original tunes, Kotoja blends jazz, funk, highlife, Afro-beat, and juju into exciting, animated shows. Comprised of a heady mix of top Nigerian and American musicians, Kotoja, led by Nigerian bassist/vocalist. Baba Ken Okulolo, has excited audiences around the U.S. with their infectious mix of African highlife, juju, funk, and jazzy horns.
Okulolo also leads the West African Highlife Band, joined by other distinguished West African music veterans to revive the great hits of the highlife music era. Their hot, dance-inspiring music is available on the CD, Salute to Highlife Pioneers (Inner Spirit/Stern's).
Separately, to satisfy the demand for traditional African music in an acoustic format, Okulolo started The Nigerian Brothers. They recreate the sweet, lilting sounds of their earliest village memories, bringing folk, "palmwine," and highlife songs to life with their harmonious voices, acoustic guitars, and hand percussion. This gentle but rhythmic music has been a special treat at museums and folk music festivals for those who love authentic African music.
Today, he lives in Oakland, California, with his family. Says Okulolo, "I see the world today as one family, as one village. We all have the same needs and wants. Peace, love, and understanding will help solve the world's problems, and that's what we are trying to spread to all people with our music."
Discography:
Ken Okulolo "Talkin' Bass Experience" (EMI Nigeria, 1976)
Babá Ken and Kotoja "Freedom Is What Every Body Needs" (Inner Spirit Records, 1990)
Kotoja "Sawale" (Mesa/Blue Moon Recordings, 1992)
Kotoja "Super Sawale" (Putumayo World Music, 1994)
West African Highlife Band Salute To Highlife Pioneers" (Inner Spirit Recordings, 1998)
Babá Ken Okulolo & The Nigerian Brothers "Songs From The Village" (Inner Spirit Recordings, 2001)
Babá Ken Okulolo and the Afro Groove Connexion "Deep Down Beat" (Inner Spirit Recordings, 2008)
Babá Ken Okulolo "We Are All From Africa" (Inner Spirit Recordings, 2009)
Babá Ken Okulolo "African Drum Songs" (Inner Spirit Recordings, 2012)