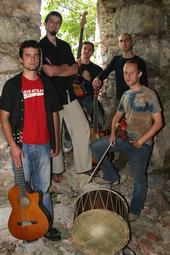 Mixing past with present, tradition with progression and acoustic with electric, Aritmija grows from its Balkan roots. It is soaked with the unusual metrum of the peninsula and watered by its temperament, giving it a distinct flavor.
What began with two guitars in 2002, mostly playing renditions of traditional Macedonian, Bosnian, Bulgarian and gypsy music is now a five piece band, concentrating on original material.
It is the diversity of band members and the instruments they play that brings variety to their sound. Original music varies from ethnic heritage to rock influenced riffing, from jazz-rock to Latin and country music. There really are few limitations. From two intertwining acoustic and one electric guitar, a very unusual drum/ percussion set (including oriental darbuka and mighty tapan) and a funky bass, to passionate yet tender violin, the music of Aritmija sounds fresh and interesting.
The band played all over Slovenia and also performed at the FIMU festival in Belfort, France in 2005, at the Lent festival (Maribor, Slovenia) in 2006 and at the Balkaniser festival (London, UK) in 2007. In 2007 Aritmija released its first CD Gonilna sila or Motive force under the label Celinka.
Discography:
Gonilna Sila (Celinka, 2007)
Aritmija Live (Celinka, 2010)