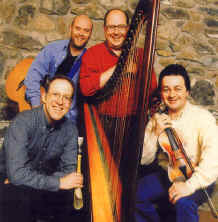 A revival of traditional folk music and a renewed interest in the use of its native Welsh (Cymreag) language took place in Wales in the 1970s. With the help of local media and record companies like Sain, artists who represent the Welsh tradition and language can now get exposure.
One of the most influential musicians in Wales is Robin Huw Bowen, a virtuoso of the triple harp. He researched the music and techniques of the old Welsh harpists by studying their old manuscripts. Huw Bowen has performed extensively around the globe, as a soloist and also as a member of the Welsh folk groups Crasdant and Cusan Tán.
The most famous Welsh language singer is Siân James. In addition to her solo career, James also performs with dub reggae and rock groups.
On the traditional folk side, Calennig's dance music stands out. The group is led by Pat Smith and Mick Tems. Their repertoire includes Welsh, Galician and Breton tunes. Other Welsh folk acts that stand out are Julie Murphy, Heather Jones and Hin Deg.
One of the most exciting new groups in the modern folk style is Carreg Lafar. Welsh-Breton band Bob Delyb a'r Ebillion leans closer to rock. An interesting release was Hen Wlad Fy Mamau ("Land of My Mothers"). It is a world beat collection of re-mixed Welsh folk music, samples and electronic sounds featuring Welsh singers Siân James, Lowri Ann Richards, June Campbell Davies and Elinor Bennett, Punjabi rapper Harvinder Sangha and African dub collective Zion Train.