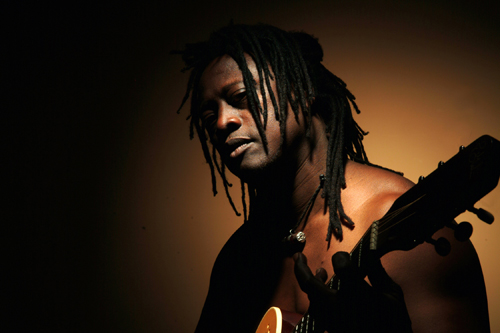 Malian guitarist, vocalist and composer Habib Koité is back with an album titled Kharifa. He talks about his career and the new recording with World Music Central.
What are your fondest musical memories?
If I look back, to see the paths I have been through…First of all, I am passionate about music because I come from a family of griots who belong to an ethnic group that deals with social protocol such as marriage, baptism… Griots have the word, speak in the place of the nobleman, at marriage they know how to make the steps, the same for deaths and they have the right to sing and the right to speak. I, therefore, come from a background like that and that is my basis.
I also found the guitar in my family and music; my mother sang, my father played banjo, accordion, my brothers played banjo, accordion, my brothers continued with the guitar and I was born and I also found the guitar at home and I am passionate about music with this base there, the core of the family who is a musician.
When I was a teenager, I was in Mali, I listened Malian music for sure but also other music from elsewhere like rhythm and blues (James Brown), rock (Pink Floyd), French song because we had a lot of influences from France (Johnny Halliday, Claude François…) but these are the outside influences of my adolescence. I played these artists like Jimmy Hendrix.
And there are the first pieces of music I played in clubs and bars in Bamako. Beside my traditional Malian roots, my learning of classical guitar at high school, all the Western musics I heard and I played, gave me a good experience to discover other ways of playing guitar, other rhythms, other ways to sing. Good experience before to give more richness to my own career So there are small influences that could be felt in the music I played from my music of the Malian "terroir (substance), traditional, local.
Did you have any formal music studies?
Yes, I studied 4 years at the National Institute of Arts in Bamako. My classical guitar teacher was Professor Kalilou Traoré. He studied for 7 years in Cuba. He is Kar Kar's older brother. Kar Kar is Boubacar Traoré, my elder. We come from the same region of Kayes. So I was his best student of that year's class and when I finished school, I was then retained to teach classical guitar after him because he stopped teaching at that time.  And so I can say that Kalilou was my master of the classical guitar.
What was the first tune you learned?
The first song I learned when I started playing guitar?…. it's so far away that I have some difficulties remembering this because the moment of my learning. It wasn't a decision at a specific time to come and learn and to know what I'm going to learn today or ask someone to "teach me this song". This was not my approach because I was born into a family where there was always a guitar or two. My father played the banjo, the accordion and the guitar. My older brothers play the guitar, and I was born and found a guitar in a family of musicians, but not professional musicians. In addition, we are griots, a caste that is given the right to make music in traditional Manding society and we have the right to speak for the nobles.
So, I don't remember that I personally decided to go and learn the guitar because it was there all the time and so I passed by, and I could play it. And little by little, I became aware of this instrument. The bigger I got, the more I became aware of it. I became interested in it little by little but I don't remember a song I would have learned to play on the guitar.
What do you consider as the essential elements of your music?
I have always thought of traveling through the music of Mali's terroir. After having performed American, French and Cuban music for several years, in clubs or restaurants in which I played for more than ten years, after having been in school, after having acquired all these experiences, I decided to put all this knowledge, my ear and my listening skills into making music, to try to make music based on the different ethnic musics of the region.
I played a variety of Malian local music.  Because there is an enormous diversity in melodies, rhythms, between North, South, West, East and each music has very distinct colors. So it was in this adventure that I started. I think that my passion, music, has put me on this path to listen in depth to the specific rhythms of one ethnic group, then another from Mali. To understand it, because each ethnic group can have several rhythms, but we know that it belongs to that ethnic group.
When you are Malian, you know that when you hear Bobo or Peuhl music, in all its rhythmic or melodic diversity, you know where it comes from. So, being Malian, I go towards these different musics, to listen to them in depth. That is to say to understand the rhythmic and melodic keys, of the voice and I come towards my guitar to try to make a piece in a Fulani rhythm for example sung with words of the Fulani language and I also write respectful words of this ethnic group. And these are the experiments I'm doing.
And all these experiences have had a great impact on the Malian population. Habib Koité is Khassonke and the Fulani who hears what I have written, hears a Fulani music but a little different.  I also made Songhai music by entering into all the identities of this music like Takamba and then I composed a piece. And this song, written 20 years ago, is still there, played; people have started to understand me, to target me as a Malian artist who plays on all the fields of Malian local music.
It took me 15 years to get all the eyes of the people of the different groups to cross paths with me. It took 15 years. Today, many different ethnic groups can talk with me, are interested in me visiting them in their village so that I can listen to other music of their own and they think that I can manage to give a color to their music as something more modern. Since it happened, I've been thinking, "Mission accomplished".
I had the satisfaction of having had the impact I wanted. Because I wanted to link the micro-cultures of Mali through me as if I were a nucleus and from me many rays leave. 
How did your musical ideas evolve throughout the years from your debut album to your latest recordings?
From the beginning until now, as I said earlier, I have come into music slowly, caught in the grip of the passion for music.
Musicality, the technique I learned along different paths on the fingering on the guitar to have different sounds and to make it come out with sounds that resemble traditional instruments like the kamale n'goni, the kora. All this is the result of research I have done over several years and which has gradually evolved, I have come to some details of these fingering, these sounds.
When I started making albums, I played a lot first with a band in the clubs, where I played variety. I played rock, rhythm & blues music, African music. I was with a group that animated these places with many expatriates, Europeans and also some Malians. I had all these experiences with other people's music and little by little, when I decided to make an album, to create music for myself, I drew them from the music of the Malian terroir, in all its diversity.
In my approach, I managed to create my own music with the experience of many musics around the world, that I was able to mix this, there were influences of all this on the pieces that I composed on the basis of the Malian soil. That's what gave this result / every time I do a song close to an ethnic group, it doesn't look like a tip top. There is a difference between what I have created and ethnically specific music. There will always be a slightly different sound, a different sensitivity. Malians who are listening are amused when they listen to my music because they wonder, who is playing our music.
This situation has changed considerably. For my first album, I recorded a bit on the spot because there were a lot of songs that we played every night with the musicians. This was done quickly, in 3 days of studio time. However, I had a previous job because we played long songs on stage and for the studio, I had to shorten these songs to around 3 minutes.
We are African live musicians, for parties, parties, and we can play a song for 10 to 15 minutes. And so, playing these same songs according to European standards and bringing them from 10 – 15 minutes to 3 to 4 minutes, that was the problem. But the repertoire was there. The sound engineer suggested that we play live as you do in clubs and I'll edit the songs by cutting some parts. That's how we were able to make the first album with this sound engineer Daniel Boivin, After the 2 days of studio, there were 3 days of mixing and immediately afterwards, we left with this album at MASA (African Arts and Entertainment Market in Abidjan – Ivory Coast – 1995 edition)
The other albums followed. At the same time, I had more and more studio experiences. For my second album, the role of the sound engineer no longer had the same role in listening to the songs because I made shorter songs. It was already an evolution that there was from the beginning of this album to make the songs directly short, in the European imitations.
Later, again, because it has been 25 years since I started in the studio, I have had more and more studio experiences, for the sound, the guitar playing that I have continued to experience, many things have improved and of course, many new ideas have been born. Because when you are a musician looking for something (I look for sounds, fingering, etc.) I try to play other music from Mali that is not from my region. I am obliged over time to gain a lot of experience, and I will certainly improve. Every time I have to make a new piece of such an ethnic group, I will look for a lot, I will find out because I listen to the details of their music, their rhythmic, harmonic, melodic identity, I try to transpose this into my creations and on modern instruments.
I am still in a situation of evolution in the experience of the instrument, in the experimentation of the music that I imagine on the basis of the Malian terroir. It has evolved but it hasn't changed much.
Tell us about your new album. Kharifa.
Concerning my new album, Kharifa, which means "what you are entrusted with", it can be a human being, it can be an object and you have to take care of it.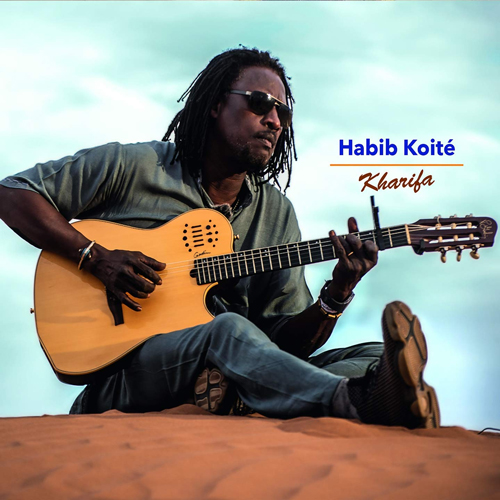 As it is something that has been entrusted to you and you are asked for it, you should return it in good condition as you received it. We say in our country: even for someone who dies, God has taken back what he had entrusted to this person. God came to take back the life he had entrusted to another person. 
The thing you are entrusted with or the thing you believe you have the responsibility to protect is the mission that God has given you to accomplish and when God gives you a mission, you must do it because God wants you to do this mission to protect. It can be your offspring, your parents, your land, your country, your environment, your homeland that is entrusted to you and that you must take care of it and return to future generations in good condition. And they too, in turn, will take care of it and so on.
On this album, I sing in Kassonkhé for the song Kharifa, in Malinké, in Manding, in French "if you knew how much I love you", there are also a few words in English in the middle of a song sung in Bambara. Besides, in this album, I had a lot of guests. I wanted to bring other sensibilities, other sounds. For example, the young Diallo who plays the Peul flute on several songs. There are also young girls who have participated in the "Ministar" TV competition and I invited them to sing several songs. There is Toumani Diabaté with his kora. There is Sekou Bembeya, who is from Conakry also called Diamond fingers, came to the studio and generously offered me the guitars of one song and the lyrics of a part of a song. He plays the normal and Hawaiian guitar on another song.
I made the album quietly because I couldn't go into the studio to record all the songs in one go because, frankly, you have to know that, depending on what you want to give, to play, you need time because it's difficult for me. Thanks to my passion, I can handle it, but frankly, it's always a puzzle for me to find the instruments, the arrangements, the lyrics… I think of everything and it makes it heavy for me because some ideas, I want it to be transcribed on the music at all costs. When a song idea comes out, I start writing, composing, practicing on my instrument and then another idea comes along and I have to add that too. 
In rehearsals with the musicians, I first ask to play these ideas that I want to hear about my music and then everyone can add other sensitivities. Which means that this album was made over 1.5 to 2 years. When a song is more or less ready, we play it together, rehearse and then record it. That's how I managed to make this album. It was a real challenge. Not to know if it's good or bad but for me, to have made an album that I like and that I was able to put most of my musical intentions on this album.
Who plays on Kharifa? Tell us a little about the musicians you are currently working with.
I have been with this group for around 8 years, with 3 musicians who came to the group Bamada. There are 2 of them who are brothers (same father, same mother).
Issa is the eldest and plays the guitar, the banjo and does a little choir because I insisted a little bit.
Mama is on percussion, calabash, jembe and he has a pad that he plays with an electronic kick; he has shakers attached to the wrists and choirs on some songs.
The third is Charles August Coulibaly, who plays the keyboard and plays on stage with his computer with which he controls sounds on his master keyboard. When I brought him here, it was to replace the illustrious balafonist Kélétigui Diabaté who left us at the age of 82. I was supposed to replace him but it was difficult to find a balafonist with Kélétigui's talent. I found a keyboard with a sound box of many traditional instruments.
It was Germans who did this work, who travelled a lot in Africa and recorded many traditional wind, percussion and string instruments. They recorded everything and reworked the sound, scanned it and put it in a box called contact 8. This work has greatly helped the work of keyboard players interested in African instrument sounds. So they sold it at the time for about €1,000 and it was sold like hotcakes and it really helped soundmakers whether they were African or European, it allowed many people to have other sound possibilities.
Apart from these 3 musicians (there are 6 of us), there is, on the bass guitar, Abdoul Wahab Berthe who also plays the traditional instrument called the kamale n'goni.
There is also Mahamadou Kone, known as Djelimadou. He plays all percussion in general. In this group, he plays the tamani (talking dream) the big talking drum, he also plays the bara (small drum round like a ball), the yabara. He is the one who accompanies my other percussionist. They play side by side, form the rhythm section.
And the third musician is me. I still play on a classic electro classical nylon string guitar. I have always been seen with a Godin guitar glued to my chest,a Canadian guitar. My first Godin, I bought it in Montreal in 1994 or 1995 from Steve Music on St Laurent Street and since then, I only play on this guitar. This guitar has had some success. On my side, I was able to give other guitarists the idea to buy this guitar and play with it. Because I had a special game on this guitar with a particular sound. Many people curious about the guitar were also interested in having this guitar, to try it. And that's why the brand of these guitars made by Robert Godin have already offered me 2 or 3 guitars. I thank them on occasion but it has stopped. For a few years I haven't had any news while I'm still with a Godin in my hands. I never stopped playing it.
Currently, we are 6 musicians on stage with a few moments of dancing, there are moments of improvisation, and then there are moments with things that are well organized musically that we play, like with scores.
Malian music has become one of the most popular in the West. Why do you think there is such interest in Malian music?
The impact of Malian music in the USA happened long before I arrived. My elder, Ali Farka Touré, conquered the United States long before I arrived.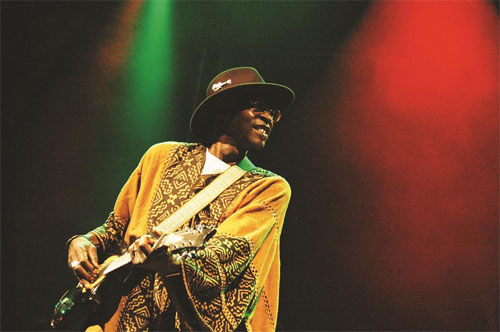 Ali Farka, with his blues, with the bond of the blues, won Grammy Awards and when he made the album with Ry Cooder, he really made it possible to put the name of Mali on the cards in the USA. That said, he brought the name of Mali to the world but in the USA it was even stronger. 
This link between certain music from Mali and the blues, many questions have been asked about it. Many specialists believe that the roots of the US blues come from Mali. Then Tamasheq [Tuareg] musicians who play in pentatonic blues registers also like Tinariwen… and they too come from Mali. Toumani Diabaté also toured the USA a long time ago with his kora, he comes from Mali. More recently, Bassekou Kouyaté also toured the USA with his band, his n'goni and you have to see his virtuosity… he comes from Mali.
So there are some Malian musicians recognized in the USA and I'm only talking about instrumentalists. There are also our most beautiful voices, such as Salif Keita, followed by the youngest women such as Rokia Traoré, Fatoumata Diawara… and all these artists come from Mali and all these artists have been welcomed by the USA and all these artists have this special register of Mali, which expresses this feeling in voices, registers, in musical modes.
And it has always remained specific, special and particularly appreciated in the USA.
Aside from the jelis or griots, are there any other efforts to promote and increase music education in Mali?
Music education in Mali… at first it comes from the family. In Mali, there are families who belong to groups, castes.
In the Mandinka culture, there are blacksmiths, weavers, and protocol men called griots, also called "gnamakala". These castes form a layer in Manding society that cared for others. For example, the blacksmith has always made equipment, instruments for cultures, instruments for war; weavers have always made shoes, fabrics that are worn on the backs of war horses. The griots played (and still do today) for social events (marriage, burial, baptism…)
The learning of music comes from this griot ethnic group. But since the colonization and the arrival of modern instruments such as the guitar, there has been a reorganization of the army, and the military band has been built.
A hymn was created, the band was to play this hymn. It was therefore necessary to train musicians in modern European instruments: trumpet, trombone but also guitar arrived. And so it was necessary to teach these instruments at a certain level. And that's how the music academy was created, where you learn music.
But also other materials such as Plastic Arts, Dramatic Art, socio-cultural animation.
The music section is proof that things have changed because there are classes of guitar, piano, flute, congas brought to Mali by Cubans and other modern instruments. Music learning has left the family to come to official institutions in which Western music can be studied academically with modern instruments.
After the INA, another higher-level art school was created, the Balla Fasséké Kouyaté Institute.
Mainstream media does not provide an outlet for world music. In what ways are you promoting your music?
My way of promoting? I am with a group, personally I play guitar, I sing, I play the flute, I am a composer, I reflect on my compositions, on my texts. With my Bamada group, we have traveled the world for the past 25 years and I have had the opportunity to do many different projects for example from my African Bamada group.
I have participated in other African projects; for example the project that comes from the USA. With IMN, there was an acoustic folk project (Acoustica Africa) with different African musicians on stage; the South African Vusi Mahalasela, an Ivorian Dobet Gnahoré, the Zimbabwean Oliver Mtukudzi, the Malian Afel Bocoum and his group Alkibar. The principle of these projects was to bring together 3 group leaders from Africa, and each one came with a part of his repertoire and musicians and some parts were played together others in solo or duo. For example, Oliver came with his percussionist and kalimba player, and I was accompanied by my bass player and drummer. These projects have toured extensively in the USA and Europe.
Then I made a project with the American bluesman Eric Bibb whom I had met on the tour for the release of Putumayo's album "From Mali to Memphis". In 2012, we produced an album together in Bamako "Brothers in Bamako" and this album was very appreciated and gave a good return on investment. Because this project was done quickly, without much investment from the producer for recording and promotion quickly generated a lot of public interest. This has given rise to many concerts in Europe, in jazz festivals in France, Germany, and also in the USA, in many small and large places.
I also did a project with the Musée du Quai Branly in Paris (Musée des cultures du Monde created at the initiative of President Jacques Chirac). We did a Malian project with my group, the Tamasheqs (Tartit) of northern Mali and the Peuhl Afel Bocoum, 22 people on stage! It was the first time that these 3 ethnic groups were presented on stage together. It was a beautiful show with images of Mali in the background, there was a staging.
Then there was the opera Kirina that I did in the South of France (Cannes, Nice, Ramatuelle), in 2007, with 2000 students between 12 and 15 years old who learned some songs from my repertoire and a show was created with each time a choir of 500 children, with costumes, staging. The children worked for a year to present this show to their families at the end of the year in prestigious places like Akropolis in Cannes in front of more than 10,000 people. The project was represented with other children in 2008.
I am currently working on a project with Americans called APJ, Art for Peace & Justice. This project is led by Jackson Brown, a Californian folk singer from the 80s and 90s who brought together Haitians, Spaniards, Malians and Americans. Together, we are a group that has made trips to Jacmel, Haiti (300 km from Port-au-Prince by road)
We worked in the studio that faces the sea. It was very pleasant, very friendly and this big project is coming to fruition.
All this to tell you that the way I promoted myself is through projects that are not always under the Habib Koité and Bamada label. I think it's a chance for me to have this kind of relationship with other musicians and people who organize it for me. This means that, on several levels, I remain visible
What guitars are using at this time? Do you still have your old guitars?
I still use my Godin guitar and I couldn't get rid of it. I received several of them because with my presence on stage with this guitar on my chest for 26 years. There was a producer in the USA who made requests and Godin gave me 3 times, a guitar. Jackson Brown asked me to send him my first Godin, which I bought in 1995 in Montreal, which is damaged.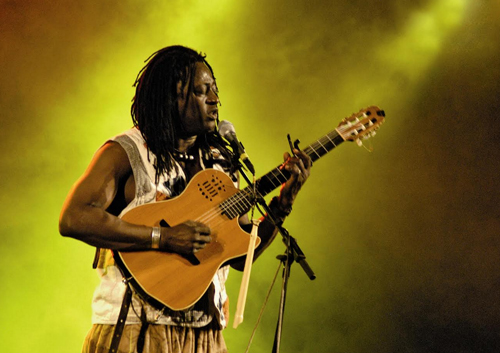 Jackson is very friendly with the person who manages electronics at Godin, he lives in Sacramento, California. They revised my guitar, sent it back to me and it is it that I take back on the road with me, it is very light.
The most recent one I have is a "great class" Godin like the great pianos. It has another sound. It's new but for this upcoming tour, I'm going to go with my first Godin, lighter.
I still have old guitars, I don't keep them all.
I had a Godin stolen from me. Another one was given to one of my brothers.
I have other guitars with me that I wouldn't let go. There are guitars that I also leave to my musicians. I have a banjo, a Taylor guitar from the USA electro acoustic that are played by one of my musicians,
I don't know how many guitars I have. I must have 7 of them.
How many guitars do you bring to a recording session, and how do you know which guitar or effect you are going to use before you get there?
When I am in a recording phase, I work piece by piece and then I think about the sound. As far as guitars are concerned, I play with a 12-string guitar as the main guitar or, for additions, we use the metallic Taylor or we have fun with the Nylons strings for arpeggios. Because there are arpeggios of our traditional Malian music that I play with nylon strings. But, I sometimes double with high notes of a metallic guitar to give brilliance in the mix.
But, for the most part, it is the Godin I use with Nylon strings. But I have other beautiful acoustic guitars. There is an English Fylde guitar that Eric Bibb and I received during a tour. It is on the occasion of the release of our album "Brothers in Bamako". This title is printed on the inside of the guitars.
It's beautiful; it has a very good sound. I had a pickup put on in Paris which cost me a lot of money and in the studio I bring it to do some arpeggios.
I bought a Seagull in Chicago at the Old Town School. It has a beautiful sound. You can hear it on my album Kharifa.
What is the best way to set up microphones for acoustic guitar recording?
The best way to record the sound of an acoustic guitar is first to be in an acoustic, silent room. If you have to take sounds with external microphones, it would be nice if there were as little noise as possible.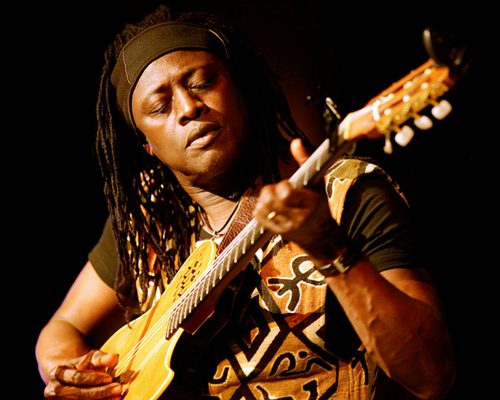 And there are acoustic guitars that can be connected via their jack and you can sometimes take 4 tracks on a guitar.
On this Kharifa album, my main guitar was taken by 4 microphones. That is, by the cable connected to the microphones inside the guitar… The Godin is a multiac guitar with 1 microphone on each string and it looks good in terms of volume, there is the general volume, treble, medium, bass. And each cursor is precise enough to give you what you need.
The Godin guitar is not hollow. The sound engineer first put the jack, then Neumann microphones, one towards the neck (Sure SM81), one near the rosette area (U87-100) and one behind the rosette area (AKG 414). He mixed all these sounds and it gave the result you hear.
I also have a guitar that has 2 mics with its junction box and on this box, you can take the 2 microphones together or connect them separately plus 3 external microphones. So that makes 5 tracks.
What advice would you give to beginners who are anxious?
The advice I would give to a young Malian guitarist is to diversify his playing, to go towards other sounds, other styles of music, to learn classical guitar and then to return to his local music because we are a colonized country and the guitar is an instrument of the colonizer.
In Mali there are many string instruments and many virtuosos of the n'goni, the cora, the kamale n'goni and other traditional instruments, some of which you know well, such as Toumani Diabaté on cora, Bassekou Diabate on n'goni, there is also the balafon… with the guitar, there are young people I watch playing and it seems as if they were born with the guitar in their hands, with dexterity for the repertoire of Mali's soil. They only have to learn, in parallel with other things, chords, to know the names of the note on the neck.
You also have to have intimacy with your instrument by playing, by trying another music that is not from your culture and this allows you to enter into other sensibilities and at least change the fingering. All this to enrich your own repertoire. So my advice is to be curious, to enrich your own music on your instrument, in privacy and then you can go out with it and people will appreciate it.
If you could gather any additional musicians, or bands, to collaborate with, whom would that be?
During my career of the last 25 years, I have already had projects of meetings with different artists, concert projects. As explained before, I played concerts with the South African Vusi Mahalasela and the Ivorian Dobet Gnahoré, another with Oliver Mtukudzi who unfortunately left us a short while ago and Afel Bocoum.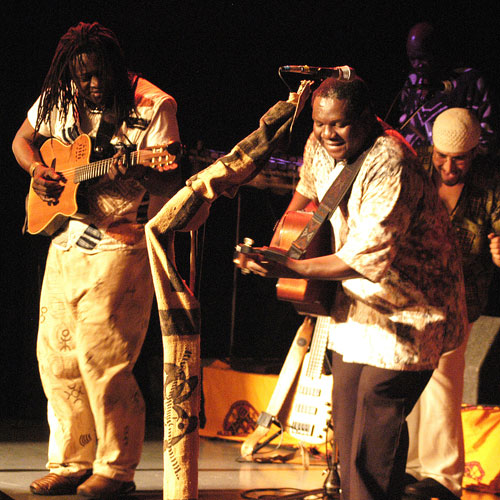 I did a project with Bonnie Raitt, an American artist from California. She invited me to play on 2 songs from an album.
After that, it was quite an album with Eric Bibb, US bluesman from New York. He is part of the young generation of bluesmen who play the guitar and sing with a very beautiful voice.
Beyond that, I met Jackson Brown more recently. We knew him in Africa with his album Hold Out. Jackson was very surprised to learn that in Mali, the younger generation of 18-20 year olds listened to his album in the 1980s while drinking tea. He couldn't have suspected that… The years went by and I had the chance to meet him during a tour in California. He came to one of my concerts and asked to meet me in my dressing room afterwards. I said no, "I'm the one who's going to see him" and we all ran from the dressing room to meet him. We talked, we spent a moment in the dressing rooms. It was a magical moment. And since then, I have kept in touch with him. And recently, this APJ (Art for Peace & Justice) project was launched in which it brings together Haitian, American, Spanish musicians from Andalusia and Mali.
We made an album together and this album is being released. It's a mixture of a lot of music.
Currently, for my album Kharifa, I have not invited only one artist. I wanted voices from young girls between 16 and 18 years old. I invited 3 girls, I discovered them in a TV show of young talents. I had also met them in a UNICEF project with a performance of John Lennon's song "Imagine" with this 3 girls. I recorded a very beautiful African version.
All this gave me the opportunity to approach different artists, different worlds. On this album, I brought these girls for the 3 or 4 song choirs and it really rejuvenated the songs. They have brilliant girl voices. There are also the voices of my nephew M'bouille Koite (RFI 2018 Award) and Amy Sacko.
I also invited a talented young flutist who plays the Peuhl flute from Guinea. It's beautiful. You can also hear it on several songs.
There is also the guitarist Sekou Bembeya from Guinea Conakry, from Bembeya Jazz in the 70s and 80s. I invited him to come to Bamako, he played the Hawaiian guitar and also with an acoustic guitar on 2 songs.
There is a song on which Toumani Diabaté plays kora.
I also invited Bassekou, the n'goni player who played on 2 songs and without forgetting, the musicians of Benin, a brass group, trumpeters on the song Djiguya.
There is also my son, Cheick Tidiane Koité, who lives in Brussels. He gave me an Ivazi song, he made all the music and I just added a little bit of choir and a bit of guitar.
It is an album that has really been enriched and diversified with the invitations of artists, instrumentalists
And of course there are the musicians in my band who participated in this album.
Among the musicians of the Bamada, there is Charles Auguste Coulibaly who recorded all the songs with me. He is one of my musicians and he is a sound engineer at the same time and therefore recorded and mixed the whole album. These are the artists I invited to my album.
Aside from the tour, do you have any additional upcoming projects to share with us?
Currently, I'm quite busy preparing the tour for the release of my new album: rehearsals, assimilating the songs made in the studio. But we're mostly a live band, so I listen to the rehearsals to see if the songs come out right. And then I write too because there are a lot of new songs. I'm not at the top of my memory, the age is there, the water has flowed under the bridges, I still need some texts of some songs before my eyes.
More about Habib Koité, including discography.
Author:
Angel Romero
Angel Romero y Ruiz has been writing about world music music for many years. He founded the websites worldmusiccentral.org and
musicasdelmundo.com
. Angel is also co-founder of the
Transglobal World Music Chart
. Angel has also produced and remastered world music studio albums and compilations for labels such as Alula Records, Ellipsis Arts, and Music of the World.