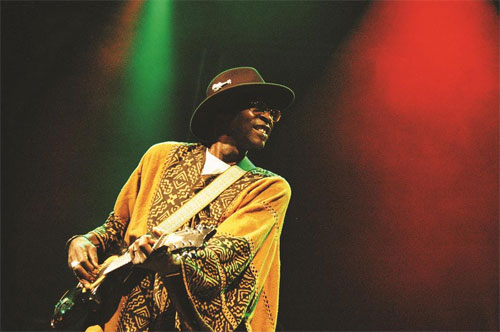 Ali Farka Toure was born in 1939 in Gourmararusse (in the Timbuktu region), Mali, into the noble Sorhai family. Being of noble birth, he should never have taken up music. His family disapproved because the musician profession is normally inherited in Malian society and the right to play belongs to the musician families. However, being a man of determination and independence, once he decided to take up music, there was no stopping him.
Ali Farka Toure took up the guitar at the age of ten, but it wasn't until about age 17 that he really got a handle on the instrument. In 1950 he began playing the gurkel, a single string African guitar that he chose because of its power to draw out the spirits. He also taught himself the njarka, a single string fiddle that was a popular part of his performances.
Then in 1956, Ali Farka Toure saw a performance by the great Guinean guitarist Keita Fodeba in Bamako. He was so moved that he decided then and there to become a guitarist. Teaching himself, Alila Farka Toure adapted traditional songs using the techniques he had learned on the gurkel.
During a visit to Bamako in the late 1960's, artists such as Ray Charles, Otis Redding and most importantly John Lee Hooker introduced Ali Farka Toure to African-American music. At first, he thought that Hooker was playing Malian music, but then realized that this music coming from the United States of America had deep African roots.
Ali Farka Toure was also inspired by Hooker's strength as a performer and began to incorporate elements into his own playing. During those years Ali Farka Toure composed, sang and performed with the famous Troupe 117, a group created by the Malian government after the country's independence.
Ali Farka Toure trained as a sound engineer, a profession he practiced until 1980, when he had saved enough money to become a farmer, which is what he was until he died.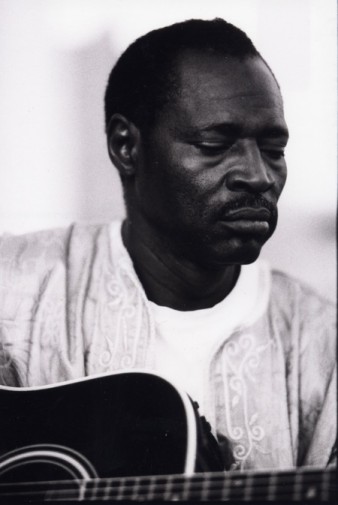 His recording career began in France in 1976, but that phase ended poorly, as Toure was never properly compensated. For years he followed a successful career in West Africa adapting traditional songs and rhythms in ten languages from Mali's enormous cultural wealth. This career was combined with a life rooted in his village. While touring widely in Africa and also occasionally in Europe and the United States of America, Toure preferred the security of his village life, family and friends, crops and livestock
In 1990, Toure abandoned music in order to tend to his farm, in his native Timbuktu. His producer managed to convince him otherwise and to return to his guitar. Two years later, he recorded the famous CD Talking Timbuktu with American guitarist Ry Cooder. The album won a Grammy award.
Radio Mali was Ali Farka Toure's first release after 1994's Grammy Award–winning collaboration with Ry Cooder, Talking Timbuktu. Released in Europe by World Circuit in 1996, it is a lavishly packaged collection of vintage recordings made throughout the 1970s.
Despite the success with Talking Timbuktu, Ali Farka Toure wasn't willing to leave his rice farm in Mali to record an album. Producer Nick Gold had to set up the equipment in an abandoned brick hall in Niafunke, Mali, using portable equipment and gasoline generators to compensate for the fact that Toure's hometown had no power lines.
The crew had to wait till Farka Toure was done with his chores and ready to play the guitar. Farka Toure said: "We were in the middle of the landscape which inspired the music and that in turn inspired myself and the musicians. . . . In the West, perhaps this music is just entertainment and I don't expect people to understand."
In 2004, Ali Farka Toure was elected mayor of his home town of Niafunke. Ali was extremely loyal to his homeland and spent most of his time in the area, working on his farm. Ali's key election promised to his constituents included tackling the malaria problem, cleaning up the region, and establishing a tree planting project.
In July of 2004, Nick Gold took his World Circuit team and their longtime engineering collaborator Jerry Boys (Buena Vista Social Club) to Bamako, Mali to record In the Heart of the Moon, a collaboration between Ali Farka Toure and another giant of Malian music, kora master Toumani Diabate.
The World Circuit crew set up a mobile studio in the Hotel Mande in Bamako, overlooking the Niger River and recorded In the Heart of the Moon there in three two-hour sessions. Drawing on a body of traditional songs familiar to both men, Toure and Diabate again began without rehearsing together beforehand. Only one song required a second take-because it had been interrupted by a rainstorm.
In the Heart of the Moon was the first of a trilogy of albums Nick Gold's label recorded at the Hotel Mande. The record also includes subtle contributions from Ry Cooder on piano and guitar; Sekou Kante and Cachaito Lopez on bass; and Joachim Cooder and Olalekan Babalola on percussion. In the Heart of the Moon won a world music Grammy in 2005.
Red and Green, released in 2005 is a double disc that collects essential vintage recordings from Ali Farka Toure, most of which were previously vinyl-only classic tracks. The Red album is the set that launched Ali's career in the West; the Green album confirmed his status as one of Africa's most important artists. Both albums are included complete and digitally remastered from the original tapes.
Touré recorded his last album, Savane, during his battle with bone cancer. The album, whose title translates to 'savannah,' reaffirms his connection with the traditional Songhai and Fulani music of northern Mali. He was joined by a small band of ngoni players, including two of his country's best: Bassekou Kouyate and Mama Sissoko, who adapted their Mandé (southern Malian) playing to these northern styles.
Ali Farka Toure died March 7, 2006, from bone cancer. That year, World Circuit/Nonesuch released Savane.
To commemorate the tenth anniversary of his death, Ali Farka Touré was celebrated in his native Mali with a series of events over the week-end of March 5th, 2016. The events included an all-star concert in Bamako featuring Mali's great stars, the final of a football (soccer) tournament in his honor (Touré was a huge football fan), the laying of the foundation stone for Rue Ali Farka Touré, an exhibition at the National Museum and various other events.
Ali Farka Toure's legacy continues in the talented hands of his son, masterful guitarist Vieux Farka Toure.
Discography:
Ali Farka Toure (World Circuit/Mango, 1987)
Songs from Mali (World Circuit WCD007, 1989)
The River (Mango, 1993)
The Source (World Circuit/Hannibal (1992)
La Drogue (Sonodisc, 1994)
Talking Timbuktu (World Circuit-Great Britain/Hannibal Rykodisc HNCD-1381 -USA, 1994)
Radio Mali (World Circuit/Nonesuch WCD044, 1996)
Niafunke (World Circuit WCD 054, 1999)
Red & Green (World Circuit WCD070, 2004)
In the Heart of the Moon, with Toumani Diabate (World Circuit, 2005)
Savane (World Circuit, 2005)
Videos
Documentary DVD: A Visit To Ali Farka Toure (Kultur International Films, 2006)
Author:
Angel Romero
Angel Romero y Ruiz has been writing about world music music for many years. He founded the websites worldmusiccentral.org and musicasdelmundo.com. Angel is also co-founder of the Transglobal World Music Chart.
Angel has also produced and remastered world music studio albums and compilations for labels such as Alula Records, Ellipsis Arts, and Music of the World.