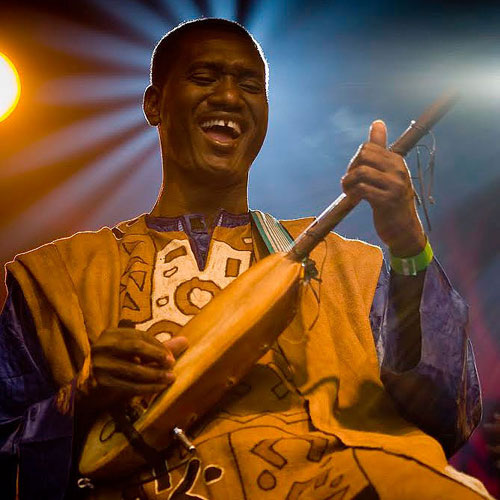 Bassekou Kouyate is one of the true masters of the ngoni, an ancient traditional lute found throughout West Africa, and he has collaborated with many musicians in and outside of Mali. He played in the Symmetric trio alongside Toumani Diabate (kora) and Keletigui Diabate (balafon). He was part of Taj Mahal's and Toumani Diabate's Kulanjan project, as well as being one of the key musicians on Ali Farka Toure's posthumous album Savane which was released July 2006. He also toured with Ali Farka Toure before Toure passed away, leaving a lasting impression on the audience as the band's solo ngoni player.
Bassekou was born in a village called Garana, almost 40 miles from Segu, in the remote countryside on the banks of the Niger River. He was raised in a traditional musical environment, his mother a praise singer and his father and brothers exceptional ngoni players.
Bassekou moved to Bamako when he was 19 years old where he met the young Toumani Diabate. By the late 1980s Bassekou was part of Toumani's trio and they recorded their first albums together, Songhai and Djelika.
Bassekou married the singer Ami Sacko (the so-called 'Tina Turner of Mali') and they have been in high demand for the traditional Sunday wedding parties that happen in the streets of Bamako. Bassekou now has his own band, Ngoni ba (meaning 'the big ngoni'), Mali's first ngoni quartet.
The repertoire Bassekou plays is from the region of Segu, the heart of Bambara culture. Unlike Mandinka griot music, Bambara music is pentatonic in nature, a music as close to the blues as you can get in Africa.
His debut CD, Segu Blue (Out Here Records), features guest musicians Kasse Mady Diabate, Lobi Traore, Lassana Diabate and singers Zoumana Tereta and Bassekou's wife, Ami Sacko. The album was produced by Lucy Duran, recorded at studio Bogolan in Bamako by Yves Wernert and mixed in London by Jerry Boys.
In 2009, Seattle-based indie rock label Sub Pop licensed Bassekou Kouyate's second album I Speak Fula. The album was the first release on their newly founded sub label Next Ambiance, a collaboration between Sub Pop Records and Jon Kertzer, presenter of the 'Best Ambiance' show on Seattle-based public radio station KEXP. Sub Pop/Next Ambiance released I Speak Fula throughout North America, as well as Australia and New Zealand.
In 2010, World Circuit Records released Afrocubism, an album that brought together top musicians from Cuba and Mali. The album featured renowned Cuban singer and guitarist Eliades Ochoa, Bassekou Kouyate and the excellent Rail Band guitarist Djelimady Tounkara. Joining them were Eliades' Grupo Patria, amongst Cuba's longest running and most revered bands, kora maestro Toumani Diabaté, legendary Malian griot singer Kasse Mady Diabaté and the innovative balafon player Lassana Diabaté.
In March 2012 Bassekou Kouyate recorded his third album titled Jama ko in Mali's capital Bamako. This coincided with the military coup that overthrew the Malian president Amadou Toumani Toure, a great supporter of Bassekou.
As expected, Bassekou was deeply affected by the rapidly changing events in his country. "Jama ko means 'great meeting of people': You may be rich or poor, Muslim or Christian, let's get together and enjoy ourselves," said Bassekou. "There are 90% Muslims in Mali, but our form of Islam here has nothing to do with Sharia, that is not our culture. We have been singing praise songs for the prophet for hundreds of years. Mali is a free and peaceful country where you can be who you want to be."
"Jama ko" was recorded live, with no overdubs, at studio Bogolan with a completely new band line-up including two of Bassekou's sons, Madou and Moustapha Kouyate , and the ngoni maestro Abou Sissoko. It features a duet between Amy Sacko and Khaira Arby from Timbuktu calling for peace in Mali, Kassemady Diabate praising Sinali Diarra, a Bamana king famous for resisting forced Islamization in the 19th century, Zoumana Tereta praising the cotton farmers and the great ngoni masters who are no longer with us, Harouna Samake on kamale ngoni and an extraordinary jam with Taj Mahal singing and playing guitar backed by Mocky Salole on drums. The record was co-produced by Howard Bilerman (Arcade Fire/ Hotel2Tango) from Montreal. It was released in January 2013 on outhere records.
Bassekou Kouyaté & Ngoni Ba's fourth album 'Ba Power' (Glitterbeat Records) is marked by the incorporation of rock-style distortion and wah wah and propulsive rhythms. The album was was produced in Mali by Chris Eckman (Tamikrest, Aziza Brahim) and it features significant guests: from Mali Samba Touré, Zoumana Tereta and Adama Yalomba; from the USA, seminal trumpet player Jon Hassell (Brian Eno, The Talking Heads, Bjork and Peter Gabriel) and rock guitarist Chris Brokaw (Lemonheads, Come, the Thurston Moore Band etc.); and from the UK, acclaimed drummer Dave Smith (Robert Plant's Sensational Space Shifters, Fofoulah, JuJu).
Discography:
Segu Blue (Out Here Records, 2007)
I Speak Fula (Out Here Records, 2009)/(Sub Pop/Next Ambiance, 2010)
Afrocubism (World Circuit Records, 2010)
Jama Ko (Out Here Records, 2013)
Ba Power' (Glitterbeat Records, 2015)
Author:
Angel Romero
Angel Romero y Ruiz has been writing about world music music for many years. He founded the websites worldmusiccentral.org and
musicasdelmundo.com
. Angel is also co-founder of the
Transglobal World Music Chart
. Angel has also produced and remastered world music studio albums and compilations for labels such as Alula Records, Ellipsis Arts, and Music of the World.