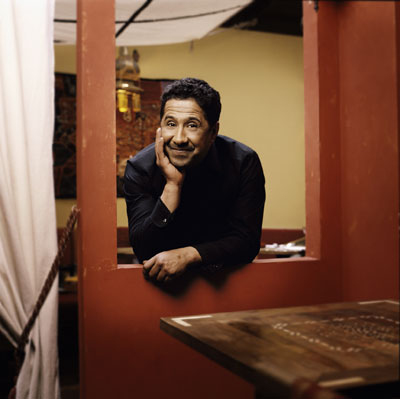 Born in Algeria but now based in France, Khaled is known as the king of rai. His Egyptian, Spanish and French music influences were enhanced by the popular artists of the time including James Brown and The Beatles. With a blend of funk, reggae and Arabic music, Khaled soon pioneered the transformation of rai from a local style to worldwide popularity.
Since 1992, Khaled has dropped the prefix Cheb and recorded Didi, which firmly established him on the international scene. He has elevated the confrontation between rai and other styles to the artistic dimension of a fertile method of creation.
With N'ssi N'ssi, the following year, and with the help of two producers from different cultures and backgrounds, he expanded the range of a deeply rooted and open tradition. Philippe Eidel magnified the orientalism, and Don Was added an experimental touch, mixing it with the power of funk and new urban sounds.
Through this approach, Khaled obtained the recognition of a "hip" public, but also found popular approval thanks to Aicha, a romantic ballad penned by Jean-Jacques Goldman, and the jewel of the album Sahra in 1996. No other artist of his generation and culture has ever dreamed of such a result. Surfing on the wave of a success which he had to live up to, Khaled conceived Kenza, his fourth studio album for Barclay. Two producers were involved in the project, Steve Hillage, a main figure of British progressive rock in the seventies (he was the leader of Gong, of the staggering System 7, and the producer of East-West cross-over artists like Rachid Taha). The other producer is Lati Kronlund, founder of the New York collective project Brooklyn Funk Essentials, master of an elegant vision of funk in big bands. These two approaches are different, yet they merge and create on this album a terra incognita where modernity and tradition chase and combine each other in a myriad of postures and exchanges.
By calling up an Egyptian string orchestra on rai songs like Raba-Raba or Aâlach Tloumouni, Hillage certainly broke a taboo that recalls the previous ban on using a symphony orchestra for a pop song, before the advent of the Beatles. With El Harba, Khaled sings a duet with Amar, a young British-Pakistani muse : India and Egypt embrace each other at last, marking the encounter of the two cultures which have lulled Khaled and the Magreb.
Using the natural sonorities of Arabic instruments like ud and gasba for El Aâdyene or El Bab, which strictly respects the orthodoxy of funk, Kronlund has given a new dimension to Algerian music and has restored a forgotten freshness to Western club culture. Khaled perpetrates a series of small sacrileges, impieties and profitable departures from the rules. His two accomplices did not even have to consult one another. They created an album in which rai embodies diversity while remaining true to itself. They chose a wide range of modern and traditional instruments to create a wide acoustic scope.
Discography:
The Rai King of Algeria (Triple Earth, 1985)
Fuir, Mais où? (Celluloid, 1988)
Kutché (Sony 93010 2, 1989)
Khaled (Barclay-Universal Music France 511 815 2, 1992)
Le Meilleur de Cheb Khaled Vol. 1, 2 (1992)
Shab el baroud (1992)
N'ssi N'ssi (Barclay-Universal Music France 519 898 2/Island-Mango, 1993)
Sahra (Barclay-Universal Music France 533 405 2, 1996/USA: Island Records 537 510, 1997)
Hafla, live album (Barclay-Universal Music France 539 881 2, 1998)
1, 2, 3 Soleils, with Rachid Taha & Faudel (Universal Music France, 1999/USA: Ark21-Mondo Melodia, 2001)
King of Rai (1999)
Kenza (Ark21-Mondo Melodia 21 850 012, 2000)
Elle Ne Peut Pas Vivre Sans Lui! (Best Music International 99245, 2000)
Ya Taleb (Ark21-Mondo Melodia 21 850 063, 2001)
Ya-Rayi (Universal, 2004)
Liberté (2009)
C'est la vie (2012)
Author:
Angel Romero
Angel Romero y Ruiz has been writing about world music music for many years. He founded the websites worldmusiccentral.org and musicasdelmundo.com. Angel is also co-founder of the Transglobal World Music Chart.
Angel has also produced and remastered world music studio albums and compilations for labels such as Alula Records, Ellipsis Arts, and Music of the World.