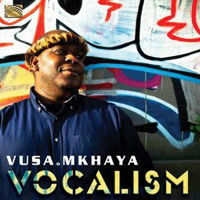 Vusa Mkhaya
Vocalism (Arc Music, 2012)
Releasing this month is a fine album from Arc Music: Vocalism, by Vusa Mkhaya from Zimbabwe. The 15 tracks on the album make for over 45 minutes of fine acoustic listening. Most of the tracks are pure vocals, featuring Vusa Mkhaya accompanied by other singers such as Cornelia Pesendorfer, Dumisani 'Ramadu' Moyo and Brian Bangura.
The album begins in smooth style with the piece Ulele (Afterlife); other picks of vocal tracks include Umakoti (The Bride) and Hayi (No), while Khetha Eyakho (Make Your Choice) really stands out.
Some of the tracks also feature light percussion (with Othnell Mangoma Moyo) and guitars (played by Mabhiza), such as Diaspora and S'Thethelela (Forgive Us). Our pick of the best track in the album is Sohlangana Khona (We Will Meet There). The piece Ngiyazulu (I Am A Traveler) also features some pleasant mbira (thumb piano).
'The voice is my favourite instrument. Voices are, for me, the best and the first instrument. When I think of music I think voice', according to Vusa Mkhaya, who describes himself as a vocalist first and then a musician.
Vusa's career began in Bulawayo, Zimbabwe, where he started singing in Sunday school and singing in local groups. In 2004 he moved to Vienna with his group Insingizi, and was exposed to classical and jazz music. The album Vocalism uses elements of Zimbabwean and European tradition, at points even drawing on yodeling and Hungarian folk music.
The album was recorded mostly in Vusa's native Bulawayo, and partly in Vienna. Some of the tracks are inspired by social and community struggle, a philosophy called Ubuntu in Zimbabwe.
The vocal trio Insingizi has released other albums such as Voices of Southern Africa / Spirit of Africa. The vocalists blend soul and a cappella styles.
Interested listeners can also check out interesting footage on a video about the making of the album Vocalism:
Buy Vocalism in North America
Buy Vocalism in Europe
Author:
Madanmohan Rao
Madanmohan Rao is an author and media consultant from Bangalore, and global correspondent for world music and jazz for World Music Central and Jazzuality. He has written over 15 books on media, management and culture, and is research director for YourStory Media. Madan was formerly World Music Editor at Rave magazine and RJ at WorldSpace, and can be followed on Twitter at @MadanRao.