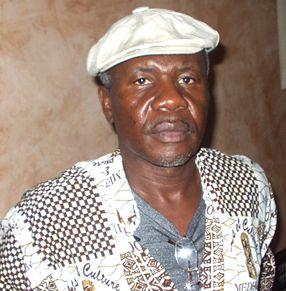 International organization Freemuse, which advocates freedom of expression for musicians, announced today that Cameroonian vocalist Lapiro de Mbanga has been granted asylum in the USA and arrived safely with his family yesterday.
Lapiro de Mbanga was imprisoned in Cameroon for three years for a song criticizing President Biya. In his song 'Constipated Constitution' Mbanga criticized President Paul Biya for changing the constitution in his own favor. The song became an anthem for demonstrators in Cameroon in 2008 and in order to silence de Mbanga, false charges were made against him. The singer was charged for inciting demonstrators to burn down a banana plantation.
Freemuse and other freedom of expression organizations launched several international campaigns for his release and in 2009 initiated a partnership with Freedom Now, a US based advocacy organization.
Earlier this year The United Nations Working Group on Arbitrary Detention issued a legal opinion declaring that the detention of Lapiro de Mbanga, one of Cameroon's most famous singers, by the Cameroonian Government was completely arbitrary and a violation of international law, specifically the International Covenant on Civil and Political Rights.
In spite of this the government in Cameroon has made no attempts to compensate the singer, who has continued to receive anonymous threats. Last week Lapiro and his family managed to leave Cameroon and stayed in a neighboring country waiting for all papers to be cleared. This morning he told Freemuse that the family has now arrived safely in USA.
Author:
World Music Central News Department
World music news from the editors at World Music Central