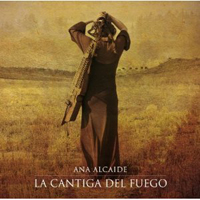 Ana Alcaide
La Cantiga del Fuego (ARC Music, 2012)
Fans of Celtic powerhouse Enya's early work will likely dip into Spanish singer, songwriter and musician Ana Alcaide and find a reason to rejoice. Hitting the world music charts in Europe at number three with her La Cantiga del Fuego, Ms. Alcaide will soon be available to a worldwide audience with the recording's release on the ARC Music label come November. With previous recordings Viola de Teclas and Como La Luna y El Sol to her credit, Ms. Alcaide pulls out all the stops on this latest project.
Drawing on influences of Toledo, Spain and the Sephardic traditions of the city, Ms. Alcaide flavors La Cantiga del Fuego with a wealth of world music instruments like the oud, santoor, bouzouki, mandola, medieval lute, darbuka along with her own playing of the nyckelharpa and Celtic harp against her sweet vocals to create a lush musical landscape that is delicately and intricately worked.
Writing all of the tracks on La Cantiga del Fuego, Ms. Alcaide opens with the brightly worked "El Pozo Amargo" before slipping seamlessly into the intriguing "Baila Donde El Mar." Cleverly working with a wide range of instrumentation, La Cantiga del Fuego dips toes into Indian, Middle Eastern and Spanish influences effortlessly, stacking up a series of tracks that blurs musical boundaries.
Music fans are sure to enjoy "La Cantiga del Fuego – El Viaje" before delving into the fragile beauty of "Luna Sefardita." Other gems include ""La Reina Ester," "En El Jardin de la Reina" and "La Cantia del Fuego – La Cancion," not to mention the fabulous duo "Mikdash Intro" and "Mikdash."
This album will be available in Europe and North America in November 2012. At this time, the only source to purchase the CD is from the artist herself: anaalcaide.com/http://www.anaalcaide.com/en/tienda/productos/la-cantiga-del-fuego-2012
Editor's note: the album is now available internationally at La Cantiga del Fuego
Author:
TJ Nelson
TJ Nelson is a regular CD reviewer and editor at World Music Central. She is also a fiction writer. Check out her latest book, Chasing Athena's Shadow.
Set in Pineboro, North Carolina, Chasing Athena's Shadow follows the adventures of Grace, an adult literacy teacher, as she seeks to solve a long forgotten family mystery. Her charmingly dysfunctional family is of little help in her quest. Along with her best friends, an attractive Mexican teacher and an amiable gay chef, Grace must find the one fading memory that holds the key to why Grace's great-grandmother, Athena, shot her husband on the courthouse steps in 1931.
Traversing the line between the Old South and New South, Grace will have to dig into the past to uncover Athena's true crime.